How Balthazar Brought Good Bread To New York City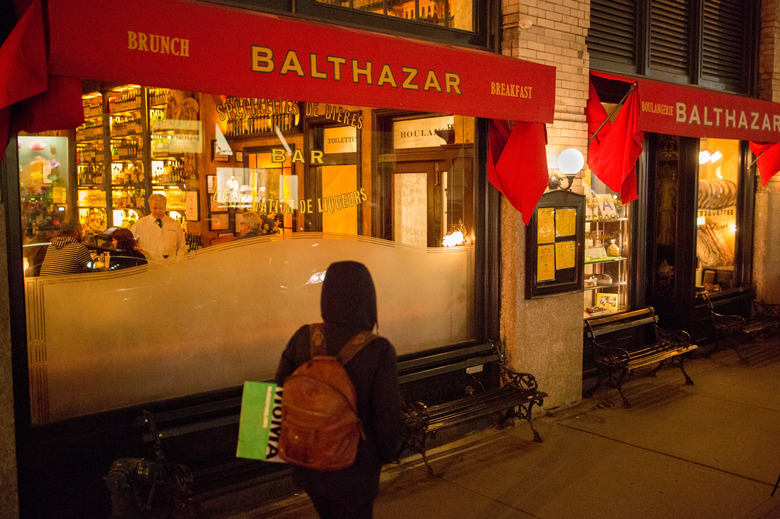 This New York City classic is a classic for many reasons, bread being one of them. (Photos: Peter Nelson.
We may receive a commission on purchases made from links.
Journalist Reggie Nadelson is a Balthazar fanatic. Having patronized the classic brasserie for breakfast nearly every day, Balthazar holds a special place in Nadelson's heart. She was granted complete access to the restaurant and its employees to tell the story of Balthazar's opening, history and more in her new book At Balthazar. The passage below describes New York City pre-Balthazar, meaning without good bread. Nadelson writes about how the brasserie's signature loaf changed bread culture in the city for the better. The book includes recipes from the brasserie itself as well as color photos from the restaurant taken by cinematographer Peter Nelson. The book will be available for purchase tomorrow.
Reprinted with permission from At Balthazar: The New York Brasserie at the Center of the World
♦♦♦
Not long ago it was revealed by Sam Sifton in the New York Times that a great many people around the country were so crazy about good sourdough bread, about baking it themselves, that they cherished their starter as they would a child or a dog. Sifton, surely the wittiest of the Times food writers, noted that "a sourdough starter comes into your life the way a turtle might: as a pet." People give their starters names. A long way from the day when Julia Child said, "How can a nation be great if their bread tastes like Kleenex?"
Bread. Good bread. Bread with a crunchy, thick, dark crust still warm from the oven, smothered with wonderful butter. There have been times when, on my way home from Balthazar's Bakery on Spring Street next to the restaurant, I've gobbled up half the loaf I bought before I got to my door, a four-minute walk.
The signature Balthazar bread, this pain de seigle, a dark French sourdough rye, had a thick, crispy crust that was lightly caramelized, but not at all sweet. Inside, it was soft but not mushy, and deep. When I did get home, a friend who was staying with me looked at the naked loaf and asked, feigning innocence, if it was a ritual to denude the bread of its crust. "You kind of flay the bread, right?" Flayed. Denuded. I went back to the bakery to get a loaf that was intact.
It was around lunchtime, and inside the bakery was packed. More people were outside on Spring Street, talking on their phones, impatient to get lunch.
Balthazar Bakery, a jewel box of a shop, was adjacent to the restaurant on Spring Street; it had a pretty painted ceiling, mirrors, a chandelier, had its pastries displayed on glass shelves behind the front counter: tiny lemon meringue and raspberry chocolate, the coconut cakes and glistening pear tarts, croissants and orange brioche; there are Madeleines in chocolate, pistachio, and lemon, Proust's little tea cakes.
Shelves on both walls held the bread: baguettes, white sourdough, square loaves of white bread, raisin pecan bread, multigrain bread, chocolate bread, and ciabatta. Then there is the pain de seigle, the French sourdough rye that has been served at the restaurant since its doors opened.
With five customers inside, it was like the Tokyo subway at rush hour—at lunchtime the bakery sells sandwiches, soup, and salad. Behind the counters, the young staff took it in stride. Even as a woman in a fur coat, discovering there was no pain au chocolat left, stomped out as if she had been denied some essential right, Maryanne, the young manager, smiled and wished her a good day. Other customers waited patiently eyeing the pastries—and oh, those pastries.
I bought an extra loaf of bread that day, and it was this bread, this boule of French rye, that Jean-Georges Vongerichten and other famous chefs had clamored for when Balthazar opened. When Keith McNally lived in Paris, it was on the rue du Cherche-Midi. On the other side of the street was Poilâne, the bakery that made dark country loaves fashionable.
For a long time, dark bread had been for peasants, but Poilâne brought them back into fashion, and the heavy, zaftig French boules became desirable in a world that had wanted thin white baguettes with a delicate, brittle crust. In Paris not long ago I paid Poilâne a visit, and Balthazar Bakery is clearly its first cousin, not just the bread but also the shop itself.
Even as late as 1997, it was not easy to find good bread in New York. Here and there a restaurant served a decent Italian or French bread, and it was OK, but there was nothing like the loaves you got in France—that you went to France for.
You wanted ethnic bread, that was another case. There was plenty of it—this was New York—and on Atlantic Avenue you got pita; on Bleecker Street, Italian semolina loaves; and there was Indian naan to be had in Jackson Heights. Polish rye from Greenpoint wasn't bad. Jews had it pretty good, too, the ones who knew their way to, say, Ben's on East Houston Street for bagels—the old, hard, boiled kind that nearly broke your teeth—and corn rye, a loaf that was both dense and light. It wasn't actually made with corn, but its outside, coated with cornmeal, crunchy and a little crisp, this I liked ripping off.
These were exceptions in the United States, though. Most bread came in a package. So alien were these "foreign" breads that even a packaged rye—commercial stuff—was seen as exotic. "You don't have to be Jewish to love Levy's" was a legendary 1960s ad, indicating that even ordinary Americans could enjoy this foreign stuff.
So it wasn't surprising that when Balthazar's great bread appeared on the table, people went nuts. It was served at the beginning of meals, and some people consumed baskets of it. There was good butter, too, at a time when bowls of olive oil had begun appearing at restaurants, and no olive oil was ever as good as sweet, fresh pale yellow butter, not with bread, anyway. So many people ate so much bread they were no longer hungry and, to the chagrin of the Balthazar staff, ordered less for dinner. As a result now, until a customer orders, the bread is served only on request.