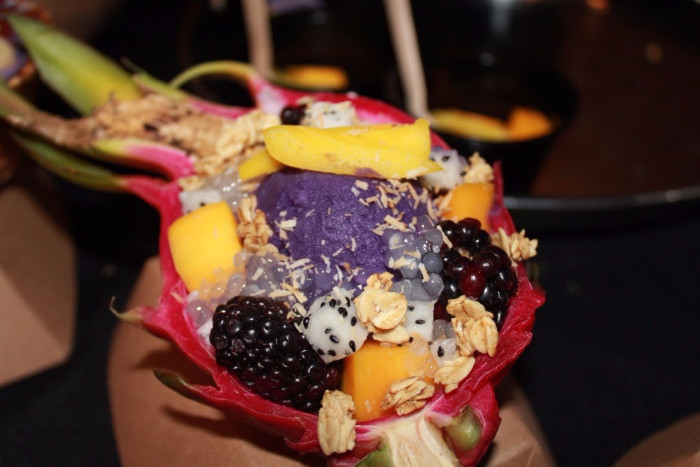 After a mild winter occupying Skylight One Hanson in Fort Greene, Smorgasburg heads back to the great outdoors this weekend. The outdoor food vendors will pitch their tents at East River State Park in Williamsburg on Saturday, April 1 and Breeze Hill in Prospect Park on Sunday, April 2.
Sunday's opening coincides with Prospect Park's 150th anniversary. To celebrate, Brooklyn Brewery's Long Meadow Gold pale ale will be available for purchase. Some proceeds will be donated to the Prospect Park Alliance.
Manhattan's Seaport Smorgasburg will not be returning, but Smorgasburg locations in Los Angeles and Kingston, New York will also return this spring (more information on their site).
Check out the list of new Smorgasburg vendors below.
All City Deli (Saturdays and Sundays)
Baked Cheese Haus (Saturdays and Sundays)
Belmere Catering (Sundays)
Burrito Juarez (Saturday and Sundays)
Buff Patty (Sundays)
Burger Supreme (Saturdays)
Commissary Kitchen (Saturdays and Sundays)
Destination Dumplings (Saturdays and Sundays)
Dulcinea Churros (Saturdays and Sundays)
John's Juice (Saturdays and Sundays)
Kreung (Saturdays)
Loata (Sundays)
Ministry of Kaapi (Saturdays and Sundays)
Mission Ceviche (Saturdays and Sundays)
Monsieur Tartare (Sundays)
Okonomi (Saturdays and Sundays)
Pop Pasta (Saturdays)
Roll Play Viet Noms (Saturdays and Sundays)
Rutte's Dutch Waffles (Saturdays and Sundays)
Strange Flavor Burger Shack (Saturdays)
Supasit Thai Kitchen (Sundays)
The Westbury Inn (Sundays)
Ube Kitchen (Saturdays and Sundays)
Yucataco (Saturdays)