24 Recipes By This Year's James Beard Award Nominees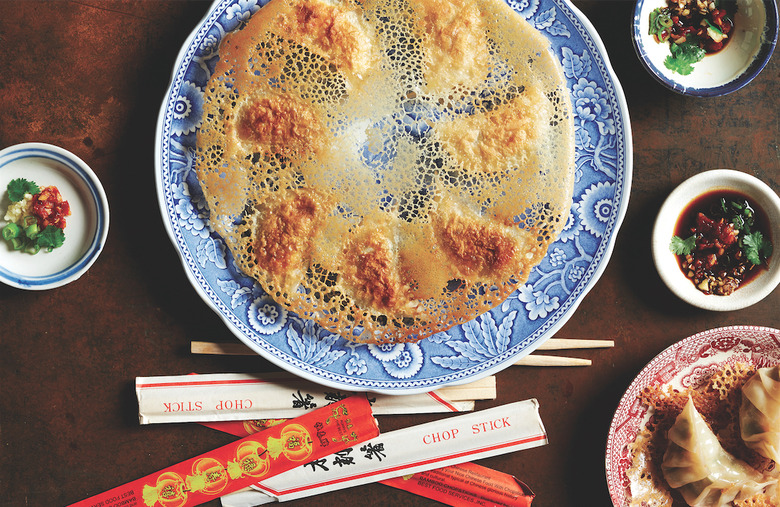 Let's hear it for the 2017 James Beard Award nominees! The list, announced last Wednesday, is packed with some of our favorite people in food. Celebrate these hardworking and talented chefs, bartenders, spirits professionals, writers, photographers, producers and directors with 24 award-worthy recipes.
Recipe: Potstickers Royale With Crispy Crepe
Abraham Conlon, Fat Rice, Best Chef: Great Lakes
There is a certain relationship between you, the pan, the potstickers, the crepe batter, and the universe that has to be in line, and there's no way to learn that other than by just giving it a go (after you've read the instructions, of course — always be careful when flipping a hot, heavy pan containing oil). This recipe makes a lot, so you've got some room for failure. And remember, you aren't selling these in a crowded restaurant (you aren't, right?), so even the ones that don't pop out under a perfect crepe will still taste delicious.
Michael Solomonov, Outstanding Chef
Look no further than James Beard Award winner Michael Solomonov for a modern take on classic Israeli food. His new cookbook, Zahav, is packed with your new favorite ways to consume all things Middle Eastern/Mediterranean/North African. Particularly those delicious extra-lamby fried meat dumplings known as kibbe.
Video: Mashed Potatoes And Fish
Ignacio Mattos, Estela, Best Chef: New York City
There's a reason that Estela, located right on East Houston Street in the heart of New York City (well, up a short staircase anyway) is one of the most hyped-up restaurants of the past few years. Not just because the Obamas ate there or because it's become the unofficial canteen for NYC's food media, but owing to chef and co-owner Ignacio Mattos's highly nuanced spins on classic dishes.
Recipe: Tagliatelle With Asparagus And Parmesan Fonduta
The Spotted Pig, NYC, Outstanding Restaurant
This entire dish is right out of Rose and Ruthie's River Café playbook, with just a few tweaks of my own. They taught me how to make fonduta, a silky sauce rich with crème fraîche and egg yolks. It takes less time and just a bit more effort than tomato sauce and turns a plate of pasta into an elegant and impressive meal. Get yourself some asparagus spears that are as thick as your pointer finger — not those thin or sprouty ones — and you'll enjoy the juicy slivers in each bite.
Recipe: 'Nduja Tomato Caesar Salad
Ken Oringer, Uni, Toro, Coppa, Outstanding Restaurateur
James Beard Award–winning Toro and Coppa chef Jamie Bissonnette — whose partner in these ventures is Ken Oringer — knows his way around the vast world of preserved meat and fish. He's a master of charcuterie (coppa is Italian cured pork neck) and an avid collector of canned Spanish seafood — an enviable hobby if you've ever loved a smoked mussel or glistening sardine in your life. Equally praise-worthy: his faculty and creativity with 'nduja, a spicy, spreadable, melt-in-your-mouth fermented sausage. With roots in Italy, cousins around the globe and appearances on menus from French and Spanish to New American and even comfort food, this is one trendy ingredient that goes wherever spicy pork goes. Read all about his close relationship with this unlikely hero of the charcuterie menu here.
Recipe: Hopped-Up 90-Minute Chili
Sam Calagione, Dogfish Head Craft Brewery, Outstanding Wine, Beer or Spirits Professional
The molasses brings out the sweetness of the beer, and the hops in the beer adds its own nice finish that lifts you up out of the hot, sweet meatiness. Did I mention I put quite a bit of hot sauce in there? I had to make sure I put some chilies into my chili (Hot Mess from Lillie's Q in Chicago is made from pickled cayenne peppers and is perfect for this).
Zachary Engel, Shaya, Rising Star Chef of the Year
If you really want to impress your Passover guests (or fellow seder-goers), whip up a big batch of fresh matzo at home. Trust us, you'll probably go through the whole thing before you've finished ticking off the plagues. We reached out to James Beard Award–winning chef Alon Shaya of New Orleans's renowned Domenica, Pizza Domenica, and modern Israeli restaurant Shaya — where Zachare Engel is often manning the kitchen these days — to learn how to make this super-easy and extra-delicious Jewish staple. Grab a bag of high-gluten flour, break out the pasta roller and get to work!
Video: Rigatoni Al Diavolo
Missy Robbins, Lilia, Best Chef: New York City
At her Brooklyn restaurant, Lilia, Missy Robbins turns her fresh pasta into memorable dishes like this rigatoni al diavolo. That's a spicy tomato sauce, as you'll see in the video, and it makes for the type of food, Robbins says, "I want to eat every day." Who wouldn't?
Recipe: Rustic Corn Grits With Mushroom Sugo And Poached Egg
Travis Lett, Gjelina, Best Chef: West
Look for coarse-ground, new-crop grits, either white or yellow. What matters most is your ability to find field-ripened, coarsely ground grits, which are vastly superior to commodity cornmeal. The robust corn flavor of these grits is so intense that it really needs little embellishment. Substitute any cultivated variety of mushroom you like for the wild mushrooms here. But if you do happen upon some good-looking wild fungi, by all means take advantage and use them.
Recipe: Grilled Veal Chops With Chanterelle Mushroom Stroganoff
Greg Denton and Gabrielle Quiñónez Denton, Ox, Best Chef: Northwest
Some people love veal for its flavor and tenderness and the fact that it's a little less fatty than cuts like a beef rib eye. Others disdain it for being a little less intense in flavor than beef. Greg Denton and Gabrielle Quiñónez Denton like to pair something with it that adds to the meat's impact without diminishing its delicateness.
Cooking for Jeffrey, Ina Garten, General Cooking
"When I bought my specialty food store, Barefoot Contessa, Jeffrey took me on a grand tour of food stores in California looking for inspiration, including a visit to the iconic Oakville Grocery in Napa Valley," notes Ina Garten. "I was there again recently and they were making apple pie bars — what a great idea! I worked on my version of the bars with two kinds of apples, tart Granny Smiths and sweet Golden Delicious. One large batch of buttery shortbread makes both the crust and the crumble topping."
Recipe: Sprouted Hoppin' John Salad
Deep Run Roots, Vivian Howard, American Cooking
The newest cookbook from award-winning chef and PBS show host Vivian Howard is a deep dive into Southern food. Rather than publishing a few well-known recipes from this region and that, Howard focuses on the ingredients and techniques that have sustained her native North Carolina for generations. Get your hands on this hefty tome and prepare to see the Tar Heel State as never before. If you've never made Hoppin' John, a Southern vegetable staple, try it with sprouted grains for extra nutrients and hot bacon vinaigrette for extra hot bacon.
Recipe: Pull-Apart Dill Bread
Breaking Breads, Uri Scheft and Raquel Pelzel, Baking and Dessert
"I first saw the shape of this bread on the island of Djerba, off the coast of Tunisia, where there is a very small (about a thousand people) yet vibrant Jewish community that has lived there for 2,500 years," writes Uri Schedt. "Unlike other Arab countries in North Africa and the Middle East whose Jewish communities have all but vanished after many people moved to Israel, the bulk of Djerba's Jewish community has remained on this beautiful island."
Recipe: Double-Buckwheat Double-Chocolate Cookies
Dorie's Cookies, Dorie Greenspan, Baking and Dessert
The buckwheat is the charmer here. The flour makes the cookies tender and gives them a subtle nuttiness that only buckwheat habitués will identify. No one will guess there's kasha in them, but it gives the cookies crunch and a fuller flavor than you'd think you'd get from such tiny nuggets. The kasha's got a fabulous texture, too. It's a crunch lover's dream. (But you must use granulated kasha, such as Wolff's, in this recipe; whole or cracked kasha is tooth-breakingly hard.)
Recipe: Chicken With Apricots In Riesling
Eat in My Kitchen, Meike Peters, General Cooking
If you feel like eating meat but time is tight, throw some chicken thighs in the oven. This is one of the quickest and easiest dishes to please a hungry crowd of family or friends, in which case just double the amounts below. And if there are fewer people at the table, add a little chutney and some arugula leaves to the cold leftovers, and stuff everything into a sandwich.
Recipe: Slow-Cooker Stuffed Turkey Tenderloins
Skinnytaste Fast and Slow, Gina Homolka, Health
These turkey tenderloins, stuffed with butternut squash, cranberries, and pears, are like a mini Thanksgiving feast — from your slow cooker! They're perfect any time of year when you're craving a taste of the holidays. They're also great for smaller Turkey Day gatherings, when a whole bird is too much. You and your guests will, um, gobble them up!
Recipe: Baked Onions In Brie Custard
Milk. Made., Nick Haddow, Single Subject
This baked onions in Brie custard is great as a standalone vegetarian dish or as a fancy side dish to roast chicken. I have used Brie in this recipe, but you could use any mold-ripened cheese that has a bit of flavor. You could even use a funky washed rind if you like.
Recipe: Shiitake "Bacon" Pizza
The Vegetable Butcher, Cara Mangini, Vegetable Cooking
Recipe: Sherry-Glazed Pork Belly
Taste & Technique, photographed by Chris Court, Photography
I was nervous about making pork belly at Beast because a lot of people shy away from how fatty it is. In a restaurant where customers eat a set menu, serving something they might not like is a risky proposition. However, I shouldn't have worried, because this is now one of my most popular dishes, and everybody who tastes it loves it.
Everything I Want to Eat, photographed by Claire Cottrell, Jamie Beechum, Nacho Alegre, Photography
Since Sqirl is open for breakfast and lunch, the majority of our customers order one dish, not an appetizer followed by an entrée and a cheese course. So we are always trying to come up with ways to create a single dish that really satisfies. This socca pancake stemmed from that quest. It's traditional in that it is a flat pancake made of gluten-free chickpea flour, but it's also not so traditional in that it is filled with lots of vegetables and topped with greens and creamy labneh.
Recipe: Pork Tenderloin Enchiladas With Mole Verde
Pati's Mexican Table, Pati Jinich, Television Program, in Studio or Fixed Location
Mole verde, in any of its interpretations, is not as well known out­side of Mexico as mole poblano, the almost-black sauce that boasts chocolate as one of its ingredients. But I am a big fan of mole verde, made with pumpkin seeds, tomatillos, green chilies, green herbs like cilantro, and lettuce; it's much lighter than other moles, amazingly herbal and fresh-tasting.
Recipe: McAloo Tikki Sandwich
"New York City Versus San Francisco," Peter Meehan, Lucky Peach, Dining and Travel Journalism
The McAloo Tikki is the Power Vegetables! veggie burger. They are burgers that are crisp in a way that meat never is or should be, and an amalgam of textures and flavors that would make whoever invented the Whopper proud.