Now In Season: How To Cook Baby Leeks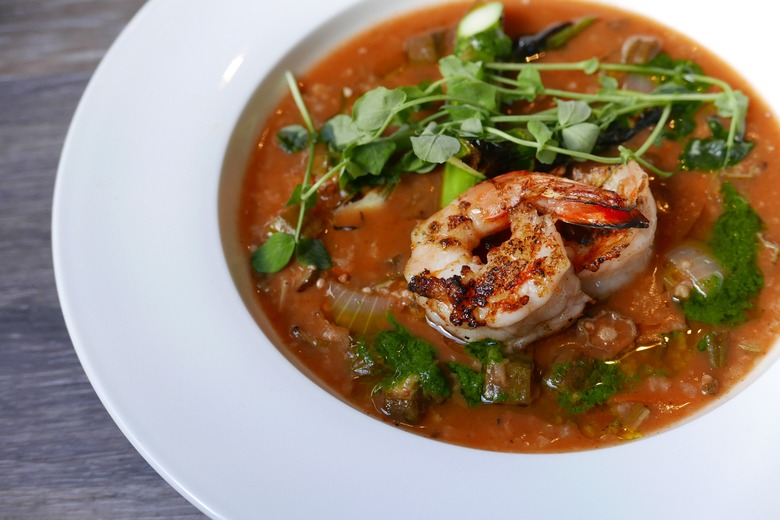 Unlike other tiny vegetables, baby leeks aren't merely little versions of the bigger ones. Despite the name, these greens are actually more akin to spring garlic or green onions, all of which fall into the Amaryllidaceae family. Like the rest of the family, baby leeks are easy to cook and clean, simple to store and pack a lot of flavor. "They're definitely strong, but not too harsh-tasting," says chef Jared Rogers of Pawpaw Restaurant in Charleston, South Carolina. "I like using baby leeks in place of scallions or garlic." Since Rogers's new space serves Southern-inspired cuisine using local ingredients, baby leeks are perfect for the eatery's spring debut and will work brilliantly on your own March table as well.
WHERE THEY'RE FROM
While the baby leek doesn't have a history distinct from its larger brethren, the leek story itself is pretty interesting. Leeks have been enjoyed for centuries, and there's evidence via wall carvings and archaic texts that they were grown by farmers in the historical region of Mesopotamia and eaten by the ancient Egyptians. The Roman emperor Nero had a fondness for the plant, eating it in soups and cooked in oil as a means to enhance the quality of his voice. Heck, the ruler even garnered the nickname Porophagus, which means "leek eater."
On the religious side: According to lore, Saint David, patron saint of Wales, instructed soldiers to wear leeks in their helmets during the Saxon War. As a result, leeks are celebrated on March 1, Welsh St. David's Day. Today the leek still reigns as a powerful symbol of the country and is found on the cap badge of the Welsh Guard. Finally, if you are a fan of mysteries, keep in mind Agatha Christie's famous French detective, Poirot, is named after the leek. While he might not be tasty himself, it does go to show the writer's admiration for the long green vegetable.
WHEN THEY'RE IN SEASON
Like green onions, chives and garlic, springtime is when baby leeks make their debut. Get them fresh in the market now and until early summer.
WHAT TO LOOK FOR
You want thin, bright green stems with white tips. The green parts should be crisp and not too rugged-looking with no soggy bits, and the bottoms should ideally have a nice tangle of brown or whitish roots. You may see them with the roots cut off, especially if you're in a grocery store rather than a farmers' market. This is fine, but just keep in mind they won't hold up in storage for as long.
HOW TO STORE THEM
You can keep the bunch unwashed in the refrigerator for about a week. If using the baby leeks in a couple of days, you can leave them out in a cool, dark spot. Cut off only as much as you're using, so the plant lasts longer.
HOW TO PREPARE THEM
Treat baby leeks much like a spring onion or chive — delicately and without a lot of prep. "The beauty of baby leeks is they're easy to cook, and you don't have to clean them as much as the bigger variety, which can have a lot of dirt and sand inside," says Rogers. "Baby leeks have a similar taste to full-size leeks, but I think they taste slightly sweeter and a bit more flavorful." He adds that that when cooked, they develop a pleasantly buttery consistency. And since this plant is delicious raw or cooked, you can use these leeks to add different textures on the plate.
"I like roasting them whole, cooking them down with garlic or chopping them raw," Rogers says. "I think the bigger leeks lose their flavor, especially when cooked, so baby leeks are good to use in dishes that need some bold onion kick." The chef also likes to use the vegetables in a cold leek and garlic vichyssoise, as well as in gumbo (recipe below) and as a raw garnish. With that in mind, use this tender spring green to its fullest potential, from top to bottom.
Baby Leek Gumbo
Courtesy of chef Jared Rogers of PawPaw Restaurant in Charleston, South Carolina
Serve solo or top with grilled shrimpIngredients
1/2 cup peanut oil
1/2 cup flour
3 cups onion, chopped
6 gloves garlic, chopped
3 cups bell peppers, diced
2 1/2 cups baby leeks, diced
1 bay leaf
2 tablespoons marjoram
2 cups bacon lardons
3 cups vegetable stock
3 tablespoons parsley, plus more for garnish
Directions
Heat peanut oil in skillet and add flour to make a roux. Stir until the roux thickens.
Add all vegetables and cook down until they are fork soft.
Add bacon to the pot and cook until bacon is browned.
Add bay leaf, marjoram, parsley and vegetable stock and simmer for 45 minutes.
While gumbo is cooking, grill baby leeks in grill pan (or even an open flame) until cooked, about 5-8 minutes. If you are adding shrimp, grill it with the leeks.
When gumbo is ready, serve in shallow bowl and top with grilled shrimp, baby leeks, and extra parsley.