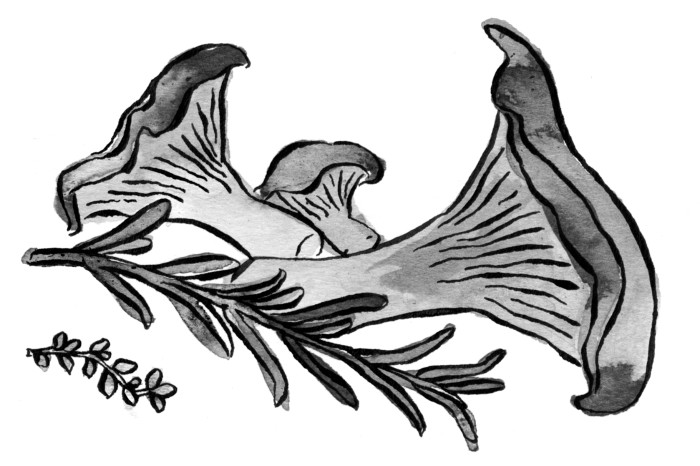 Creator of the Eat this Poem blog, Nicole Gulotta pairs food-focused poetry with recipes she's developed over the years. Now she's released a book with the same title, and the collection of poems and recipes are a breath of fresh air in the cookbook realm. Dive deep into the world of mushrooms and discover a newfound appreciation for them with this poem.
Reprinted with permission from Eat This Poem
Mushrooms
by Mary Oliver
Rain, and then
the cool pursed
lips of the wind
draw them
out of the ground—
red and yellow skulls
pummeling upward
through leaves,
through grasses,
through sand: astonishing
in their suddenness,
their quietude,
their wetness, they appear
on fall mornings, some
balancing in the earth
on one hoof
packed with poison,
others billowing
chunkily, and delicious—
those who know
walk out to gather, choosing
the benign from flocks
of glitterers, sorcerers
russulas,
panther caps,
shark-white death angels
in their torn veils
looking innocent as sugar
but full of paralysis:
to eat
is to stagger down
fast as mushrooms themselves
when they are done being perfect
and overnight
slide back under the shining
fields of rain.
Gifting at rendering the natural world, Mary Oliver brings us in close, bending down to the ground and reaching "under the shining fields of rain" the way a forager might feel around at night for the earth's meaty offerings. Cloaked in mystery, one mushroom balances in the earth "on one hoof," ready for picking, yet another looks innocent but is "full of paralysis," and skill is required to know the difference.
To satisfy our hungers, we must exercise complete trust. First, in the hunters who know that black trumpets emit a phosphorescent glow when caressed with the beam of a flashlight. Next, in the skill of the chef, who transforms these ingredients into a meal. We may not have risen at dawn or scraped away dirt with our own fingers, but the quiet work lingers, transferred from hand to hand, basket to plate, where finally the mushroom's mysterious magic makes its home somewhere deep within us.
♦♦♦
Mushroom and Brie Quesadillas
The first time my husband and I made the drive off Highway 256 in Lompoc, California, looking for Melville Winery, we thought we were lost. The road is a long stretch, about ten miles past fruit stands and vineyards after driving through downtown Buellton, and it's easy to doubt your directions. In our case, we made a wrong turn and found ourselves in the driveway of a farm, watching horses.
The animals were so relaxed, with nothing to do but gallop into the shade of an oak on this gentle morning. While we eventually found the tasting room, getting lost served as a good reminder to leave space for the unexpected pleasures of a journey to unfold. As we toured the barrel room and tasted library wines, we nibbled on quesadillas stuffed with mushrooms and drizzled with local honey. Looking out over the sundrenched vines, I couldn't help but be grateful for the most enjoyable day, including our accidental detour.
Makes 4 servings
Ingredients
3 tablespoons extra-virgin olive oil, divided
8 ounces cremini mushrooms, stems removed and thinly sliced
1⁄2 teaspoon rosemary, minced
Salt
Freshly cracked black pepper
4 flour tortillas (fajita size)
8 ounces Brie cheese, thinly sliced
1 cup arugula, lightly packed
Honey
Parsley, for garnish (optional)
Directions
Heat 2 tablespoons of the olive oil in a large sauté pan over medium heat. Add the mushrooms and rosemary, seasoning with a pinch of salt and a few grinds of black pepper; cook for 5 to 7 minutes, until tender and golden. Remove from heat and scrape the mushrooms into a bowl.
Keep the pan on the heat and add 1 teaspoon of oil. If the slices of Brie are long and stick out of the tortilla, cut them in half. Place two pieces of Brie on one side of a tortilla. Nestle one quarter of the mushrooms over the top, followed by one quarter of the arugula and another two slices of Brie. Drizzle or spread a bit of honey on the opposite side of the tortilla before folding it over the top. Repeat with the remaining tortillas.
Cook the quesadillas on one side for about 2 to 3 minutes, or until golden. Flip gently and continue cooking on the other side for 1 to 2 minutes more, or until the cheese has melted. Slice and serve sprinkled with a bit of chopped parsley, if using.