Serve Chilled: White Wines For Cold Weather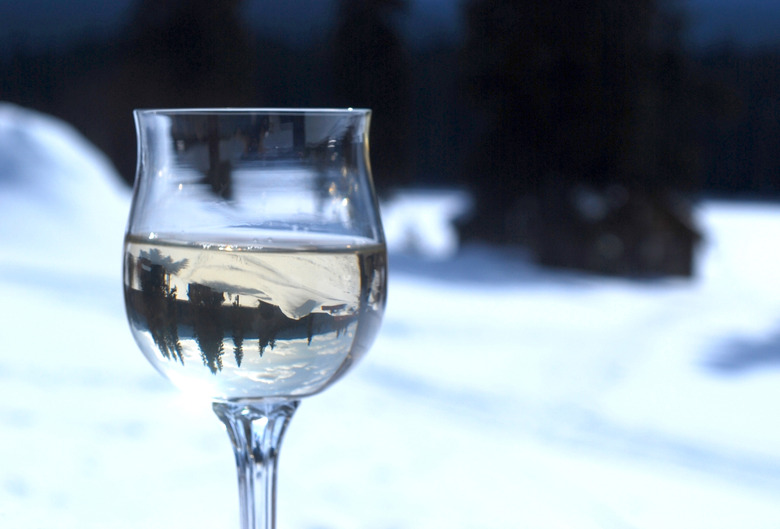 (wasabi42/Flickr
Every year around late February I go through the same charade. Annoyed and restless from a long winter, I declare I can't possibly tolerate one more day and vow to move to a city where I don't need a puffy coat. After months of hibernating in freezing temperatures and living off hearty braises, I'm ready for vibrant, in-season vegetables and crisp white wine. I'm ready for spring!
It may not be warm outside yet, but white and rosé wines shouldn't be ignored during the colder months. Medium- to full-bodied white wines, like Rhône-style white blends, Torrontés or oaked Chardonnays, Viogniers and white Riojas provide enough weight and character to stand up to winter fare (like all those braises I've making). When I'm desperate for warmer days, I can justifiably excuse my evening bottle of white or rosé as the ideal complement to spicy winter dinners.
Lauren Buzzeo, tasting director at Wine Enthusiast, notes that rosés in particular are an ideal companion for tomato-based dishes, like braises or lasagna. Bright, crisp rosé might seem like an unlikely companion, but according to Buzzeo they offer "white-wine refreshment with hints of berry-like, red wine flavor and subtle tannic structure" that can match the acidity of tomatoes and the balance the rich fattiness of slow-cooked meats. She notes that a "bright, zingy rosé is also an ideal complement to creamy dishes like chowders" and the comforting baked mac n' cheese or potato gratin. The punchy notes of a young rosé will cut through the belly-busting dairy fat.
Sometimes all you want is a big glass of summer, and nothing fits the bill better than chilled Pinot Gris. Aromatic whites like this are not only exceptional for refreshment on hot days, but when it's chillier outside they are the perfect foil for spicy dishes like curries and tagines. If it's a chili-laden recipe from India or Southeast Asia, it needs a white. "The inherent spicy qualities of the wine — think ginger, clove, allspice, honeysuckle, orange blossom — will harmonize with the cuisine, while ripe melon and tropical-fruit tones will provide a lush, rich backdrop," explains Buzzeo. A bit of spice and a melon backdrop? Now that's something I can curl up with in the middle of a snowstorm.
Here are four excellent bottles priced at $20 or less to pair with cold-weather fare:
Umathum 2015 Rosa (Burgenland)
$20, Wine Enthusiast score: 92 points
Kakhetia Traditional Winemaking 2013 Quevri Wine Rkatsiteli (Kakheti)
$19, Wine Enthusiast score: 90 points
Pierre Sparr 2015 One (Alsace)
$12, Wine Enthusiast score: 90 points
Cristom 2015 Estate Pinot Gris (Eola-Amity Hills)
$20, Wine Enthusiast score: 92 points