Pack It Up: 12 Easy Portable Lunches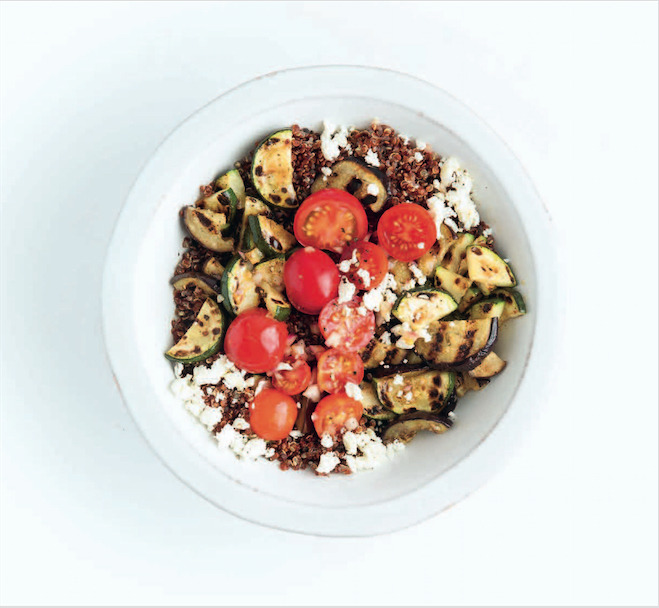 What good is bringing lunch if it leaks onto your stuff? Behold: 12 ideas for lunch that are  healthy, leak-proof and totally delicious. Whether it's a sandwich without tomato (read: soggy mess), pasta with an extra-clingy sauce or something egg-centric, there's something tasty in this mix that will save your tote bag a trip to the washing machine.
Recipe: Red Quinoa Ratatouille
Pass the red quinoa ratatouille! Bowls of hearty whole grains topped with healthful, delicious fare are a trend that will outlast any fad pastry or rainbow this-or-that. Join food stylist and recipe developer Anna Hampton as she explores the wide world of ancient strains, gluten-free options and other filling, fiber-rich grains that pair beautifully with fresh vegetables, home-fermented foods and lean proteins for a meal that looks as good as it tastes.
Recipe: Mini Chickpea Salad Pita Sandwiches
I love chicken salad sandwiches, and I've found that what you can do to chicken in this particular application, you can do to chickpeas. Buffalo, Waldorf, curry, Asian — you name it, I've chickpea salad–sandwiched it. This time around, I'm going Middle Eastern with tangy goat cheese and za'atar, and serving it in mini whole-wheat pitas with all the fixin's.
Recipe: Soba Noodle Buddha Bowl
A buddha bowl has become a very popular yoga meal. Typically they are meal-sized bowls filled with simple, pure food. To create your own buddha bowl, find a unique bowl that you can use as a symbol for your nourishment and gratitude. A buddha bowl is supposed to excite your mind with its rainbow-colored ingredients, which are full of energy. Enjoy the creation of this dish and be mindful of how nourishing it is for your body.
Recipe: Herby Egg And Blue Cheese Soufflés
Tangy blue cheese and plenty of fresh herbs keep these light, simple soufflés on their toes, though if you're not a blue cheese person, crumbled feta or Parmesan could happily stand in. I love that these do equally well as festive brunch fare and quick, weekday breakfast — if you make a batch on Sunday and store the leftovers in the fridge, you'll have easily grabbable egg cups all week long.
Recipe: Orzo With Peppers, Tomatoes And Olives
Tip: You'll have leftover basil butter, which you can freeze and use again later. It's delicious on toast, all kinds of veggies, and pretty much anything else.
Recipe: Bacon And Scrambled Egg Onigiri
This onigiri is a little fatty from the eggs scrambled in butter and the bacon. If you like, you can hold it all together by wrapping it like an envelope.
Recipe: Dan Kluger's Chicken Salad Sandwich
You'd think James Beard Award–winning NYC chef Dan Kluger would be too busy opening his brand-new restaurant to loan a recipe to California roadside–style LES eatery Genuine Superette. When it comes to sharing sandwiches, however, there's always plenty of time. Other guest chefs who have inspired dishes at Genuine include Jamie Bissonnette, Michelle Bernstein and Paul Liebrandt. All you need to re-create this friendly-looking fully loaded lunch is some leftover chicken, a few fridge staples and ten minutes of your time.
Recipe: Basil Avocado Pasta
This sauce sounds unusual, but the creamy avocado and fragrant basil make for an indulgent pasta dish without adding meat or dairy. This works best with spaghetti but is great with short pasta, too.
Recipe: Quinoa Stir-Fry With Garlic And Pineapple
Stir-fried rice is one of my favorite Asian dishes. However, it's not always the healthiest, so I swapped in quinoa for added protein and nutritional value. I borrowed the cashew and pineapple idea from my college roommate, who made some of the best fried rice. The five-ingredient sauce melds everything together to create a flavorful, hearty entrée or side dish.
Recipe: Goat Cheese And Gruyère Frittata
What's really nice here is the way the two cheeses play off each other. The sharp, tangy goat cheese gets very soft, and the stronger Gruyère becomes melty, but each maintains its own identity. Peppery arugula ties it all together. The cooked greens wilt into the cheesy frittata, and the bright arugula side salad cuts through the richness of the frittata and makes this a complete meal.
Recipe: Pimento Cheese-Stuffed Sandwiches
Food & Wine contributing editor Andrew Zimmern is a fearless eater. I can't pronounce half the things he eats on his Travel Channel show, Bizarre Foods, but he taught me this genius grilled cheese trick. You crimp the edges of the bread with a fork so it holds in all the oozy filling.
Recipe: Chef's Salad With Kefir Ranch
The texture and tang of kefir makes it a perfect base for this healthy ranch dressing. I like to pour it on top of a classic chef's salad, but it also makes an awesome veggie dip or pizza sauce.