In Hungry Concierge, we travel the world to spot hotels that operate with their guests' food and drink needs squarely in mind — hotels, both big and small, that are located in neighborhoods rich with bar and restaurant options. Because there's nothing worse than having your trip derailed by crummy room service. 
Like many a sensible New Yorker who travels to Los Angeles for business, my first stop after alighting at LAX is usually In-n-Out for a double-double and animal-style fries. On a recent trip, however, I Uber-ed straight to my lodging, the Orlando Hotel, and then wrestled with the idea of taking another Uber to get to my burger fix. Then, with help from a GPS-backed dining app, I realized that I was mere steps from Son of a Gun and could just beat the lunch cutoff at Jon Shook and Vinny Dotolo's reliable seafood-centric restaurant. Soon enough, I was face to face with a tuna melt and a pint of Acme California IPA that settled me into the West Coast mindset quite nicely.
The Orlando Hotel succeeds in the "location, location, location" department (more on that below; see "The Neighborhood"), but does this under-the-radar boutique option have more to offer than its perch on the corner of W. 3rd and N. Orlando? There are spacious, well appointed rooms, a cozy lounge off the modest lobby, a small pool for lounging and a gastropub for dining and drinking. There is not a neon-lit hotel bar with thumping music or a rooftop speakeasy — in other words, the Orlando doesn't traffic in curated hipness.
I used to love this sort of low-key aspect about the hotel that became what's now the chic and trendy London, further up in West Hollywood off the Sunset Strip, so I was glad to again find a place to lay my head for a few nights in L.A. without feeling like I needed to be wearing Kith collabo kicks and a Supreme tee while striding through the lobby. The unglamorous carport at the Orlando isn't filled with revving Maseratis and M Series Beemers. And at the Churchill, the hotel's attached gastropub, you get reliable burgers and beer rather than on-trend poke bowls or a sleek omakase sushi experience.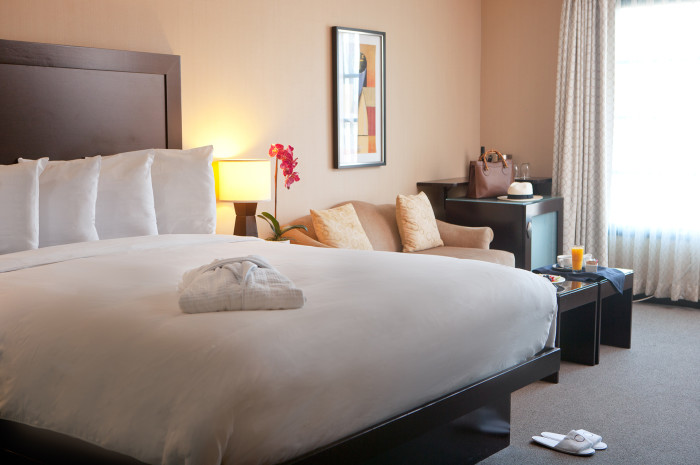 The Rooms
I checked into a Deluxe King on a seasonably warm afternoon this past November, and opened the shades to reveal an inspiring view of the hills and the famous Hollywood sign. The room itself was more functional than stylish, but I liked that the usual trappings of the trying-too-hard boutique hotel were avoided. The desk had easy-to-access outlets for my laptop and phone chargers; the flatscreen TV faced the bed straight on; there were no sharp angles or odd nooks to negotiate.
There's a surprising diversity of room styles for a 95-room hotel, with seven king or queen variations and three suite options, including a 720-square-foot corner "Entertainment Suite" with a tastefully furnished 250-square-foot patio.
The Look
The muted colors seem like someone told the designer to "riff on beige," and the furniture is far less adventurous than a Design Within Reach showroom, but I liked that the ambience was in keeping with the hotel's overall approach; if you want rock 'n roll or glamour, the Andaz West Hollywood and the Sunset Tower are just up the hill a ways.
I'd peg the Orlando's decor as something like "urbane spa." Sometimes less is more, and in the case of the Orlando, I found it easier to relax here than at most Los Angeles boutique hotels I've stayed at in the past. Quite simply, there's no pressure. The low-frills workout room wasn't about seeing or being seen, but was a perfectly fine place to get in a cardio session on an elliptical machine, lift some weights, and then step through a door into a snug pool area.
The Neighborhood
As much as I'd like to believe that L.A. is becoming more walkable, it just ain't happening. The weather in early November was perfect for strolling emerging W. 3rd Street, and I hoofed it as far east as the minimalist-chic Blue Bottle café a half mile away and a bit west to the nearby Beverly Center, and I was hardly in danger of crashing into another pedestrian on the sidewalk. Still, whether on foot or in a car, there are few locations as well suited for exploring the L.A. that doesn't involve beaches than the Orlando's corner lot.
For starters, there's the Churchill right through the lobby doors. It came in handy during my stay at all times of day. I watched the Cubs close out the World Series from a barstool and then grabbed an iced coffee on the go from a helpful waiter the following morning. L.A.'s vaunted dining scene is abuzz due to newcomers in downtown and on the east side, but it's old-school spots like Son of a Gun and Suzanne Goin's A.O.C., a few blocks from the hotel, that gave the city its culinary foundation.
And if you care to use less emissions than a Prius, you can walk from the Orlando to find food and drink for any mood. There's a branch of Magnolia cupcakes across the street, and reliable poke (Mainland Poke Shop), tacos (Plancha Tacos) and upscale Italian (Bianconi) within a few short blocks. One morning, I stumbled upon Little Next Door, a café/shop with prepared foods, excellent croissants and coffee; it's adjoined to Little Door, a charming, highly rated French-Mediterranean restaurant.
I didn't need to leave the neighborhood, but L.A. friends summoned me outward, and getting to West Hollywood for a dinner at Norah, and to Los Feliz for the full Ludo Lefebvre experience at Trois Mec, couldn't have been easier.
Rates from $219; 8384 West 3rd St., Los Angeles, CA 90048; 323-658-6600; theorlando.com