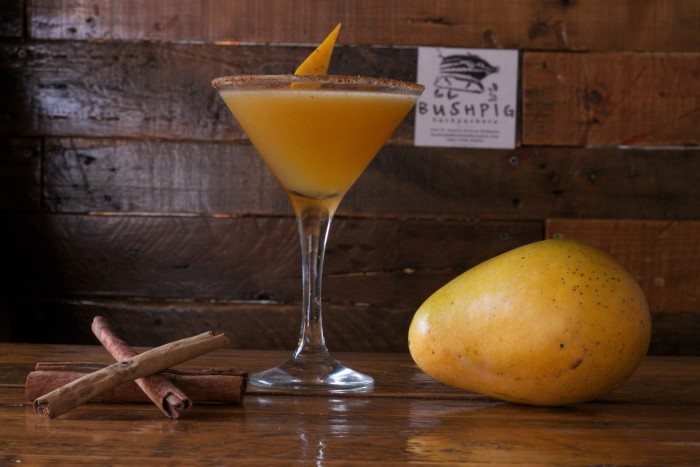 It's just shy of 97°F when my driver, Michael, collects me at the hotel. I hop into the front seat of a truck and immediately notice the lack of air-conditioning. It's going to be a long two hours from Entebbe (the airport town I'm staying in) to Kampala, the capital city of Uganda.
But the suffering is temporary.
At the end of this journey, I'm told there are incredible craft cocktails and bartenders to alleviate the sweat, which is at this very moment running in rivers down my calves.
I'm on an adventure to investigate Uganda's fledgling but thriving craft cocktail scene. In 2015, a group launched both Kampala Restaurant week in June and Kampala Cocktail Week in December.
Can one find a good drink in a developing, dusty capital in the near-center of Africa? I'm about to find out!
4 p.m.
Mythos Greek Taverna & Lounge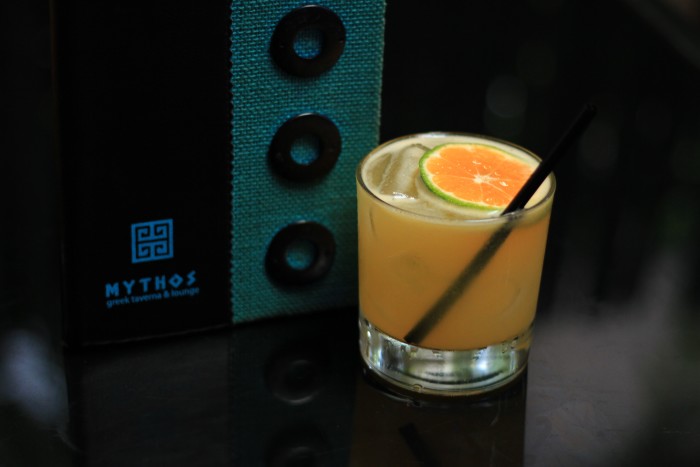 We pull into downtown Kampala at the height of rush-hour traffic. Men and women approach my open window, trying to sell us everything from office chairs to boom boxes to dusty guitars. I'm offered a laminated map of Africa by one man. "This one has South Sudan," he says, pointing. I shake my head and consider that I'm in a place bordered by the world's newest nation. Maps have to be redrawn, relaminated.
The center of Kampala is intensely frenzied. Red dust is kicked up by a number of sources, from men on motorbikes to women in flip-flops furiously chasing children. You'd be hard-pressed to find a cocktail down here, but as we arrive in the upmarket neighborhood of Kololo, our first stop, Mythos, is a gorgeous, welcome sight.
The restaurant is owned by a local family with Greek heritage, and it's decorated with potted plants, bright blue accents, terra cotta tiles and white tablecloths. Mythos is significant in Kampala's cocktail culture. Its head bartender, Fred Kubasu, won Cocktail Week in 2016, taking home the award for Best Cocktail with his Don Corleone — Absolut Citron, Cointreau, lemon and fresh tangerine juice. Kubasu produces a little tangerine, which I would have mistaken for an American lime. He slices it, and the thick flesh on the interior is the color of warm sunlight.
"When we insist on fresh here, we mean it," Kubasu says proudly, as I try my first-ever Ugandan cocktail. You can taste the truth in that statement. There's the balance I, as a New York cocktail snob, recognize immediately. "We do have things we cannot get," he continues, "like premium fruit liqueurs. I've been making my own herb and fruit syrups. The Kampala Cocktail Week was a great time for me, because I really experimented in a way I hadn't before."
He floats two rose petals as a garnish for our second round, a drink called the Queen of Katwe. It's named for the recent feature film about the Katwe slum, served in a coupe with Uganda Waragi (a local gin), plucked basil, pineapple and a small splash of Midori. The finished product is feminine and pretty, refreshing, with a nice rim of light foam.
"We buy our fruit from local gardeners," Kubasu continues. "In this way, we are luckier I think than some other, more developed places. It's cheaper for us and easier to get it."
At Mythos, I meet up with Philip Kalibwani. He's the business development manager for The Pearl Guide — the publication that launched both Restaurant Week and Cocktail Week here in Kampala. Kalibwani is a cocktail fanatic, and although he's never worked at a bar, he knows his stuff.
We bid Fred a heartfelt adieu and head for our next drinking destination, which requires a 15-minute walk. We take the truck, though, because it's now around 4,000°F outside. At this point, I'm pretty sure Kampala translates to "Oven-On-High" in English.
6 p.m.
Bushpig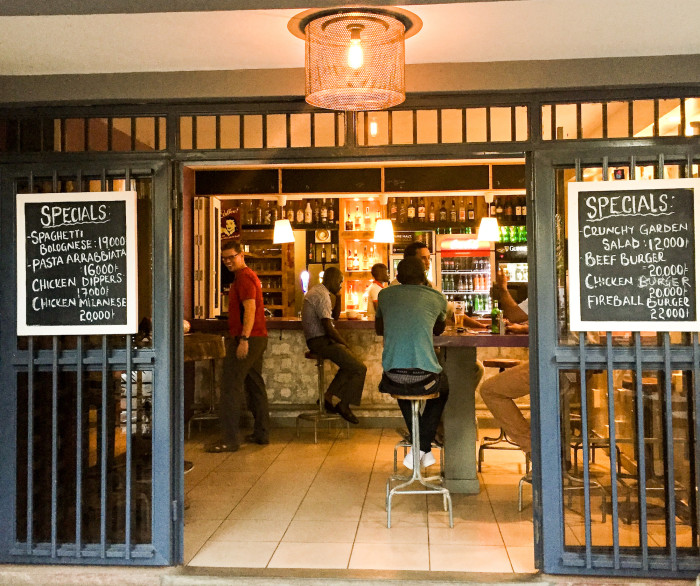 "Our hospitality is a bit of a sleeping giant," Kalibwani tells me at Bushpig, our second stop.
"The cocktail culture is not New York or London, but for us, that equals opportunity. We have a million ways in which to grow."
Cocktail Week helps educate bartenders through one-on-one conversations with participating brands, and friendly competition with fellow bartenders helps push everyone's creative side.
"Normally cocktails in places like Mythos cost $7 or $8 USD," Kalibwani continues. "The bars participating in Cocktail Week are given parameters to set them at around $4. This is done to help Kampala people understand what a good cocktail can be. Last year, the theme was Craft Edition, and we challenged every bartender to adopt kitchen concepts behind the bar."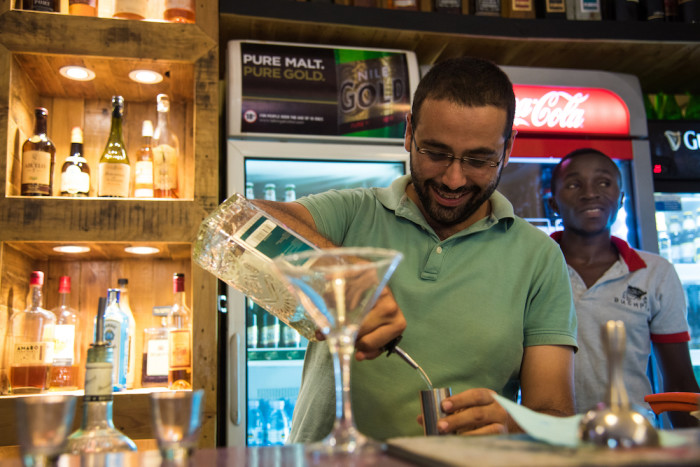 Our arrival at Bushpig comes first with giant hugs and high-fives from the boisterous, immediately lovable owner, Andrea Lazzari, who hails from Italy. He emigrated to Kampala with a friend to open the very first cocktail bar in the country. His Camel Club was a wonderful success, but due to land issues, it shuttered in 2014.
Bushpig (attached to the Bushpig Hostel) debuted in September 2016. We are immediately handed a freezing cold, delicious margarita, a perfect New York sour and a round of shots made with Uganda Waragi, fresh juice and Angostura bitters.
Bushpig's setting is indoor-outdoor, with purple accents, tables made from reclaimed wood, and a sunlit patio.
"I make a ton of syrups here," Lazzari says. "Almond, cinnamon…we play around a lot. The bar's been quite a success."
Success in Africa means you always have to work harder. While small-town bartenders might long for more mezcal, no mezcal is imported into Uganda. Lazzari has also struggled to source cheese for his pizzas. There was a local mozzarella maker, but the product didn't meet his standards.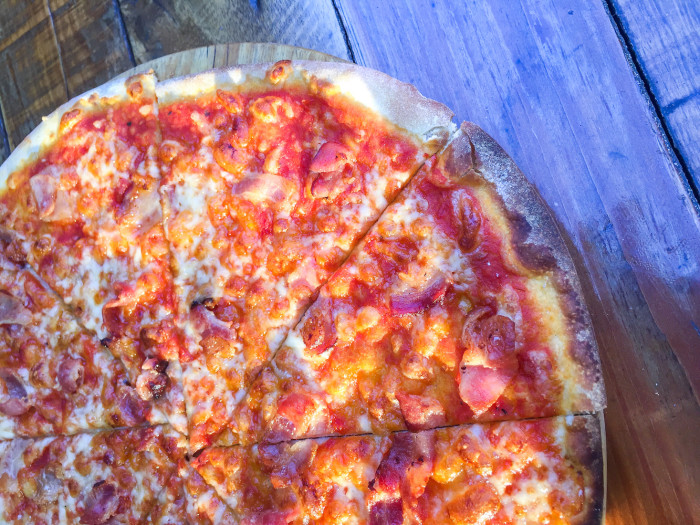 Instead of giving in to packaged cheese, Lazzari got the mozzarella maker on the phone with friends back in Italy. Through numerous phone calls and recipe trials, incredible, house-made Italian mozzarella is now a reality in Kampala.
"Ugandans really do love food here, so it's no wonder culinary cocktails are gaining some traction," Lazzari says.
8 p.m.
The Alchemist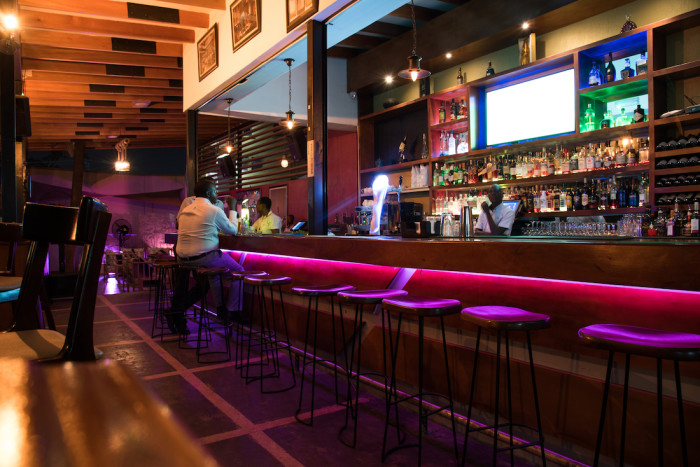 It's no wonder cocktails are gaining traction, too, when you consider the statistics. Ugandans per capita consume more alcohol than any other culture in Africa. Cocktail Week was so successful in 2016 for Mythos that it continued serving at a discounted rate for the entire following week.
"The week after was busier than the actual Cocktail Week," says Kubasu. "People heard that we'd won and came in to try all the drinks. We were juicing a lot of tangerines, and we were slammed for days."
We've now come to our third and final stop of the evening — the Alchemist, in the Bugolobi neighborhood. It's a big, two-room space with sexy red lighting, a towering ceiling and open walls that let the night breezes blow through. Bugolobi is among the nicest of neighborhoods in Kampala, appealing to expat residents and investors with new businesses.
The Alchemist plays no second fiddle to many a Ugandan's love of whiskey. In fact, it owns the distinction of having the finest array of single malt scotch in town. When I meet the gentlemen who own the bar — Hillary and Roger — they both profess a love of Caol Ila 25-year. It's on the menu by the bottle for $257 USD.
I'm after cocktails, though, not Islay, and a round of Warjitos feels like a must. This is the Alchemist's version of a mojito, reimagined with the local spirit of Waragi.
Waragi (pronounced war-rah-gi) is the most commonly consumed spirit in Uganda. Originally — and still today in rural areas — Waragi is made with whatever is available to distill, usually bananas or millet.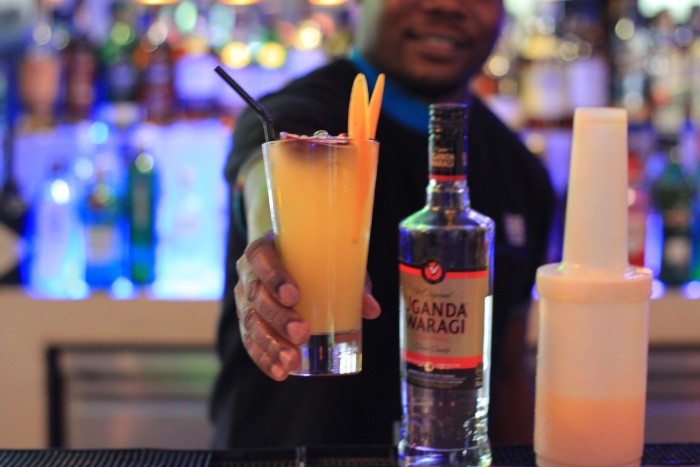 When Ugandans went off to fight in WWI, they would take shots of this homemade hooch before battle. The British called it "war gin." The Ugandans misunderstood and the garbled "Waragi" stuck. I'm not sure I'd drink the rougher rural stuff. People in villages have died from toxic batches, but Diageo produces the official Uganda Waragi brand locally, and it's no more dangerous to you than Seagram's gin. Frankly, it's also much better tasting.
At this point in the evening, I'm starting to feel like I've known these guys forever. Philip and I are sharing meatballs. Michael is filling me in on the soccer match scores. Everything's going swimmingly, and then…
"You should try our Porn Star Martini!" exclaims Roger. "It's our biggest seller with the ladies."
I slam face-first into a moment I feared would happen. I'm about to be served a disgusting drink. A Porn Star Martini? Oh, Roger.
When rambling down the initial roads towards Kampala, passing goats and fruit vendors, concertina wire and busted-up sidewalks, I was reasonably worried their craft cocktail scene might consist entirely of terrible Alabama Slammers, banana daiquiris and, well, sickly sweet Porn Star Martinis. These drinks we left behind in the 1970s in America always seem to be alive and kickin' in the developing places. Until this very moment, they'd been absent from my evening.
Roger is very excited as the Porn Star Martini arrives. He's saying "homemade vanilla syrup" and "fresh passion fruit." I'm still dubious. The de facto shot of champagne is there, too, but Roger mentions this is Prosecco. "It's not easy to get Prosecco, but I feel it's better with this drink," he says.
As I pull the large martini glass towards my face, I get an olfactory, sour precursor off the passion fruit garnish. I sip. And it's awesome. It's sweet but not too sweet. There's some kick to the citrus but a wonderful balance in the light vanilla. I follow with a slug of bubbly, and I realize Roger is right. Prosecco is a better choice than champagne.
Is it weird that I know I'll probably go home now and crave Ugandan Porn Star Martinis from time to time? Yeah. It's super weird. But it's the truth. Kampala's cocktail scene will do that to you.