5 Creative Ways To Use Chicken Thighs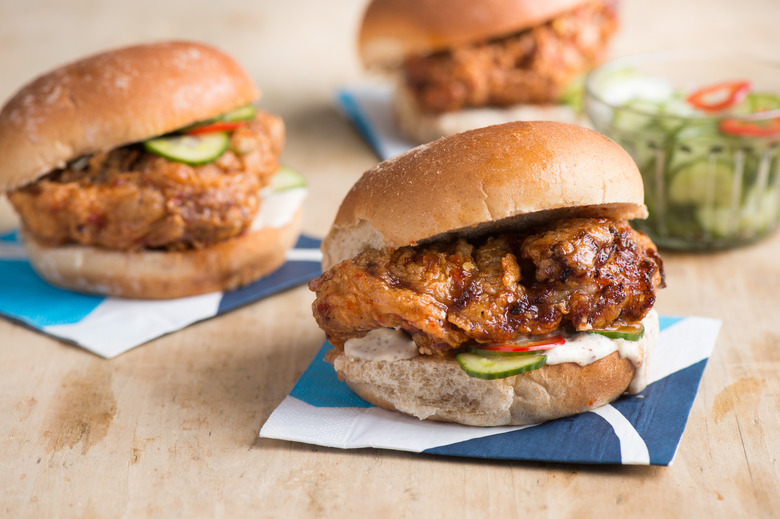 If you're picking favorites when it comes to chicken, go for the thigh any day. Thighs have rich, flavorful meat that resists drying out and invites any marinade, dredge or braise you have in mind. Pick up a pack today and get ready to spin this succulent cut into any of our creative ways to use chicken thighs.
Recipe: Crunchy, Sticky, Spicy Fried Chicken Sandwiches
I start with dark meat — in this case boneless, skin-on chicken thighs — and quick-brine them in a concentrated brew of sugar, salt and pepper to help make the chicken super-juicy and tender. Cloaking the chicken in buttermilk helps the dredge's cornstarch-and-flour blend cling cooperatively, yielding the crispiest results. Once out of the fryer, I toss the chicken in a two-ingredient glaze for a sticky, spicy kick.
Recipe: Crisp Chicken With Potato Salad And Anchovy Vinaigrette
Only Septime chef Bertrand Grébaut can make chicken salad taste like a groovy improvisation instead of a safe dish. The boneless thigh meat is moist, crunchy — it develops crackling skin in a cast-iron pan — and rousing when tumbled with anchovy-spiked potatoes. The kicker: a dollop of fromage blanc (or yogurt), plus a mix of raw and sautéed greens on the plate.
Recipe: Porcini Braised Chicken Thighs, Naomi Pomeroy Style
This is a rustic one-pot meal to serve directly out of the Dutch oven in which it is cooked. Porcini mushrooms have an earthy, savory quality that combines with the stock, wine and concentrated meat flavor from the thighs to create a lovely richness. The contrast of crisp skin against tender braised meat and soft vegetables is fantastic as well.
Recipe: Chicken With Apricots In Riesling
If you feel like eating meat but time is tight, throw some chicken thighs in the oven. This is one of the quickest and easiest dishes to please a hungry crowd of family or friends, in which case just double the amounts below. And if there are fewer people at the table, add a little chutney and some arugula leaves to the cold leftovers, and stuff everything into a sandwich.
Recipe: Maple Ginger Chicken Thighs
You know how some cookbooks automatically fall open to a particular page because you've used that recipe so many times? Mark my words, this will be that page. Here is a sweet, savory, and easy-as-heck recipe that is perfect for a chilly evening spent with friends.