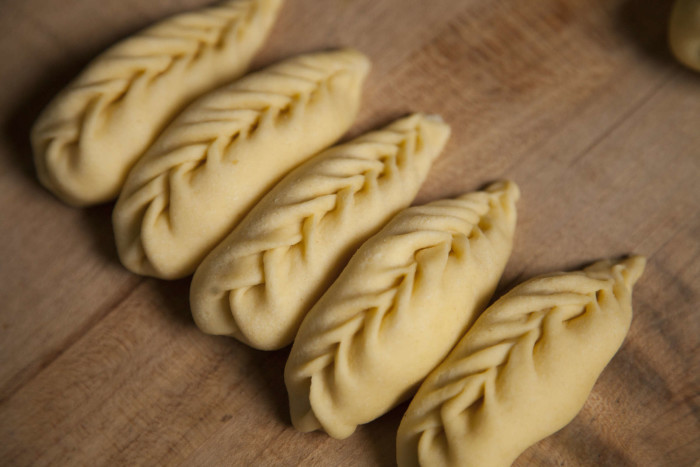 Some of the world's best treats come in small packages. Birthday presents adorned with bows and ribbons — steamy soup dumplings — it's these little packages of joy that make this occasionally dreary world just a wee bit better. The same can be said for culurgiones, the traditional Sardinian stuffed pasta. These chubby flavor packets, whose name refers to the "little bundles" of joy that they are, are easy enough to make at home any night of the week yet fancy enough to delight your loved ones. Traditionally filled with mashed potatoes and mint, they can also be stuffed to the brim with squash, sweet potato — really, anything else that might delight you.
To get down and dirty with these stuffed delicacies, ChefSteps invited its pasta guru, Jason Stoneburner of Seattle's Stoneburner, to show 'em how it's done. An expert on all things pasta, Stoneburner's got the tips and tricks it takes to lace up these pretty pouches. In about an hour — and with only four ingredients — ChefSteps shows us how to make pasta worthy of any Italian eatery. Move over, ravioli. It's time to get culurgioned. Check out the instructional video and full recipe below.
Culurgiones
Servings: About 6
Ingredients
500 grams semolina
500 grams all-purpose flour
450 grams warm water
75 grams olive oil
FAQs
What is semolina?
Semolina is a coarse, golden-colored flour made from the endosperm of durum wheat. Its high gluten content lends a satisfying, toothsome bite to your fresh pasta.

Where can I get it?
Most specialty grocery stores (like Whole Foods) carry it. You can also buy it on Amazon.
What filling should I use?
As the video shows, starchy purees like potato or yam work great. But you can certainly get creative — how about ricotta with lemon and mint, or pureed chestnuts and mushrooms?
Directions:
1. Make a pile of 500 grams all-purpose flour and 500 grams semolina, and use a bowl or cup to make a small well in the middle of the mound.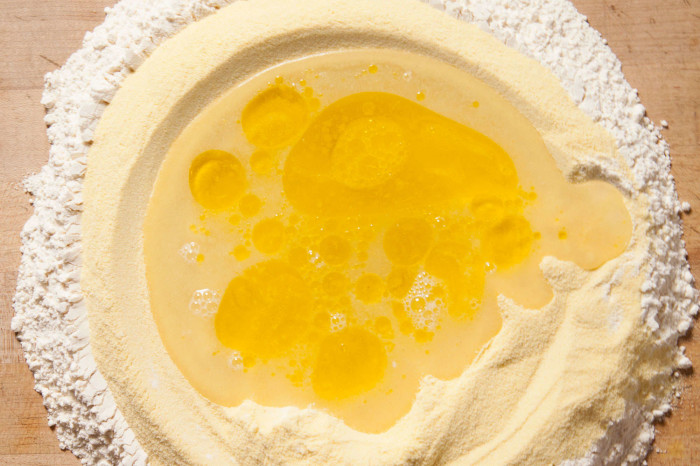 2. Pour warm water and olive oil into the well. Mix the ingredients in the well together, then slowly incorporate the wet ingredients with the dry ingredients. When the flour starts to hydrate, use your hands to knead the dough.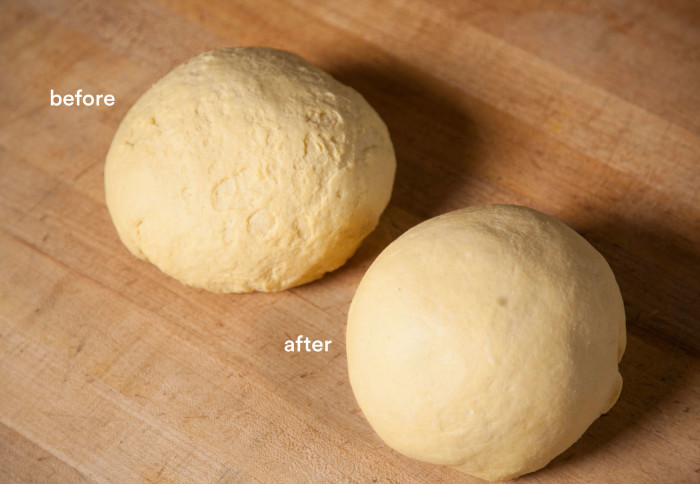 3. When the dough is rough — like the outside of the moon — it's ready to rest. Wrap it in plastic and set aside for 30 minutes, until the outside softens.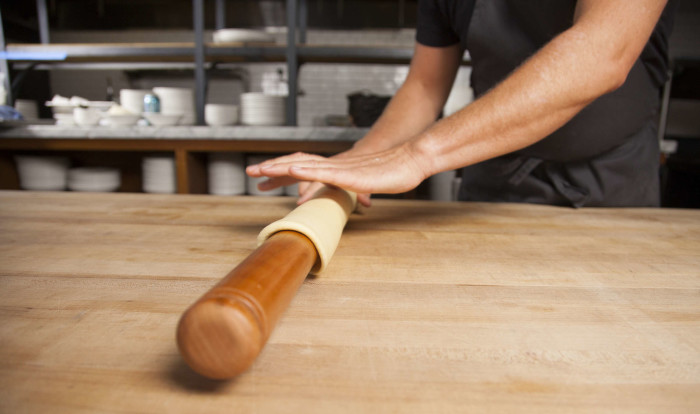 4. Divide the dough in half and flatten each piece. Then roll each out with a rolling pin (or wizard staff, chair leg, wine bottle, etc.). Intermittently turn the dough and continue to roll it — this ensures even rolling. When you're done rolling, the dough should be roughly the thickness of a nickel.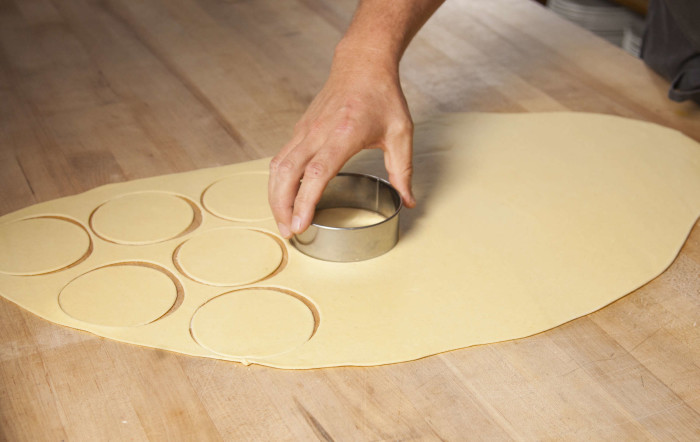 5. When your dough is the right width, use a 3 1/2-inch ring mold to cut out circles. Discard the rest.
6. The possibilities are endless when it comes to filling culurgiones. Traditionally, they are stuffed with potatoes and mint, but you can try anything thick, such as mashed potatoes, sweet potatoes or squash.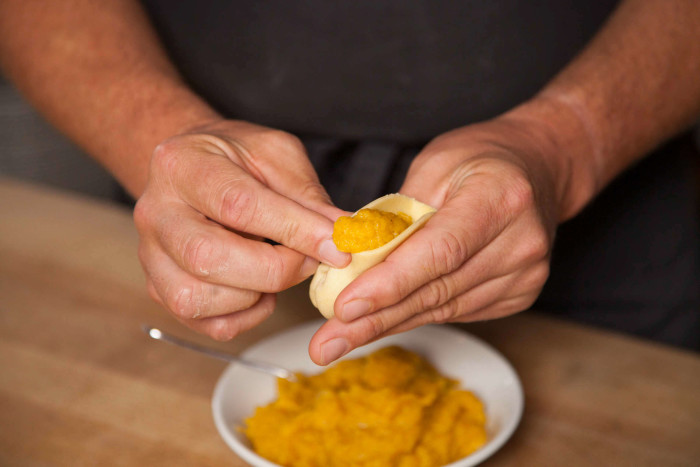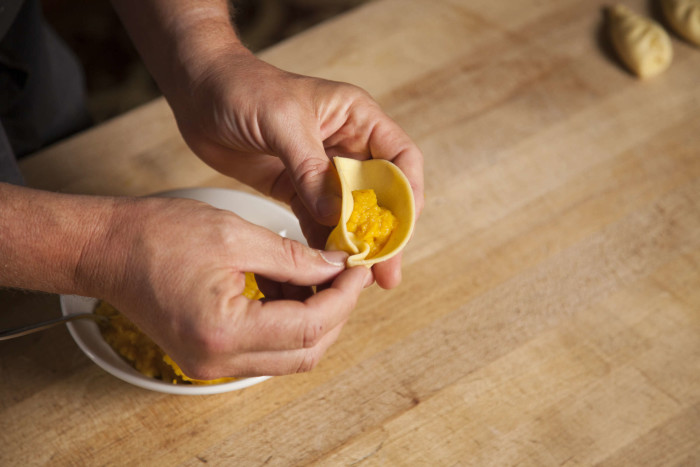 7. Fill a circle of pasta with 35 grams of your preferred filling, then fold the pasta into a taco shape around the filling. Fold in the bottom of the taco and pinch the edges together. Continue this step until the pasta is sealed tightly—the seam should look like a zipper. Don't worry if some of the filling spills out—it's a good thing, meaning the pasta is stuffed to the brim.
8. Cook culurgiones in boiling water for two minutes and serve with whatever sauce you like! Perhaps smoked ham shank broth with shiso? Or maybe butter and brodo with truffle?
ChefSteps comprises a team of award-winning chefs, filmmakers, scientists, designers and engineers focused on revolutionizing the way people cook by inspiring creativity and encouraging expertise in the kitchen. You can also get access to all of ChefSteps' Premium content — including paid classes and dozens of recipes available only to Premium members for a onetime fee — for the special price of $24 (regularly $39). Classes include Sous Vide: Beyond the Basics, Fluid Gels, French Macarons and more!