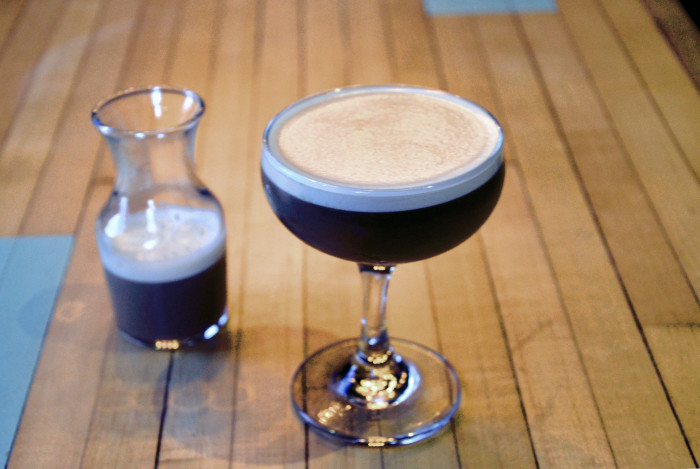 The whiskey sour is still an indelible staple of the cocktail lexicon, one that has universal appeal and seems to offer a lot of room for improvisation for bartenders. However, few might consider stout beer among the list of possible variations. For barman Jared Denham of Nashville's Pinewood Social, though, it's the perfect vehicle for his Sly Man Sour, featuring currant-infused rye and a stout syrup.
One evening behind the bar, a fellow bartender from Cleveland told Denham of a drink called a black beer, consumed in historically Irish neighborhoods in Ohio. "This consists of stout beer and crème de cassis," notes Denham. "We tried the two together and they complemented each other beautifully. I settled on a whiskey sour build as the best vessel for this interesting combination because whiskey sours and whiskey infusions have historically been very successful at Pinewood. It also just made sense."
Pinewood uses the malty Highland Mocha Stout, which is contrasted by the bright lemon juice, as well as orange oil and black-walnut bitters. The froth of the egg white helps to balance and bring the drink together, while still letting the rich sweetness from the beer and currants come through. Though most beer cocktails, such as the Michelada, focus on modifying the beer itself and preserving effervescence, Denham's approach of making a syrup from the beer simply integrates the flavor. For the sour and its many faces, it's clearly the gift that keeps on giving, even if you're in the mood for a beer.
Sly Man Sour
Servings: 1 cocktail
Ingredients
2 ounces currant-infused rye whiskey*
1 ounce stout syrup**
¾ ounce fresh lemon juice
Fee Bros. Black Walnut Bitters
1 egg white
Directions:
*For the currant-infused rye whiskey: 
Combine 1 liter rye whiskey (Pinewood uses Wild Turkey 101 Rye) and ½ pound dried Zante currants in sealed container and heat in a water bath at 55-60°C for two hours. (Do not let temperature exceed 75°. The same result can be obtained by letting the whiskey infuse at room temp for about a week and a half.)
After two hours, remove container and let cool down to room temp.
Strain whiskey and currants through fine-mesh strainer lined with cheesecloth, and squeeze currants for every last delicious drop of infused whiskey.
**For the stout syrup: 
Pour 12 ounces stout beer into a saucepan and bring to a boil.
Bring down heat to a simmer and reduce volume by ⅓.
Remove beer reduction from heat and add Demerara or Turbinado sugar at 1:1 by weight.
Stir until sugar is dissolved. Allow to cool and store for later use.
For assembly:
Add ingredients to shaker and dry shake without ice to emulsify egg white.
Add ice, shake vigorously and strain into a chilled cocktail glass.
Spray Fee Bros. Black Walnut bitters (via atomizer) and express an orange peel over the top to garnish the drink.
Prep time: 3 minutes
Difficulty: Moderate