15 Vegetarian Brunch Dishes For This Weekend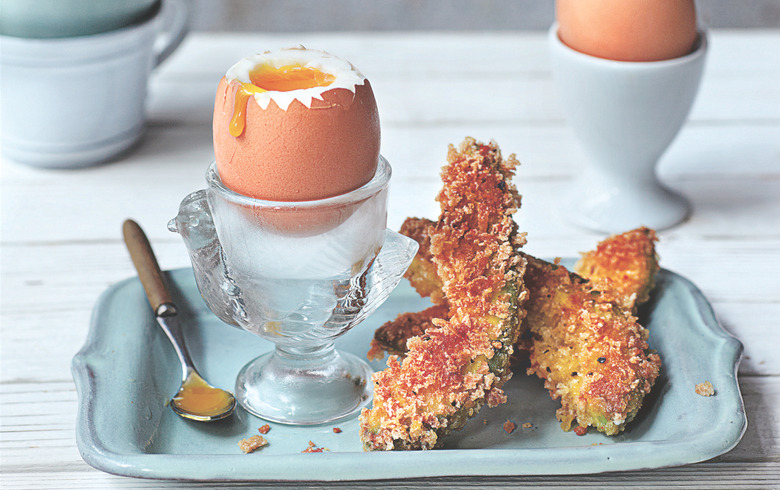 It may seem like a proper weekend brunch could never be complete without a side of crunchy bacon, spicy sausage or at least some ham, but a vegetarian spread can be every bit as satisfying. Here are 15 of our very favorite vegetarian brunch dishes for a delicious weekend meal. Load up on the fresh produce and heathy fiber (or ignore them entirely in favor of decadent, custardy French toast and loaded waffles). Point being, you won't notice for a moment what's not there.
Recipe: Soft Boiled Eggs With Crispy Avocado "Fries"
These melt-in-the-mouth avocado fries bring a whole new dimension to boiled eggs. Crispy on the outside and beautifully buttery in the center, they are just perfect for dipping into a hot, runny yolk. Use vegetarian hard cheese to make this vegetarian.
Recipe: Cardamom Doughnut Brioche French Toast
Doughnuts are a weakness of mine. Mind you, not just any old doughnut will do. I like mine without any filling, rolled in sugar, and no strong flavors. For me, simple is always best. This dish was inspired by domestic goddess Nigella Lawson's doughnut French toast recipe from her book Nigella Express, which became a family favorite. While I love ordinary French toast, I tend to alternate between cinnamon and cardamom flavors for this recipe, so if you want to go with the cinnamon version, omit the cardamom and add 2 heaping teaspoons of cinnamon to the superfine sugar instead.
Recipe: Herby Egg And Blue Cheese Soufflés
Tangy blue cheese and plenty of fresh herbs keep these light, simple soufflés on their toes, though if you're not a blue cheese person, crumbled feta or Parmesan could happily stand in. I love that these do equally well as festive brunch fare and quick, weekday breakfast — if you make a batch on Sunday and store the leftovers in the fridge, you'll have easily grabbable egg cups all week long.
Recipe: Sunday Brunch Grilled Cheese
Inspired by the magnificent Monte Cristo — a ham-and-cheese sandwich that is battered and fried and then dusted with powdered sugar and served with maple syrup or jam — I experimented with different breads, flavorings, fruits, cheeses, and garnishes to make a French toast–style sandwich that is uniquely ours. For the essential bread itself, I found that marrying slightly dry slices of brioche loaf with a thick batter enriched with butter, vanilla, and flour yields both a nice, crisp and dry finish on the outside of the cooked sandwich and a perfect custardy consistency on the inside.
Recipe: Asparagus, Taleggio And Fried Egg Panini
This is a sexy springtime sandwich that you should not miss. Marinate asparagus spears in lemon, olive oil and herbs and grill them on a grill pan until they take on heady marks of heat and licks of smoke. Then press them between slices of crusty bread with an oozy fried egg with creamy yolk, gooey Taleggio cheese and spicy arugula. The sandwich tastes just as decadent and delicious as it sounds, especially with a crisp Vermentino or a dry rosé (for me, absolutely required).
Recipe: Poppy Seed Waffles With Blueberries
I love poppy seeds. They are basically drugs — a mild form of opium. Remember that episode in Seinfeld where Elaine tests positive for heroin? Turns out she was eating too many poppy seed bagels. So it goes without saying that this is a feel-good recipe, perfect for a weekend breakfast. Trippy.
Recipe: Garden Goddess Breakfast "Burritos"
The field of concoctions flying under the flag "breakfast burrito" is a crowded one. But Liz and Tim's version of what might be California's favorite breakfast is a superb standout. Bright and appealing, crisp, green, fresh — these are all terms that apply. Even if the view out your window is not of softly rolling waves, you might find yourself saying brightly to your breakfast table partner, "Surf's up!" Or maybe it's just me.
Recipe: Pumpkin Waffles With Sour Cream And Toasted Pumpkin Seeds
One morning at my original restaurant, I was feeling adventurous during breakfast service. While we were scooping the pumpkin muffin batter into the tins, I also baked off a scoop in the waffle iron. I took a bite and thought, "This is really good." I wasn't the only one who thought so. Once I perfected my pumpkin waffles and started serving them, they immediately became one of our signature waffles. Customers have patiently waited in long lines just to eat them. Slightly sweet and accented with warm spices, this waffle is fantastic with a dollop of sour cream and a sprinkle of crunchy toasted pumpkin seeds. Raisins add a little extra sweetness, but some people prefer these with a bit of honey instead.
Recipe: Turkish-Style Poached Eggs
Did you know that the word "yogurt" is neither Greek nor Russian in origin but in fact Turkish? Turkish cuisine is big on strainer yogurt, aka Greek yogurt, and this style of serving eggs with yogurt goes back to the time of the Ottomans. For us it's something a little different yet easy to put together for breakfast, with the silkiness of the poached eggs playing against the sourness of the yogurt and the garlic and smoked paprika giving your taste buds something stimulating to savor early in the day. A simple handful of fresh arugula would round out the dish, or for heartier fare you might serve it with a side of millet porridge or a couple of slices of crisp farmhouse bacon.
Recipe: Blueberry Whole Wheat Muffins
There are blueberry muffins and blueberry muffins but few as good as these, made with whole-wheat flour. If fresh blueberries are out of season, use the frozen — solidly frozen. They work just fine.
Recipe: Havarti-Dill Popovers
Popovers intimidate most people. They rise up. They collapse. It's stressful. We understand. These popovers will hold their shape for quite a while before collapsing, and even after they do, they will taste every bit as custardy and delicious as the moment you pulled them from the oven. Havarti and dill are our choice for making them special, but feel free to put your own signature on them by substituting your favorite combination of cheese and herbs. To bake the popovers in a standard muffin pan instead of a popover pan, butter and fill 8 muffin wells and reduce the baking time by 3 to 5 minutes, both before and after lowering the temperature.
Recipe: Maple Granola Madeleines
When I lived in Vermont, I loved the annual rite of passage of tapping maple trees to make syrup. A few years ago my husband, Matt, even tried it out himself. Matt's maple syrup was proof that there's no substitute for the real deal. To make these madeleines I paired maple syrup with granola, two breakfast staples. I love serving them with a small dish of vanilla or plain Greek yogurt.
Recipe: Greens And Grains Scramble
This is the breakfast Sam and I probably eat most often regardless of the season. In truth, it's usually a dish we whip up as a late breakfast on weekdays when we're both working from home and most emails have been returned. It's wonderfully versatile and allows you to use up any leftover grains you have from previous meals, folding in leafy greens for a bit of color. In that sense, think of it more as a template rather than a hard-and-fast approach. Any leafy greens and most grains will work, although I veer away from small, delicate grains like amaranth because they can get lost in the dish.
Recipe: Oatmeal And Fresh Berry Parfait With Chantilly Cream
A common thing on menus these days is mixing up expectations — revers­ing sweet and savory recipes, or taking a breakfast classic and making it into a dinner dish. While everyone else was doing foie gras French toast or truffled bread pudding, I wanted to come up with a different way to use plain old oatmeal. It's a perfect brunch dish.
Recipe: Grilled Asparagus And Feta Quiche
Chicago's Two Sparrows has a famous weekend brunch dish: their Market Quiche. Why? Well, there's no real point in having a signature quiche. Sometimes the summer squash isn't looking too good. Sometimes asparagus isn't in season...but right now it is! So the Market Quiche is crumbled feta cheese and grilled asparagus. Got grilled leftovers? There's never been a better place to put them.