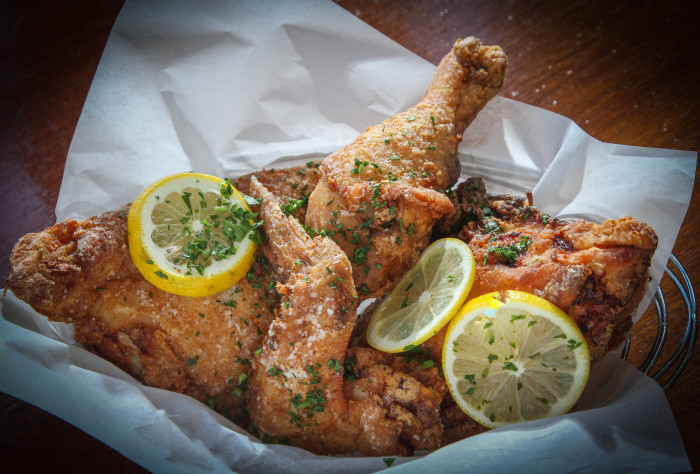 Chefs Jeff McInnis and Janine Booth have made quite the names for themselves between competing on separate seasons of Bravo's Top Chef and cooking some of New York City's best fried chicken. The pair also holds the distinction of being on our short list for best-looking culinary couple. But that's neither here nor there. The partners behind the Big Apple's wildly successful, three-year-old Root & Bone took on a new challenge earlier this month, migrating their unique takes on Southern food to the Wyndham Grand Rio Mar Beach Hotel & Spa in Puerto Rico (located about 30 miles to the south of the country's capital of San Juan) for a pop-up restaurant running through April.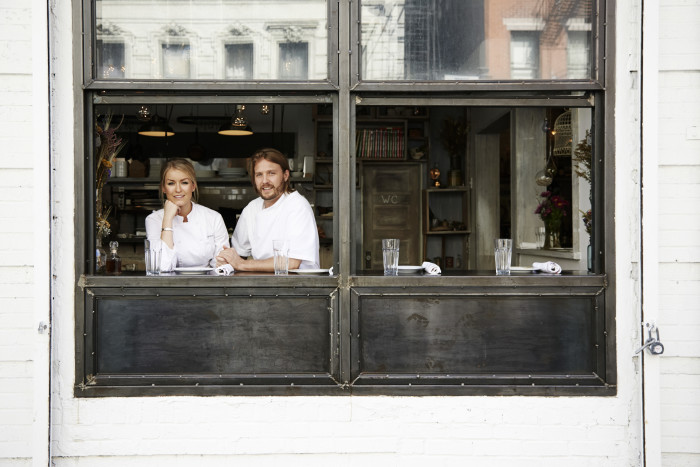 So just how did the duo manage to take their experiences running a cozy, 45-seat space in a city that loves its comfort food and make it work in a gargantuan 180-seat hotel restaurant in a foreign country? It's Fantasy Travel Month here at Food Republic, so we caught up with Jeff and Janine to talk colossal shrimp, pork belly bacon and what lies ahead for the gorgeous twosome. Sorry, we just couldn't resist.
How did the pop-up idea originate and when?
Jeff McInnis: Honestly, it all started on the back of a cocktail napkin with a friend of ours who is the general manager of the whole property. It's in a resort; it's a big place within Rio Grande, called Rio Mar.
The back of a cocktail napkin…like all good stories begin.
JM: Yeah, I think that from about the beginning of the year all the way through April is Puerto Rico's hottest season, when people who want to escape the cold go down. He saw an opportunity — they have several restaurants and one of them wasn't as exciting as he wanted it to be.
How many seats in the space?
JM: Around 180.
That's no Root & Bone.
Janine Booth: No, no. So the challenge was to make it feel like Root & Bone. Obviously, the space in New York is really small, the tables are all really tightly spaced. Having this amazing, grand space, we wanted to make it feel cozier.
Have you done a pop-up before?
JB: When we first moved to New York, we did a pop-up over two weekends. Four total nights, 40 seats each night and we sold out. Then we opened up Root & Bone a couple months later. So that was the first time we did a pop-up, and it was a set menu. It was a really tight kitchen; we were actually working at a bar. That was in Greenpoint, Brooklyn.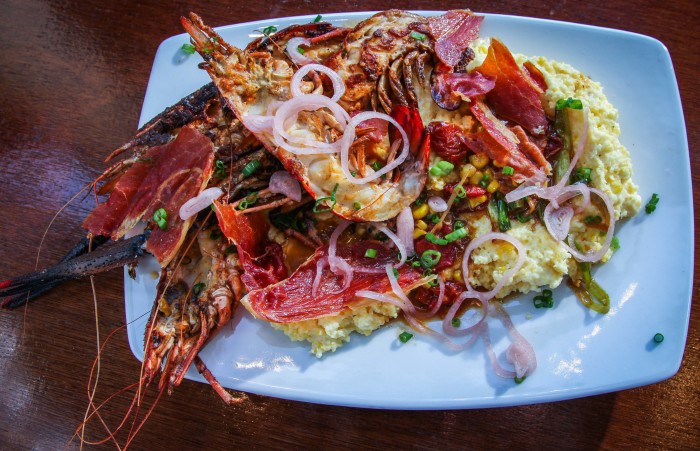 Are you trying to bring dishes from Root & Bone down to Puerto Rico?
JM: We basically took the whole menu from New York and implemented it — I'd say 75 percent of our menu consists of staples that don't rotate much. Then the other things, we'll switch out. There's fried chicken we don't mess with, there's biscuits we don't mess with, there's a meatloaf dish that maybe the set changes here and there but the meatloaf itself doesn't change. Those items are what we would call our staples.
JB: Our signature dishes.
JM: We brought all those, and they're pretty much the same, except for the shrimp and grits. When we got [to Puerto Rico], we found some really cool ingredients that we couldn't not find use for. We got there, and the resort is inside of a rainforest. There's this river that comes through the rainforest that kind of empties out right on the beach of the resort. Right into the ocean, fresh water pours out and it's freezing cold. So these fishermen are pulling these shrimp out that are literally a foot and a half long with pincers, just beautiful shrimp.
JB: They almost look like langoustines!
So how did that affect the shrimp and grits dish?
JM: It is still shrimp and grits, but we cook them whole, cut them in half and keep the claws on. They have claws, so you can eat the claws and it's like a little baby lobster. We use a lot of the same flavors as shrimp and grits, but we had to showcase these guys whole.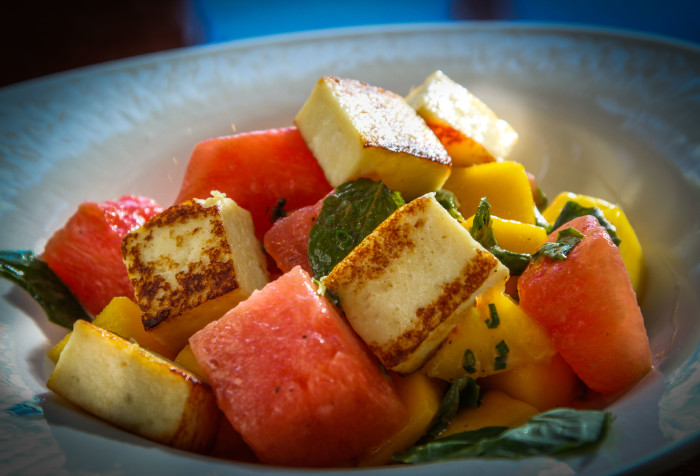 Have you used any other local ingredients in dishes that aren't in your NYC restaurant?
JM: Absolutely. We came up with a really cool queso blanco that was from the islands. We sear this cheese real quick and serve it in a fresh mango and melon salad.
JB: There's also mofongo, which is like the Puerto Rican national dish. It's delicious, but we have our own take on it. We do a really amazing pork belly bacon at the restaurant. We took that same technique, the same bacon and used that as the mofongo. We fold in a lot of crunchy plantain chips, and it just became something really, really unique.
JM: We found some local pigs, too. All the chickens are local.
Why will this pop-up only be open through April?
JM: I don't know if we can talk too much about it, but there's definitely some stuff happening. The resort is interested in doing more.
JB: We're trying to test it and see how it goes from there. If it's really successful, we'll extend it and do more things.
JM: I don't think the intention is to keep it as Root & Bone, but to do something.
What's the mix of customers? Considering it's in a hotel…
JM: It's a lot of people staying in the hotel.
JB: It's a lot of people from the South and from New York. We definitely hit the people's heartstrings for sure. "Oh, this reminds me of what my grandma used to cook for me."
There's not much Southern food in Puerto Rico.
JB: Not at all. I think there might be one Southern restaurant, but a lot of the restaurants there are based around fish, shrimp and seafood — there are a lot of lobster places where you can go and pick your lobster out of the tank, which is kind of cool.
JM: San Juan is pretty progressive.
What's the culinary scene nearby?
JB: About a five-minute drive down the street, there's a series of what they call kioskos. They're very casual, open-air restaurants and bars. They usually have pool tables, and it's super, super casual. They have fresh lobster and seafood, and a lot of places serve mofongo.
What's your travel schedule? How often do you try to get down there?
JB: Jeff goes there a lot more often than I do just because it is a little difficult with our [four-month-old] baby. Jeff's been there probably four times now and stays for a week or two.
Just to oversee everything?
JM: It's definitely a bit of fun.
JB: Yeah, it's water slides and time on the beach. We have a four-year-old also, so we took [both children] last time.
Any unforeseen obstacles?
JM: It opened much easier and smoother than ever expected. It was an existing location that was only closed for a couple of weeks so we could renovate and do the Root & Bone look. So those cooks were just working banquets or whatever and they just came right back so we knew our four cooks. It's dinner-only, so it's pretty easy. We knew our cooks; we were able to train them for a couple of weeks before opening. It was the smoothest, easiest opening I've ever done.
JB: I guess the complications come in when you're updating a space and you're really doing heavy renovations.
Have you changed anything on the menu since opening?
JM: We run a lot of specials; there's a lot of fresh fish coming in. We don't have a fish dish on the menu, so there's a fish special every night.
Are locals coming by?
JM: Yeah, we've been doing a lot of press down there, so there's a little bit of a drive. We're not marketing geniuses for the island. They have a huge marketing team down there that is doing a phenomenal job. The restaurant has been really busy and successful so far.
What's next for you guys?
JM: We're opening another restaurant in Miami. We're opening a really hip, cool seafood house. We try not to say months, but —
JB: Sometime this year. [laughs]
JM: We were saying spring, now we're saying spring-summer-ish. But definitely by summer we're going to have a really hip, cool seafood concept called Stiltsville Fish Bar.
So that'll be a total of four restaurants?
JB: Well we have Sarsaparilla Club, which is American dim sum, Root & Bone here, the Root and Bone pop-up in Puerto Rico and the opening of Stiltsville Fish Bar.
Anything else you'd like to add?
JM: Even after April, we'll make sure there's something fun down there.