"Sa pi bi la?" The sound of this cheerful greeting echoes throughout the busy streets and local shops in Myanmar. As soon as I learned that this phrase meant "Have you eaten?" I knew I was in the right place to write a Burmese food primer.
Given that Myanmar (formerly known as Burma) was long considered a pariah state while under oppressive military rule for nearly 50 years, it's easy to understand why so little is known about the cuisine there. Myanmar is a nation rich in cultural diversity with gastronomic threads that run throughout. I set out on a culinary journey to familiarize myself with the traditional foods of the country.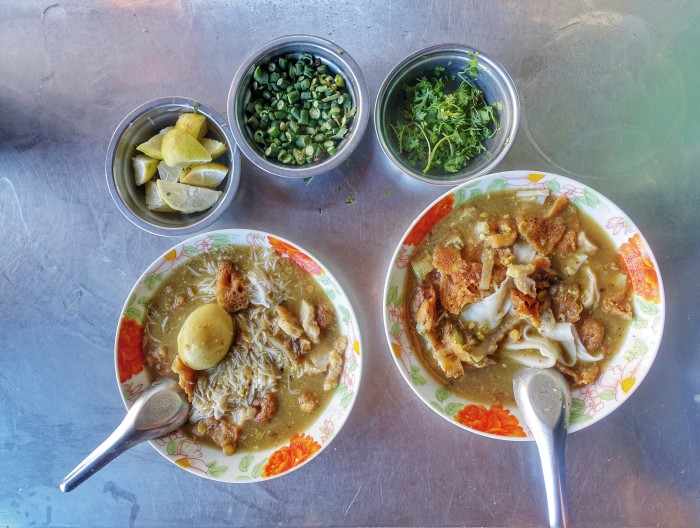 Use Your Noodle
Breakfast largely focuses on noodles. Mohinga, the unofficially official dish of the country, is the most popular morning choice. In major cities, you can find street hawkers stirring large steamy pots of this fish and noodle soup. The dish has slowly started to become available at all hours, but in the morning you will find locals pouring into roadside shops for their favorite breakfast meal. Served with thin or flat rice noodles, the soup is made with fish stock, catfish, lemongrass, chickpea flour, fish sauce, ginger, banana tree stem and fish paste. Many vendors offer optional add-ins of coriander, snake beans, lime and crushed chili to taste. Mohinga is so popular, many spots offer it "to go" — ladling the soup into small plastic bags with the noodles and other accompaniments in a separate bag.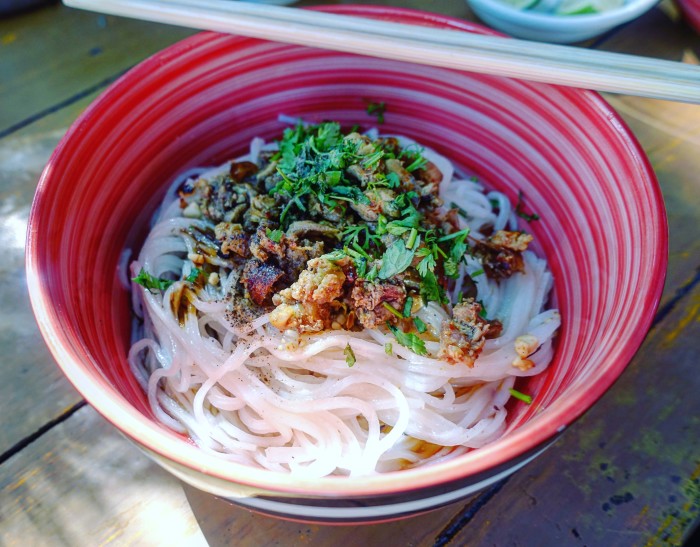 Shan noodles, originally from Shan State, the largest area of Myanmar, are another morning staple that have increased in popularity throughout the country and can be found in teahouses and restaurants all over. Pull up a chair and order one of the variations of shan khao swé. The preparations are quite similar, chicken or pork cooked in tomatoes over a bed of rice noodles either as a salad or a soup. Choose between thin round rice noodles called yay sein or san see, sticky flat rice noodles.
A few other notable noodle dishes that I thoroughly enjoyed include nan gyi thoke, sometimes referred to as "Burmese spaghetti." I tried this dish as a midmorning snack at Mother House Tea Shop in New Bagan. Sitting street side at a wooden table under a small awning to shade the morning sun, I ordered a delicious bowl of thick, round rice noodles served cold and topped with a hard-boiled egg, pork curry, coriander and chickpea flour.
In Amarapura, the former capital of Myanmar, I stopped into Aung Myint Kyaw Tea Shop for breakfast on my way into Mandalay. Amongst a sea of locals, I opted for a seat near the tea station and watched the local version of a barista prepare tea while I waited for my khao swé pyar thoke. This flat wheat noodle salad is served cold with chicken, coriander, chili oil and turmeric oil for color, roasted chickpea powder, fish sauce and chicken powder (now used more frequently to replace MSG, although MSG is still commonly used) and topped with curry. Chicken broth is served on the side and crushed chili, onion and lime can all be added as garnish to taste. With a full stomach, I was ready to embark on a day of sights and snacks.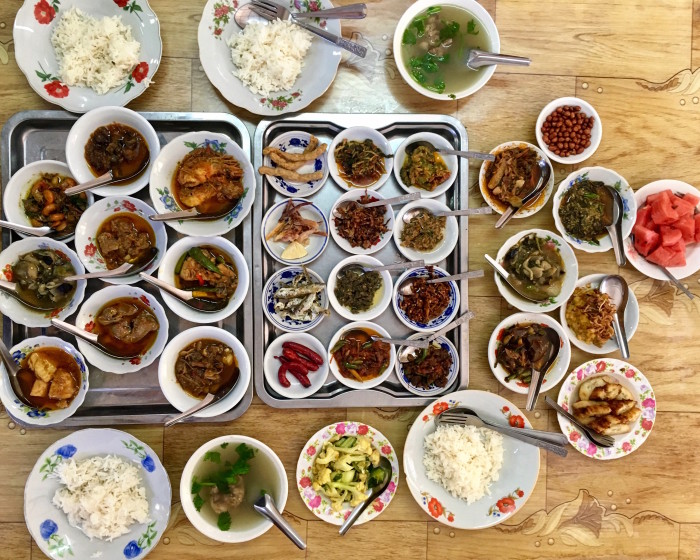 Rice: The Name of the Game
A typical lunch or dinner in Myanmar revolves around rice of some sort, often accompanied by curry. There are many different types of curries, and while heat typically comes to mind for this dish, the curries in Myanmar tend to be much milder.
There is spice to be found in local haunts; you may just have to search it out. At Myo Myo restaurant in the Wikkeinn Village area of Bagan, I took a seat at a large table in the back corner and was promptly served no less than 15 small bowls, each filled with different curries and vegetables to accompany my hta min phyu (steamed rice). The curries range from vegetarian options such as chickpea curry (pae hnat hinn) and bitter gourd curry (kyat hnin khar thee chat) to prawn and fish options (pa zonn hinn and ngar hinn, respectively) and of course chicken (kyat thar hinn), mutton (sake thar hinn) and pork (wat thar hinn). I took a sampling from a bunch of the dishes, and once I was finished, one of the servers came over to eyeball what I had eaten and tally up my bill.
Other dishes, such as roselle leaves with peanuts, citrus salad, tomato gravy with fish paste and grilled dried fish, can often be found. This type of dining is common when eating out, and locals enjoy the many options as they typically make one curry along with a soup and a salad for their meals at home.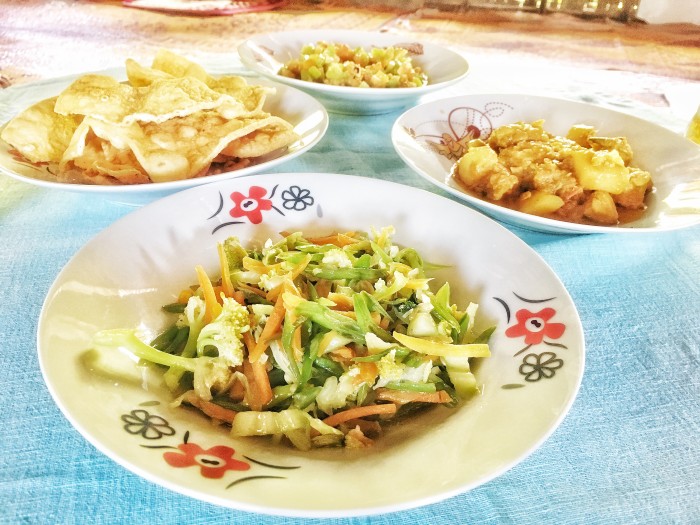 Salad, Salad Everywhere
If you can chop or slice a vegetable, you can call it a salad in Myanmar. Burmese salads are all encompassing and vary in complexity. No matter what, plenty of thoke (the Burmese word for salad) are sure to be encountered on any trip to Myanmar. I have mentioned a thoke or two in noodle form already and will mention more later, but there are a few others worth citing.
The most notable salad is laphet thoke, tea leaf salad. The tea leaves are pickled and served with crisp fried garlic, peas and peanuts, toasted sesame and crushed dried shrimp. The components can be served separately for a build-your-own experience or mixed together, and this salad can be enjoyed as a snack, a side dish or even a dessert.
Kha yan chin thi thoke, tomato salad, takes an interesting form as it is a definite departure from the summer salads we are familiar with in the States. Plum tomatoes are sliced up and mixed with onion, peanut powder, salt, chicken powder, a pinch of sugar and fried garlic oil. I found this mostly as a side dish to a home-cooked meal alongside a curry and soup while I sat barefoot on the floor in the home of locals nice enough to allow me to join them for a meal.
Ngapi thoke is a salad I tried when I first arrived in Myanmar, walking the streets of Yangon. Ngapi is fish paste, widely used as a condiment or accompaniment to dishes, especially in the southern part of the country. It can be eaten in many ways — roasted, baked, fried, mixed with chili, as a soup base and, yes, as a salad. For the thoke version, the ngapi is diluted in lime juice and mixed with chili and onions. It is strong and leaves a lasting impression, to say the least.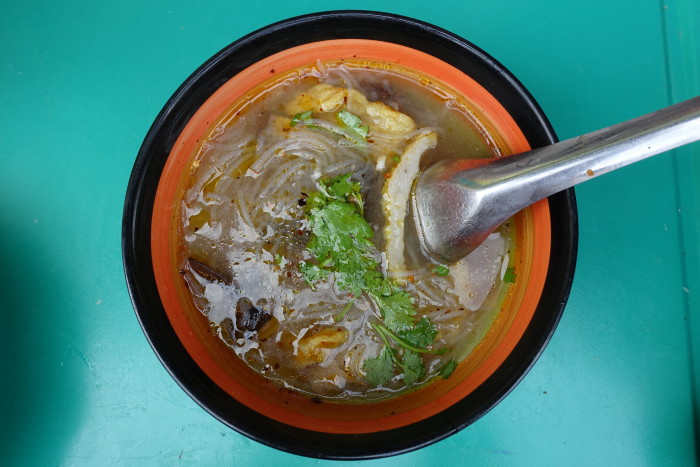 Street Food Does a Body Good
Street food and snacks are plentiful all over Myanmar. In similar fashion to other countries throughout Southeast Asia, it is easy to spend a day wandering the streets, weaving through markets and sampling the various fresh delicacies. They range from full dishes like the nga phe thoke (fish cake salad) to the Thai-inspired thinbawthi thoke, green papaya salad and kyarzan chat, chicken soup with glass noodles that I sampled at Ma Chit, a popular street-food stand in Yangon's Bogyoke Market, the oldest in the city. Head to the outside area of the market, and you will find crowds of people sitting at low tables calling their orders to the ladies working the stand. The women quickly mix up the spicy soups and salads to the waiting customers taking a much-needed respite from the city heat. Dishes cost around 1,000 kyat (just under 75 cents each). Order one or two and you have yourself a complete meal.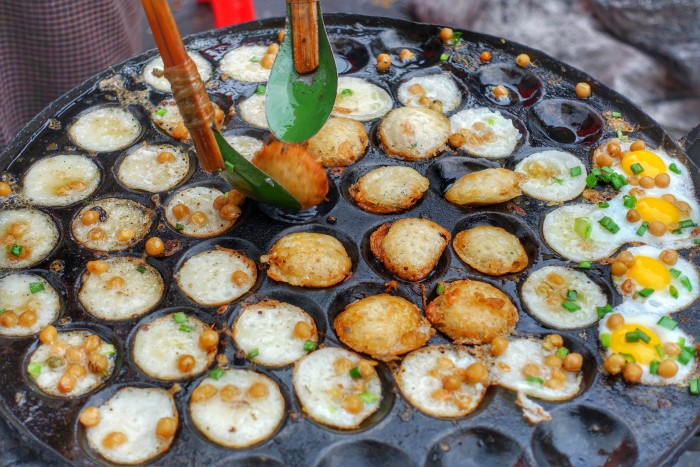 For that afternoon snack craving, visit one of the many vendors lining the streets of most cities in Myanmar. These vendors set up temporarily, spilling from sidewalk to street, offering an improvised buffet that encompasses the melting pot of ethnic influences throughout the country. Look to one side and you will find samosas, reminiscent of Indian cuisine, but being chopped up and served in salad form. On the other side, mont lin ma yar are being poured into sizzling, dimpled cast-iron pans. While these look like khanom krok, a familiar northern Thai snack made of coconut, they are in fact a more savory treat made with rice flour batter and different toppings like quail eggs, roasted chickpeas or scallions. Grab a bag and keep on snacking.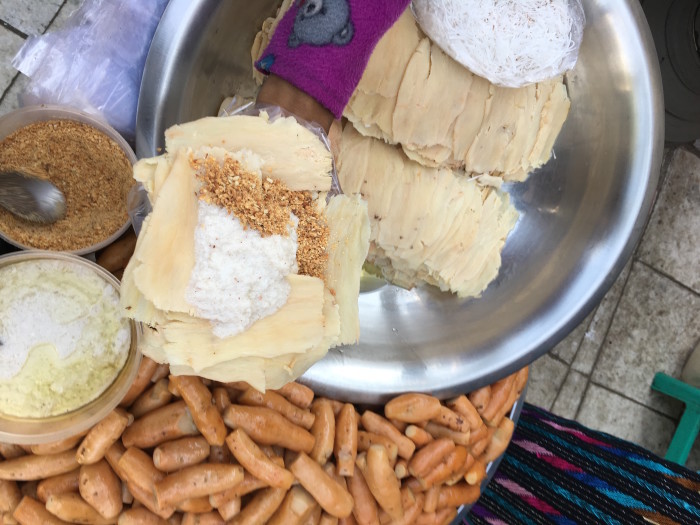 Satisfying the Sweet Tooth
There are plenty of sweet options to round out a savory and spicy day. Pae myit was one that caught my eye, as the first thing I noticed was a large mallet flattening out what looked like an oddly shaped long potato into thin paper-like patties. These are not potatoes but boiled dragon bean root, also known as winged beans. Once flat, each piece is covered with coconut cream and crushed roasted peanuts for a meaty snack with a hint of salty and sweet flavor.
Of the other snacks I encountered, rice again reigned supreme. Getting even sweeter are options like sein phay gyi, sticky rice with jaggery (palm sugar). These little treats are prepared similarly to rice krispie treats. Sticky rice is cooked with the jaggery, then laid out on a sheet tray and cut into pieces. Craving fruit? Ngapyaw pudding is a good option. It is essentially a version of banana bread made with rice flour. Bananas are mashed with the flour and palm sugar and then baked to perfection.
Bain mont, a fluffy, chewy rice pancake, should not be missed. Rice flour and jaggery juice make up the batter, mixed with different fillings like shredded coconut, poppy seeds and nuts. There are multiple varieties, and I couldn't help but gravitate to a stall every time I walked by. With a friendly greeting to the purveyor of the street-side kitchen, they cut up the pancakes with their scissors, packed them in a plastic bag and handed them over to me.
At MMK in Zegyo Market in Mandalay, an impressive assortment of semolina cakes are out for tasting, and locals line up on the stairs to get a sampling and place their orders. Choose from a variety of flavors, such as carrot, potato and pumpkin.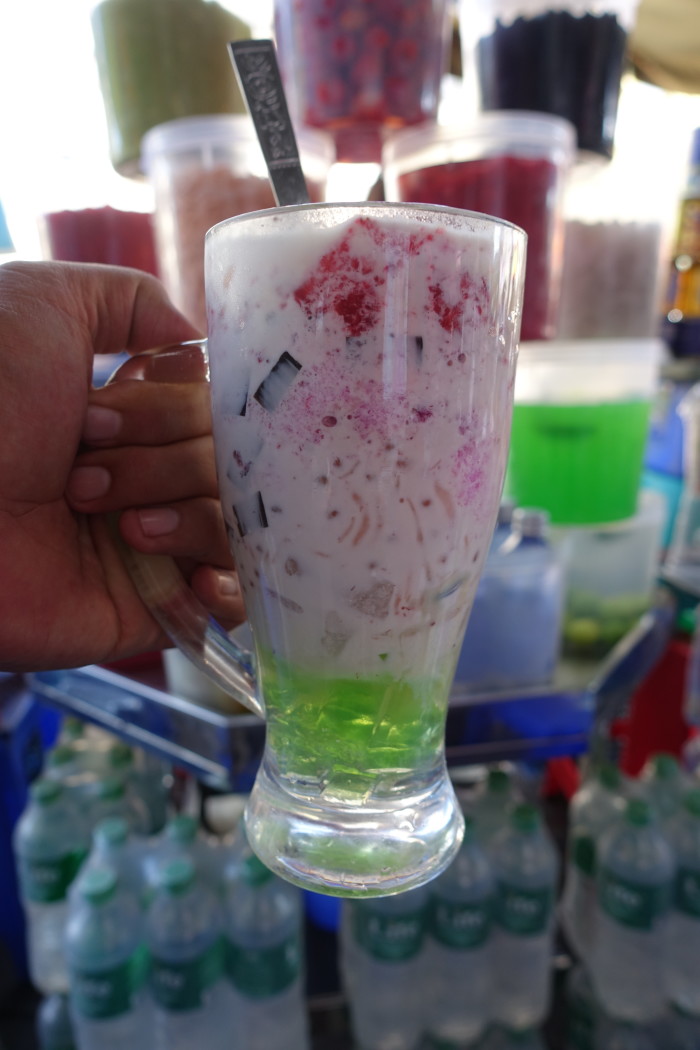 Wash any of these treats down with foluda, a condensed milk drink very similar to Vietnamese che ba mau. Add your choice of crushed strawberry, tapioca, avocado, seaweed jelly, coconut jelly and green jelly. At a street stall in Mandalay, I pulled up a small plastic stool, sat looking up at the colorful options in front of me and opted for all of them because why not?
While neighboring influences make appearances, the food of Myanmar is unique and something that locals take much pride in. I was able to scratch the surface on my first visit, but I will most certainly be back to dive deeper. Until then, sa pi bi la? I most certainly have!