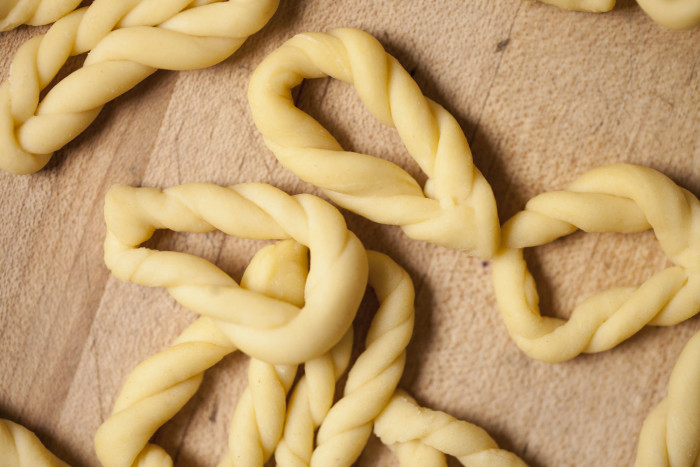 Let's play a game. Close your eyes and imagine the perfect plate of pasta. Homemade noodles rolled with loving hands, boiled to perfection in heavily salted water, and marked by all the right nooks and crannies for holding a flavorful sauce. Perhaps it's a thick tomato ragù or a medley of seafood with garlic and white wine. Imagine that pasta still warm from the stove, topped with a mound of grated cheese and fragrant as all get-out. Are you hungry yet? Here's the good news: This pasta actually exists. The pasta of your dreams — the one you've been drooling over in your sleep — is lorighittas.
Named after the Sardinian word for the iron rings used to hitch horses, these braided beauties have been part of the island's culture for centuries. Traditionally produced in Morgongiori, lorighittas are thought to be tricky to make.
However, you don't have to travel to Sardinia every summer to get a taste of lorighittas. These delicate twists on homemade Italian cuisine are well worth the hard work — you can roll them at home with just a handful of ingredients and a little bit of patience. Jason Stoneburner, Seattle pasta expert extraordinaire, dough-rolling aficionado and chef-owner of one of our favorite Seattle restaurants, Stoneburner, shows our friends at ChefSteps how easy it can be to make the perfect pasta in your own kitchen. Check out the instructional video and full recipe here below.
Lorighittas
Servings: 2-3
Ingredients
300 grams durum flour (or substitute all-purpose flour; do not use flour labeled "durum semolina")
180 grams water
FAQ's
What is durum flour and where can I find it?
Durum flour is a soft, fine, yellow-toned flour made from durum wheat. Specialty grocery stores like Whole Foods usually carry pasta flours like durum.
Level with me: How hard are these to make?
Honestly, it's harder than it looks. Sardinian pasta gurus spend years practicing the technique to make these delicate braided loops. You may not get it right on the first (or second, or eighth) try, but as with anything challenging, the journey is the reward.
I thought pasta was made with egg. Why no egg in this recipe?
It's true that some pasta is made with egg. But some pasta is made without egg. Some pasta is made with saffron, some is made with ricotta, some is made with potatoes.
Directions:
1. Pile durum flour on a clean workspace. Use a bowl or cup to make a small well in the pile — it should look like a crater.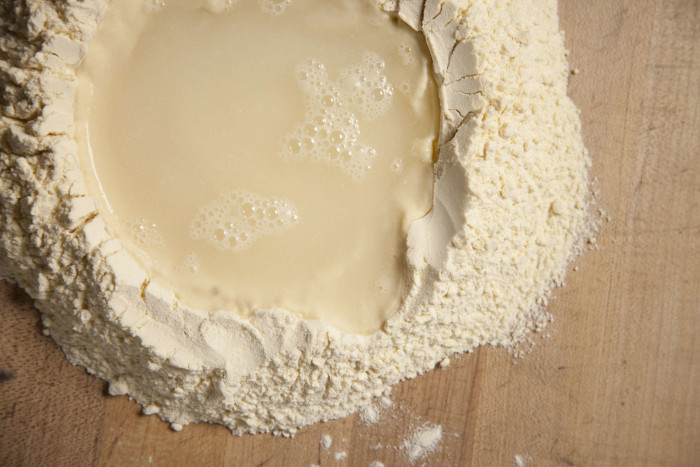 2. Pour water into the well. Using a fork, slowly mix the water and durum together, starting with the well and expanding from there. When the water is incorporated into the flour, use your hands to roll the dough into a ball. Knead until the dough feels sticky and looks rough on the outside.
3. Wrap the dough in plastic and let it rest for 15 minutes.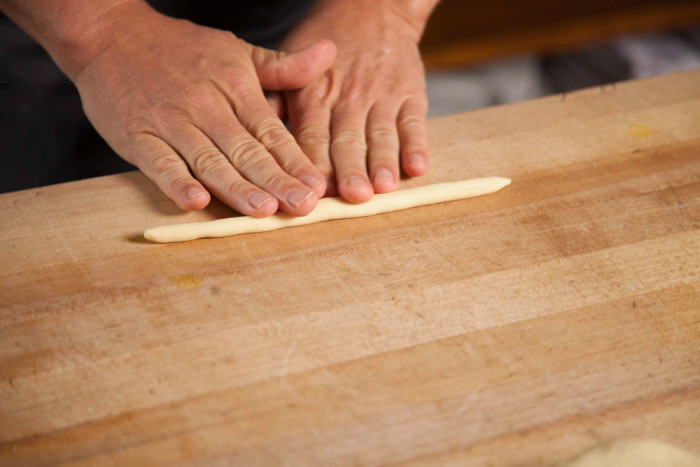 4. Cut off a small portion — roughly the size of your thumb — and roll it into a rope. Make one end thinner than the other.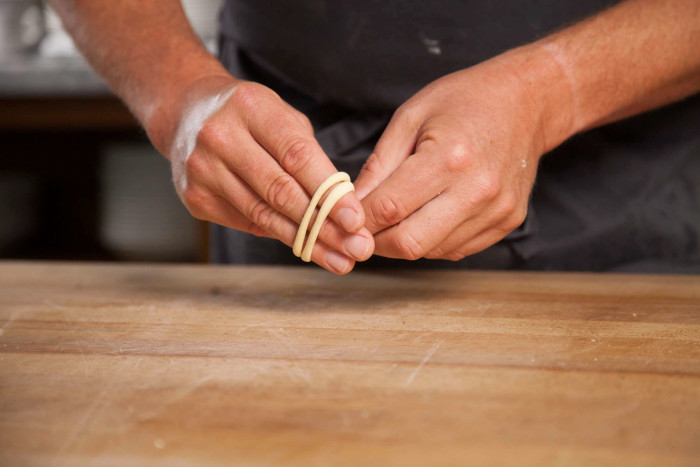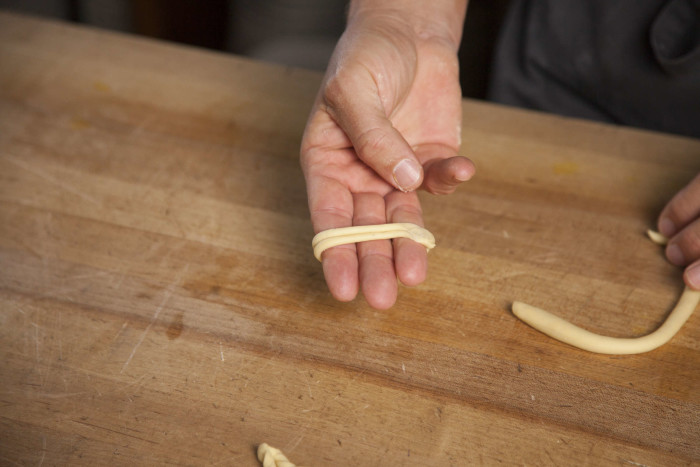 5. Take the thinner side and wrap the dough around a couple fingers two times. Pinch off the end to remove from the rest of the dough.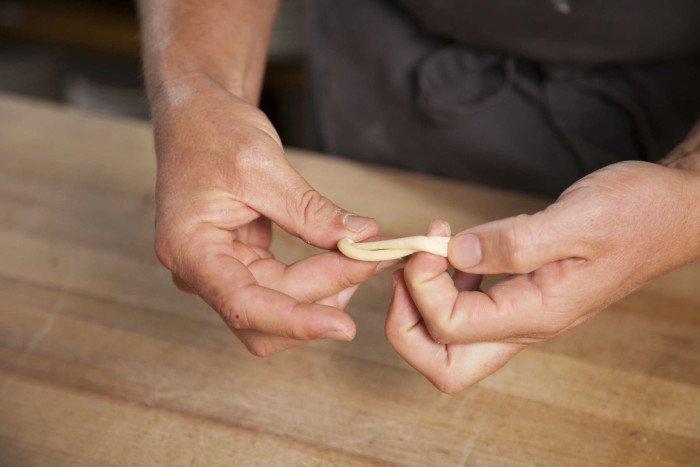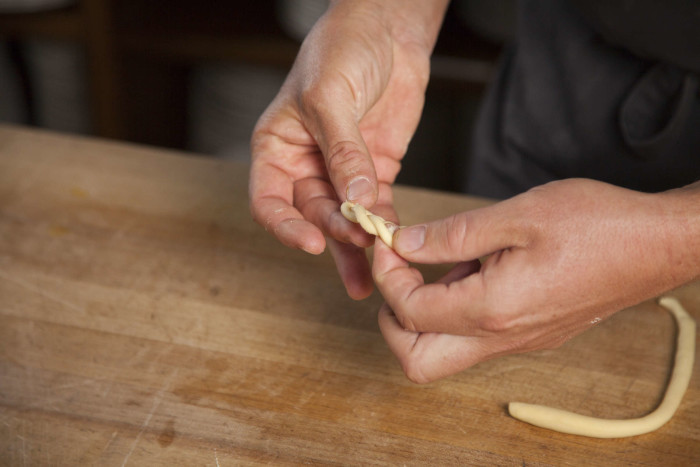 6. Using the tips of your fingers, twist the two layers of dough around each other to make a braided ring.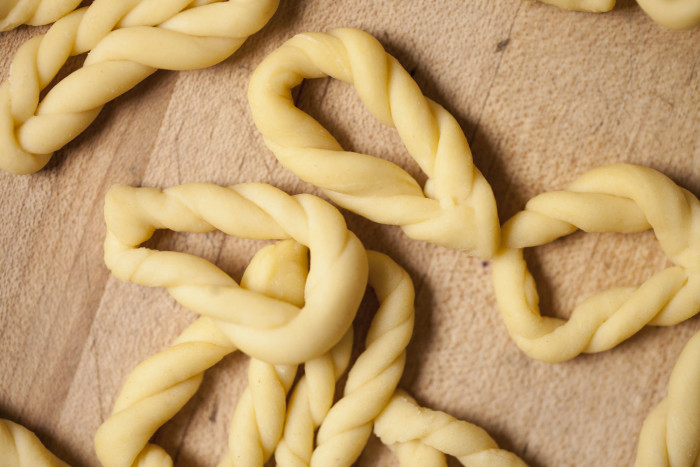 7. Repeat the process to make the rest of the lorighittas: Thin out the end of the rope, wrap it around a couple fingers, pinch and twist.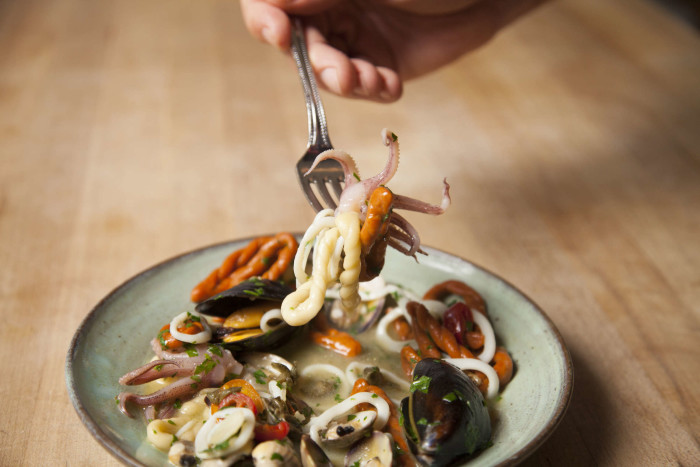 8. Boil the pasta in water for two minutes and top with whatever you like. Pour yourself a glass of vermentino, serve your dish, and imagine the Mediterranean Sea in the distance.
ChefSteps comprises a team of award-winning chefs, filmmakers, scientists, designers and engineers focused on revolutionizing the way people cook by inspiring creativity and encouraging expertise in the kitchen. You can also get access to all of ChefSteps' Premium content — including paid classes and dozens of recipes available only to Premium members for a onetime fee — for the special price of $24 (regularly $39). Classes include Sous Vide: Beyond the Basics, Fluid Gels, French Macarons and more!