Restaurants Around Country Close For Day Without Immigrants Protest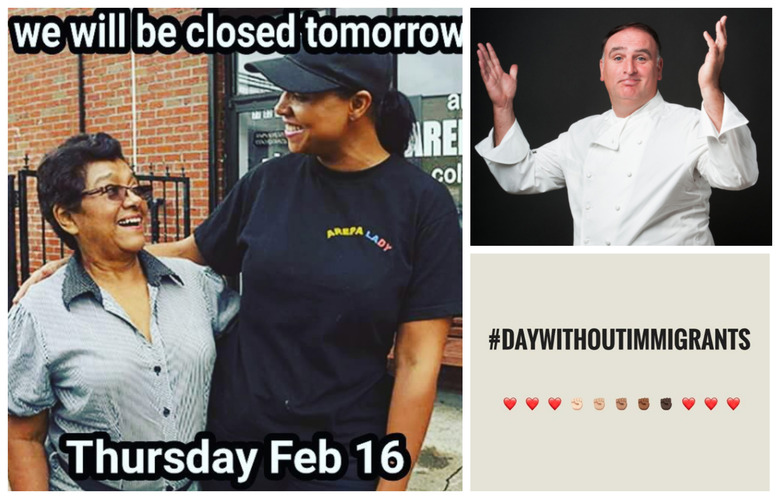 Restaurants around the country are closing in honor of the Day Without Immigrants protests, including NYC's Arepa Lady (left) and many José Andrés restauran
In New York City, it's Blue Ribbon and the Arepa Lady. In Washington, D.C., José Andrés is closing most of his restaurants. Around the country, in many major cities, restaurateurs and chefs are either shutting down for the day or allowing immigrant workers to take the day off in support of the Day Without Immigrants protests. The unprecedented action is in response to President Trump's immigration policies, which in his first month in office have ranged from a proposed travel ban for immigrants from seven Muslim-majority countries to rhetoric about building a wall along the Mexican border.
Restaurants and other businesses are responding with a day of protests to recognize how immigrants drive the U.S. economy. The food business, from restaurants to farms, is particularly reliant on immigrants, hence the strong reaction to the policies. The movement spread in part due to pronouncements from respected chefs like Andrés, who is also involved in a lawsuit with Trump over dropping out of a restaurant deal with the Trump Hotel in Washington, and through the social media hashtag #DAYWITHOUTIMMIGRANTS.
So whatever your politics, you may want to call ahead before dining out today. And for those who want to show respect to those who are joining today's protests, dine out tomorrow at places that are sacrificing a day of business today, like the Arepa Lady in Queens or El Burrito Mercado in St. Paul, Minnesota, or the Triangle Tavern in Philadelphia.