Butter is better! But you don't have to take our word for it — simply peruse the news and discover that not only is butter not bad for you, it's actually pretty good! As it has for thousands of years, butter makes food taste better, transforming everything from vegetables and baked goods to plain old toast into a satisfying experience worth having again and again. Worried about the fat? Don't be — you'll stay fuller longer with a little butter in your diet. Check out these 15 recipes with butter as a main component, and prepare to slather on that sweet and salty goodness.
"Uni has such a beautiful balance of sweet and briny notes, which makes it great to cook with," says chef Camille Becerra. "Many chefs have applied a butter-uni sauce to pasta, but I prefer to spread it thin on toast." This toast was inspired by an April Bloomfield dish — the John Dory chef makes an oyster pan roast served with a side of uni butter spread on a thin baguette. "I thought it was so yum, it should be its star on a dish," says Becerra, tipping her toque.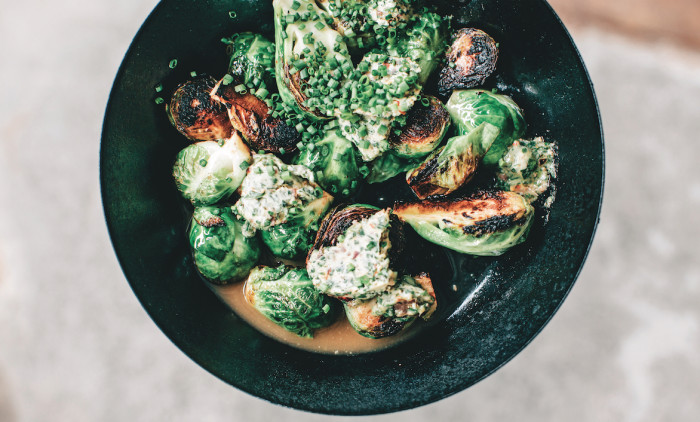 Use this recipe as a blueprint for infinite possibilities with many vegetables. The main technique here is to char the vegetable in a small amount of oil and introduce a more robust flavor. Use your favorite vegetables: cauliflower, okra, green beans and artichokes all work wonderfully. The anchovy butter is inspired by flavors of bagna cauda, the Piedmontese "hot bath" sauce. This recipe makes an appearance on the menu at Saffron on a yearly basis. It's a crowd favorite, even for those who aren't big fans of anchovies.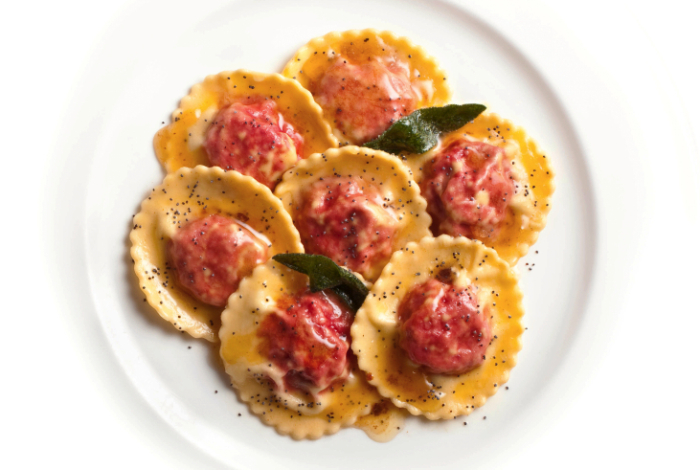 Sometimes we get a cookbook that changes the game. We like cooking our way through as many of the season's great books as we can, but now that the chefs at the Culinary Institute of America have provided us with the ultimate guide to simple yet innovative pasta recipes (plus everything you needed to know about polenta and crespelle), game on! First up, ravioli filled with buttery beets and fresh sage. Bet you've never had that before.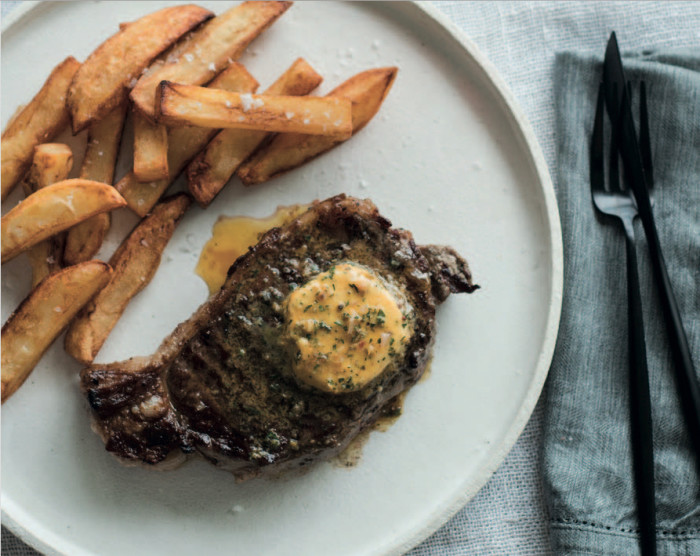 This is a classic recipe that makes steak sing. If you are not a meat eater, don't despair — it also does wonders for steamed spuds or asparagus. There are 1,001 versions of this, but I have it on good authority that this is the original recipe created by chef Dumont at the Café de Paris in Geneva in 1941. You can fiddle with it if you like to make your own version.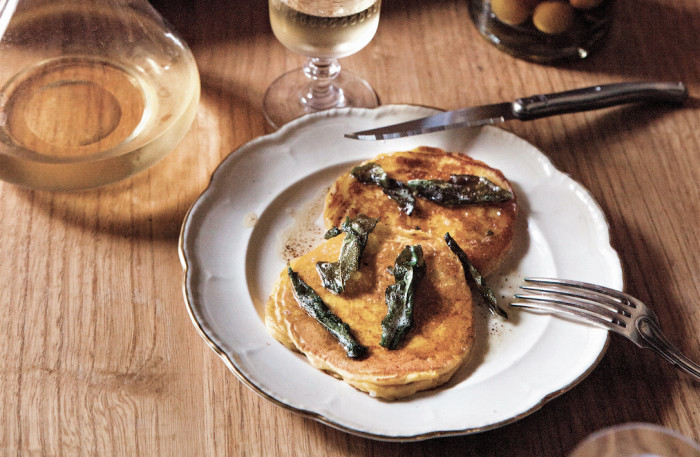 We don't grow our own yet, but in autumn we tend to build up a small collection of pumpkins and squash in various shapes and sizes. We decorate our tables with them, and for a few weeks it seems we are drowning in pumpkins. Then, as the season progresses, we start cutting them up one by one; many end up in soups, while others get roasted as a side dish. The really lucky ones end up in delicious little creations like these pancakes that are so simple to make, yet feel quite decadent and "grown-up" when drenched in sage and butter sauce. The words "light" and "rich" seem contradictory, but they are the ones I would pick to describe these pancakes.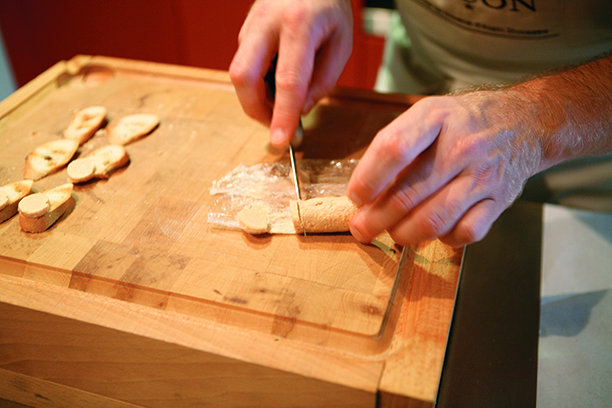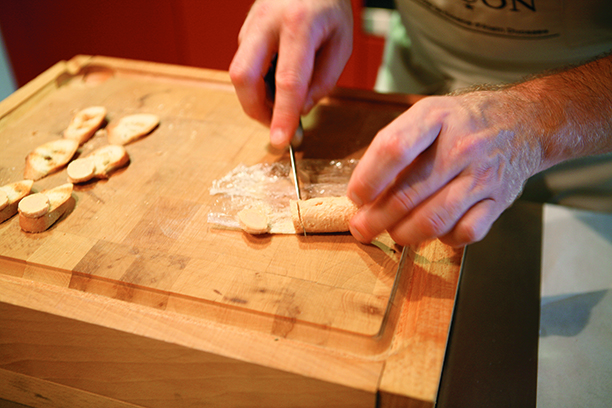 Tips from our chefs: The perfect thickener. Foie gras is expensive, so you can make use of the parts surrounding the veins of the raw liver you have deveined to make foie gras butter. Foie gras butter can also be used to thicken a jus or gravy.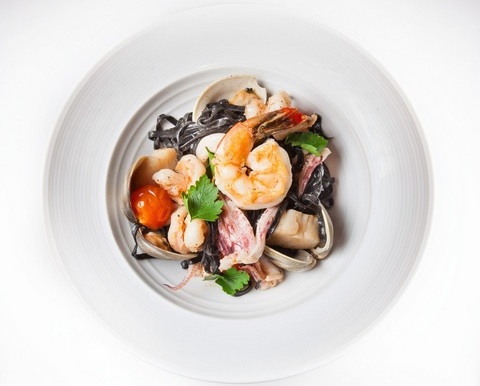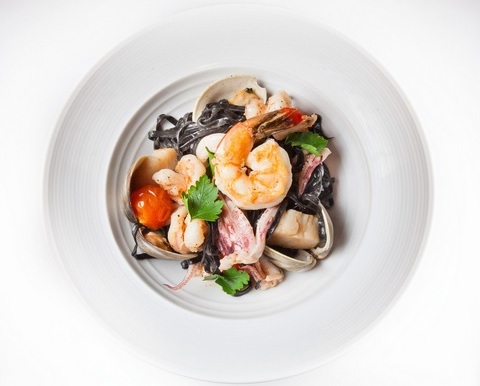 What makes the squid ink pasta at Trattoria Bianca in New York City so addictive is the perfect combination of fresh seafood in one dish. First is the most obvious — the whole shrimp, scallops and clams. Next is the sea urchin, which is blended into the butter sauce, and finally there is the squid ink. Chef Julian Clauss-Ehlers adds squid ink to the pasta dough, giving the strands a striking black color and a hit of salinity that ties the whole thing together.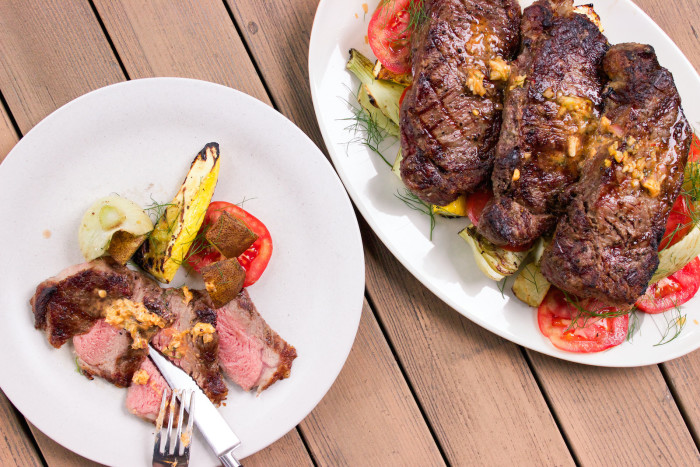 For a new twist on surf-and-turf, we found inspiration from the Provençal seafood dish bouillabaisse. Make a compound butter with saffron, fennel fronds and clams and shamelessly slather it onto some grilled steaks. Grilled summer vegetables complement the dish, and we think you'll find plenty of uses for the bouillabaisse butter for more of your summer grilled favorites.
Flavorful and generously marbled, rib eye makes a great splurge for a special meal, particularly when topped with a distinctively flavored butter. If you can't find unsalted pistachios, use unsalted butter to balance the salty nuts. The amount of pistachio butter is generous; if you like, turn the asparagus in some right after it comes off the grill and top the steaks with the rest.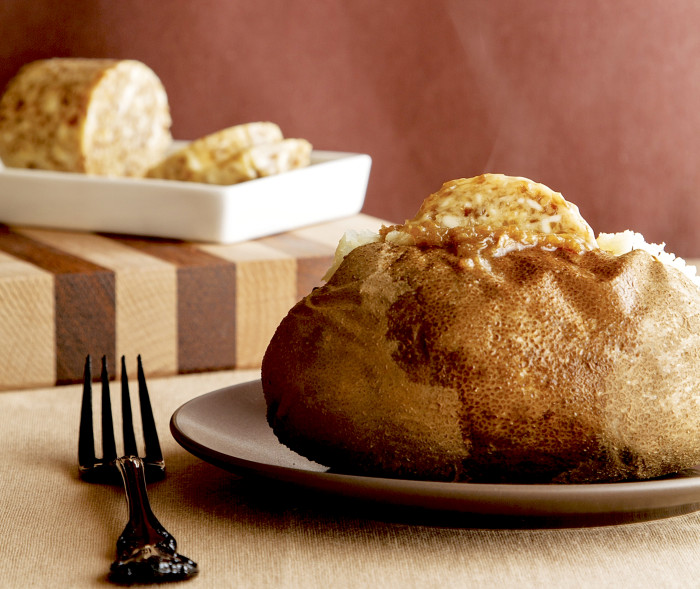 Slow and low is the key to caramelizing onions. Gentle cooking transforms onions from positively pungent to golden brown, sweet, and mellow. They make a delicious standalone topping for burgers or steak, but blending them into butter makes them even better.
Serve this butter atop steak, stuff it into burger patties, toss it with steamed or roasted vegetables, or stir it into mashed potatoes and grain dishes.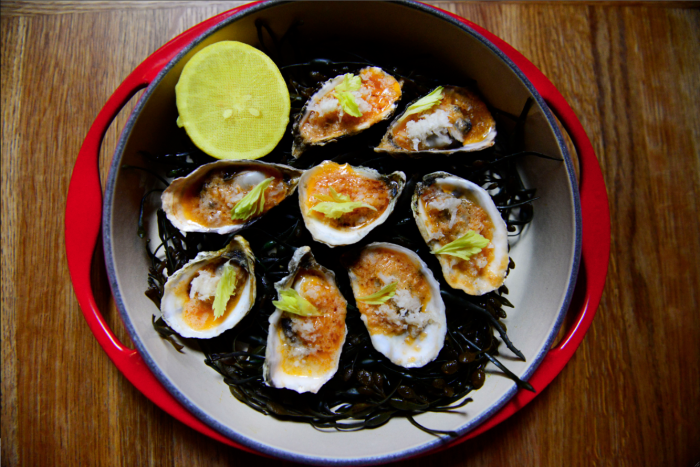 This recipe for grilled oysters comes to us from Jason Hua, chef de cuisine at the Dutch in New York City. His inventive preparation of our favorite bivalve stars a compound butter that riffs on a classic Bloody Mary. Well, it actually stars grilled oysters, one of the great treats of grilling season, but the butter's delicious on any number of things.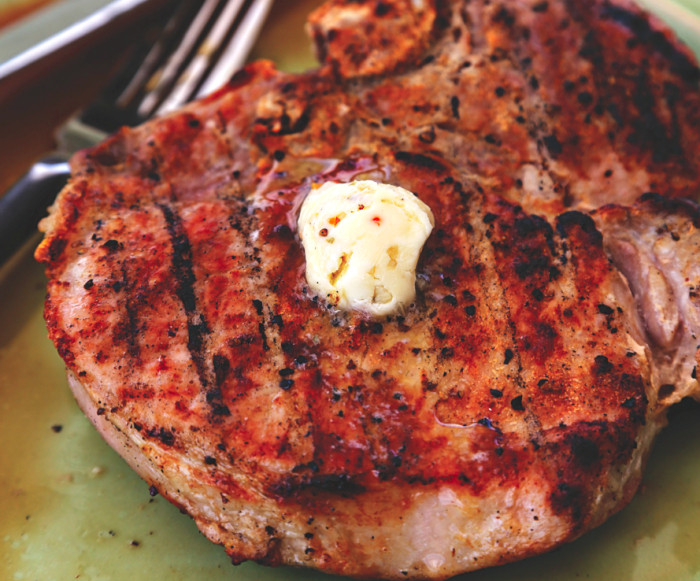 Just like beef T-bones, pork T-bones contain a lower piece of the loin (the strip loin section of a beef T-bone) and a section of the tenderloin (the fillet of the pig). I treat this simply: well seasoned, grilled to medium, and then topped with a thick pat of my BBQ Butter. Delish! The BBQ Butter can be made ahead and frozen. Just pull out a portion a couple of hours before needed. I also love to use it to top steaks, chops, and even breads for a nifty treat.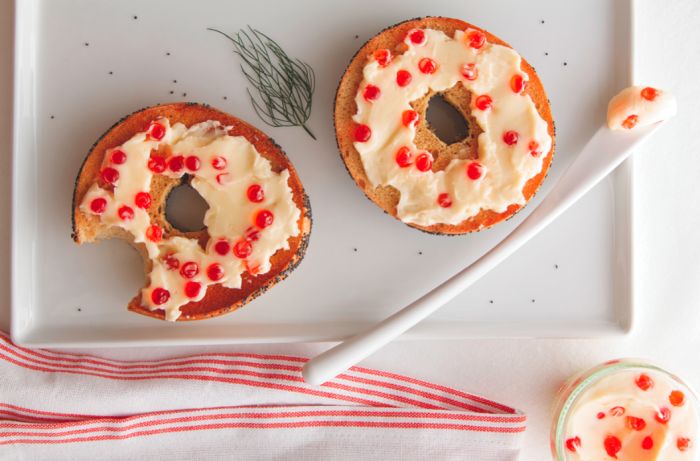 The typical Russian open-faced sandwich of salmon roe and unsalted butter on a slice of bread — a part of every proper zakuski (appetizer) spread — is the inspiration for this caviar butter. You can make it with either black caviar or salmon roe, which is of course a more affordable luxury. I recommend spreading it on a toasted bagel or a slice of French bread. It can also give soft-boiled eggs and baked potatoes a touch of elegance. Russian markets are a good source for both red and black caviar.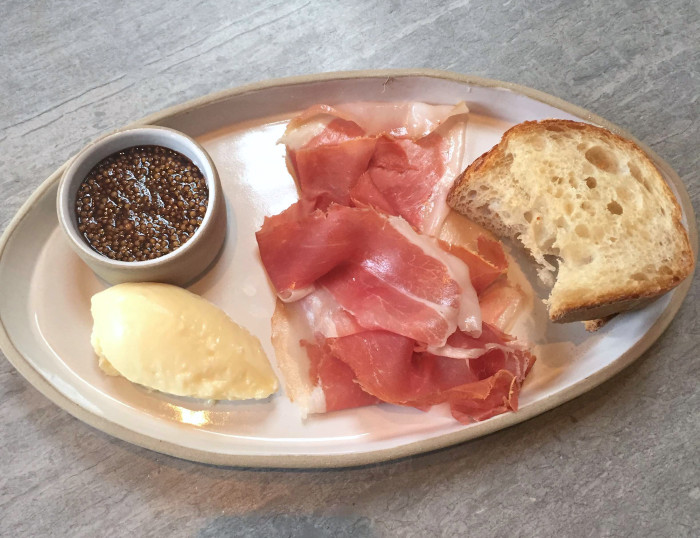 When it comes to enjoying charcuterie like they do in Italy, less is more. The simpler the presentation, the more you'll be able to appreciate the history and quality work that made that cured meat possible. Missy Robbins, chef-owner of NYC's Lilia, shared a memorable experience abroad and a recipe to go along with it.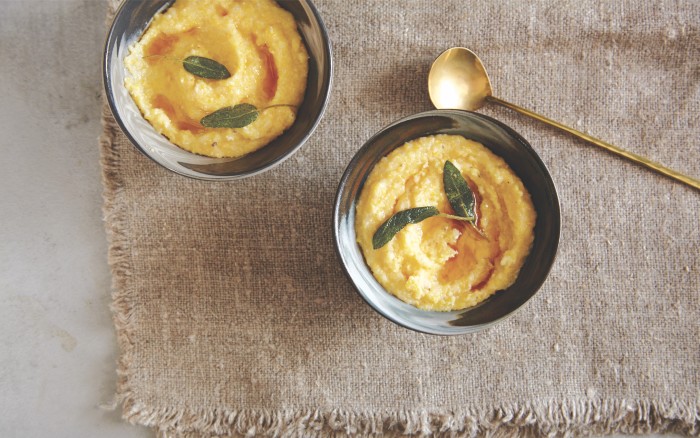 As a standalone side dish, this creamy polenta has a hint of smokiness that makes it truly memorable. It can also serve as an excellent beginning to something more wonderful: I would serve braised short ribs or oxtail ragu over it, and then die of joy.