What's In Season: Yellowfoot Chanterelles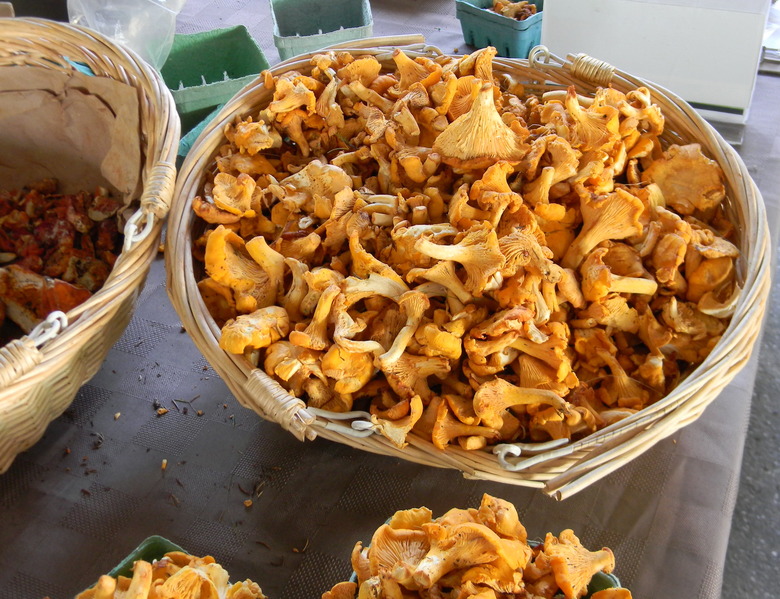 Mushrooms are a tasty way to break free of normal seasonal winter fare, like root vegetables. Right now in Carmel-By-The-Sea, a small beach town in California's Monterey Peninsula, chef Soerke Peters of Basil is foraging for stunning yellowfoot chanterelles. Peters anticipates their annual appearance and incorporates these mustard-hued delicacies into many of the seasonal dishes at his restaurant. "These mushrooms are in a standalone category, at least to me," he says. "The buttery flavors are just amazing, and the texture has just a bit of a bite to it, making it fun to play with." If that's not reason enough to add these seasonal 'shrooms to your February plate, keep in mind that this particular fungi will also lend your meal a splash of color to help brighten up the cold-weather doldrums.
Where It's From
This rebel mushroom obstinately refuses to be cultivated, which means you can only get it in season. It takes a little digging (sometimes literally) to get at it. The first recorded finding of the yellow chanterelle was in 1783, when German mycologist August Johann Georg Karl Batsch came across it. He named it Agaricus aurora, but since then the mushroom has gone through a series of Latin monikers and classifications. Today it's known as Cantharellus aurora, with Cantharellus meaning "drinking vessel." It's an apt description given its large, chalice-like cap. "Aurora" means "golden" and refers to the mushroom's sunny hue. They're mainly found in the northwest and northeast of the United States, as well as in Britain and Ireland.
When It's In Season
The main growing season is from December until March, but it all depends on temperature and rainfall. Certain areas of the country might see the golden mushrooms at other times, as long as the conditions prove favorable.
What To Look For
Yellowfoots have hollow stems and quarter-sized caps whose hues range from mustard to burnt orange to saffron. You can find these beauties growing wild near or on decomposing wood in forested areas. During the season, many specialty stores and farmers' markets sell them, though since they aren't farmed, they're not cheap to buy. In fact, one of the best ways to procure them is to go foraging in the woods yourself. Give the mushroom a good long sniff: True yellowfoots will have a fruity essence that mingles with the fresh dirt aroma.
An important note: Beware the false chanterelle, which looks a lot like the ones we covet. Make sure the caps are ridged underneath and not gilled. The gilled yellow mushrooms are poisonous. On second thought, maybe take an experienced forager with you.
How To Store It
The best way to keep these delicate mushrooms is at room temperature in a basket. If you want to bag them, seek out a wax-lined container, which preserves the fungi better than paper or plastic by allowing the plant to breathe. Peters stores his yellowfoot mushrooms in the refrigerator with a dry cloth or towel on top. He warns, "Do not cover them or seal them with a lid since they sweat and get soggy."
How To Prepare It
Make sure you don't clean the mushrooms until you are ready to use them, or they'll go limp. Once you're ready to go, simply rinse off the visible dirt and dry gently to avoid bruising them. You can also preserve the mushroom by pickling, or sautéing briefly in butter and freezing. Most chefs recommend against using dried yellowfoot chanterelles, as dehydrating saps the delicate flavor.
For beginners, Peters suggests a simple sauté on low heat. "Finishing it with some Santa Lucia Highlands Chardonnay and a spoonful of butter will go a long way," he says. "They are an excellent addition to local rock cod or a sole fillet, awesome with stewed meat like goat or just by themselves on some soft polenta with creamed spinach."
Peters uses them in all sorts of dishes at the restaurant and says they can be served mixed into just about anything, on their own or as a delicate side dish. Mix your mushrooms into a stew, stuff into pasta sheets for wild mushroom ravioli or pickle and serve on a roast beef sandwich. The possibilities are endless — now all you have to do is seek out this festive fungus.
Monterey Chanterelle in Cartoccio
Courtesy of chef Soerke Peters of Basil
Place this dish on top of polenta or wild rice for a vegetarian main dish, or serve on the side with a protein such as grilled fish or a nice steak. Note: You'll need a sheet of parchment paper to seal the chanterelles into a bag.
Ingredients
8 ounces yellowfoot chanterelle mushrooms
2 tablespoons olive oil
1 sprig of fresh thyme
2 tablespoons of white wine, Chardonnay preferred
1/2 tablespoon of unsalted butter
Sea salt to taste
Fresh ground black pepper to taste
Directions
Preheat oven to 375°F.
Place all the ingredients on the paper and fold it over, closing all edges so they are airtight.
Set on a sheet pan and cook for about 15 minutes or until the mushrooms have a bit of give to the flesh.
Serve with a sprinkle of sea salt and fresh ground pepper.