Skiing is like turkey at Thanksgiving: Sure, it's technically the centerpiece of the meal, but you don't drive out 90 minutes to Uncle Morty and Aunt Mimi's house salivating in anticipation of dry bird meat. You suffer through Morty's terrible jokes and Mimi's inappropriate grilling for the privilege of gorging yourself on gravy, stuffing, candied yams and pumpkin pie.
Likewise, skiing — though undeniably enjoyable — is but a mere excuse to indulge in the many activities associated with the lodge and/or resort. Sure, there are professional and aficionado skiers who dream of slaying that next fresh coat of pow-pow, but if you're anything like me, you're skiing for the "stuffing." So when my wife, Debbie, expressed interest in embarking on a ski weekend trip to Stratton Resort in Vermont with her best friend Lara and her husband, Josh, I wasted no time researching all of the restaurants, activities and shops that the resort and its surrounding areas had to offer.
Fortunately, my planning paid off, and I even had the foresight to document the entire successful adventure. Allow me to share the details below, so that you might create your own similarly awesome Dream Couples' Ski Trip Extravaganza with your friends of choice:
Sunday, 9:30 a.m. – Driving
In our freshly rented Jeep, Debbie and I pick up Lara on Manhattan's Upper West Side. (Pro tip: If you're traveling from a big city, leave on the Sunday of a holiday weekend to avoid traffic.) New York is a total ghost town as we head out of the metropolis and north to Vermont, listening to classic rock and NPR podcasts like proper nerdy white people.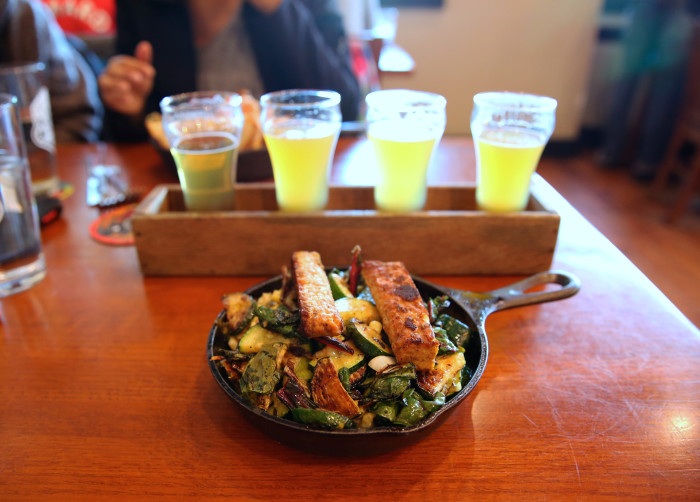 1:00 p.m. – Whetstone Station
After a successful first chunk of the drive (only one bathroom stop!), we make it to Brattleboro, Vermont, to lunch at a restaurant that resembles an industrial brewery built in an old wooden ski lodge. As one does in Vermont, we order a taster of Hill Farmstead beer, paying a visit to some old, delicious friends: Edward (a balanced pale ale), Harlan (Edward's bolder IPA cousin) and Susan (an IPA with Citra, Simcoe, and Riwaka hops), along with the citrusy, sessionable house Whetstoner Pale Ale. The liquid goes exceptionally well with Whetstone's veggie hash Buddha Bowl — and even better with the breathtaking view of the Connecticut River.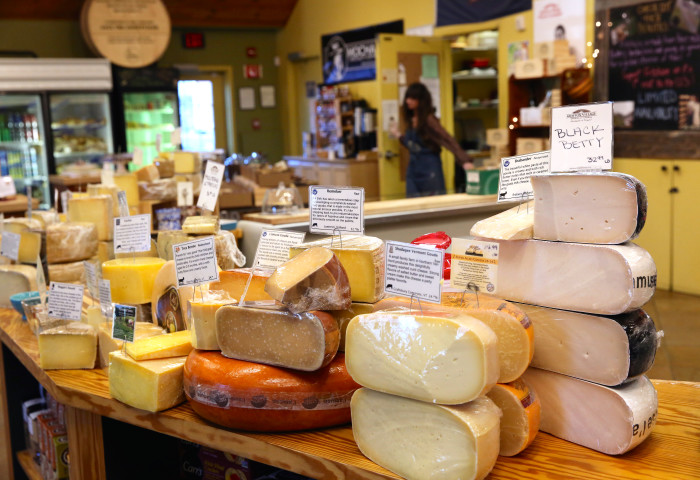 2:35 p.m. – Grafton Village Cheese
We cruise just five minutes down the road to drop in at what I'm convinced is one of the greatest cheese shops in this fair country (COME AT ME, WISCONSIN!). Josh creatively dubs this dairy haven a "slice of America," before wryly adding a "get it?" (Yeah, Josh. I got it.) Among many local and imported treats, the superstar of the shop is the scrumptious house-made Cave Aged Shepsog Cheddar, a firm, earthy sheep and cow cheese aged for a minimum of five months. While I'm silently musing over robbing the place blind of their entire supply, Debbie walks me outside toward the frozen West River, on which people are ice skating, playing hockey, and fishing. It's a charming Vermont scene right out of a state tourism guide.
We arrive at our comfy hotel (a no-frills lodge perfect for families) and check into our room. Yes, I said "room." The four of us decided to share two queen-sized beds and a single toilet simply because at heart, we're just a bunch of 12-year-olds who enjoy a good coed slumber party — in addition to being incredibly, incredibly cheap.
5:40 p.m. – Bar 802
We head over to a recommended bar at the base of the mountain, but as it's the Sunday of a three-day weekend, the joint is jam-packed with rowdy football fans. And none of us are football fans (is that the one with the racquets?). I order a Goodwater Brewery "Hoppy Side of Pale" and, disappointed by the mediocre beer, end up sneaking sips of Lara's far more palatable Stowe Cider. The stop has thus been deemed a success.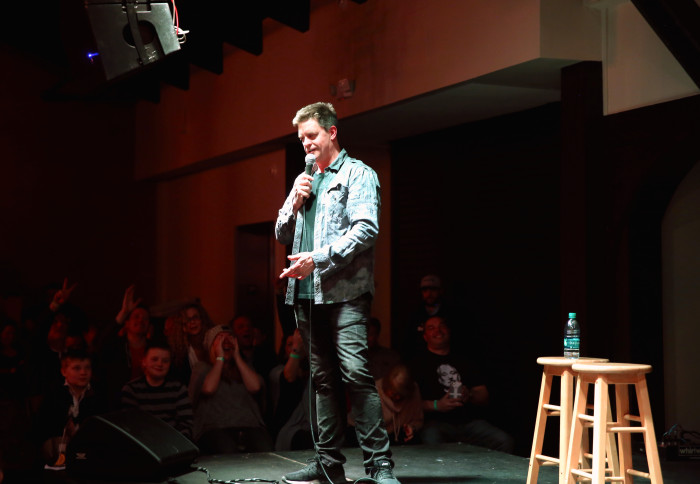 We file into Grizzly's, Stratton's base lodge, to watch comedian Jim Breuer perform. We nab sweet seats close to the side of the stage, and opener Rich Aronovitch does a great job of warming up the crowd. Breuer comes out with the house lights still on full blast. "I feel like I'm at a town hall meeting," he quips as he takes the stage. Still, with a mix of personal anecdotes, celebrity impressions and political jokes, he manages to kill with the crowd.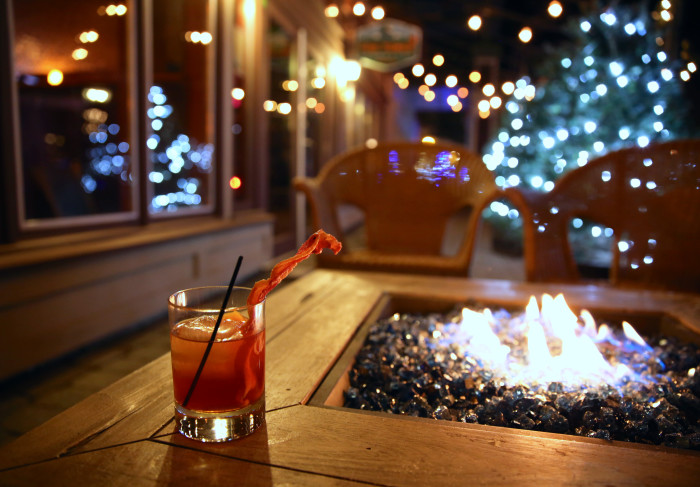 9:00 p.m. – Firetower
By the time the show is over at 9 p.m., the four of us — a bunch of geriatric, early-bird-special-loving 30-somethings — are starving. And we certainly don't try to hide it when we arrive at Firetower restaurant, ordering ahi tuna nachos, carne asada, pan-browned cider scallops and a freshly baked margherita flatbread, among other delights. Meanwhile, I feel like the classiest caveman alive sipping on an accompanying Bacon Old Fashioned, made with bacon-infused Makers Mark, Vermont maple syrup, muddled cherry, orange and a swizzle stick made of bacon. As we waddle out of the building, I convince myself that the 4,000 calories I've just ingested were necessary for the big day of skiing we've got planned for tomorrow.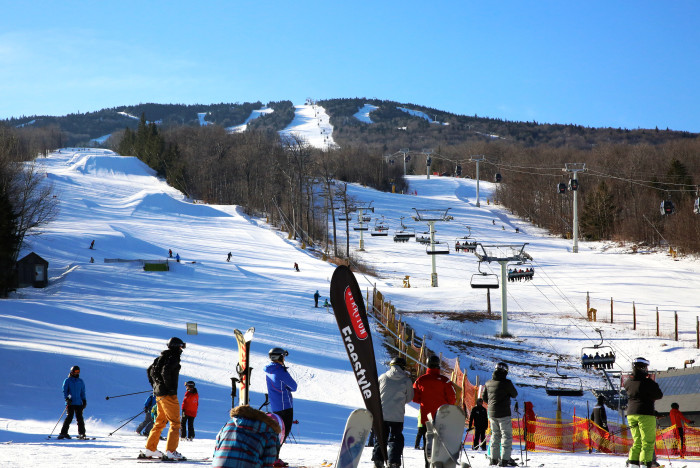 Monday, 10:15 a.m. – Stratton Mountain
After waking up at 9 a.m. (hey, we're no professionals) and gathering our rental equipment, we're on a gondola headed to the summit of the mountain by 10:15. The skiing is fantastic, and Josh and Lara have an awesome time on their snowboards. Meanwhile, Debbie opts for a satisfying head-and-shoulders massage at the Stratton Village Day Spa, proving that she might just know how to "work out" even better than we do.
12:30 p.m. – Grizzly's
We take a mountain break and meet at the lodge for lunch. I order veggie chili in a bread bowl, and the warm, delicious stew reminds me of the same comforting dish my grandmother used to make. Things briefly get weird when my wife sneak-attacks me with a kiss while I'm in the midst of nostalgically daydreaming of Grandma Baba, but it's just the thing to snap me out of my trance and back onto the slopes.
1:45 p.m. – Stratton Mountain (again)
With my belly full of hearty chili, I'm skiing the south side of the mountain, having already conquered the north. On our way down, my friends and I head over to Coca-Cola Tube Park, where we can fly down a snowy bank in oversized rubber tubes. But while Josh and Lara are able to channel their inner kids in snowboard footwear, I'm turned away because of my ski boots. After attempting to bribe the attending staff member to no avail, I begin to take off my shoes and socks in a brazen effort to go barefoot — before quickly realizing that I value my feet more than a 15-second frostbite-inducing tube ride.
3:40 p.m. – Black Bear Lodge
Back at the hotel, we all freshen up for dinner, and I learn that Josh takes baths like an old lady.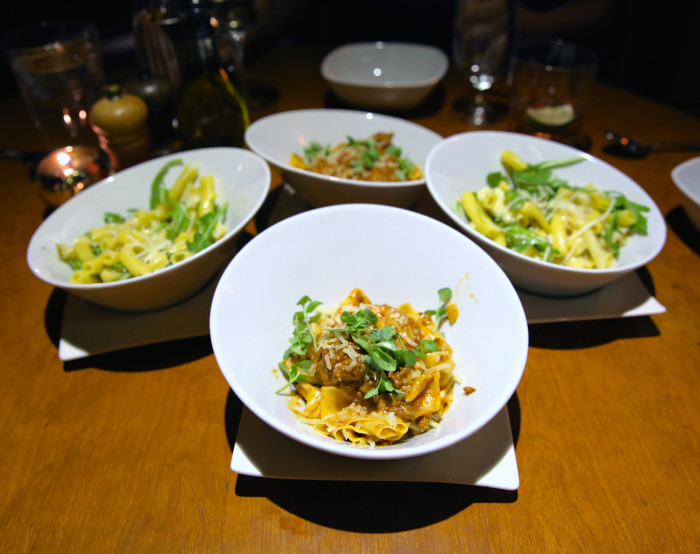 For the culinary climax of the trip, I've made us a reservation at Verde, the most elegant restaurant at the resort. I start off with a Black-Eyed Bourbon: a Bulleit bourbon–based cocktail with blackberry brandy, pear nectar and lime juice. The fruity, boozy beverage is my favorite of the trip, and the perfect prelude to the charcuterie board, duck spring rolls and fresh oysters we order. The best dish of the night, however, is hotly debated: Lara and I are convinced it's the pappardelle Bolognese, while Josh and Debbie swear it's the ziti with arugula. This is about as close to trading partners as we get.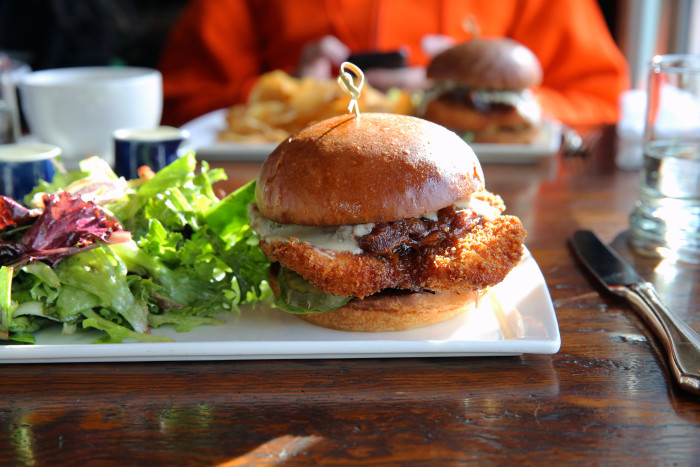 Tuesday, 11:30 a.m. – The Farm Table
After checking out of our hotel and driving for an hour, we arrive at our one planned stop for the day: a farm-to-table spot created by Kringle Candle Company. Forget your preconceived notions of what you'd imagine a restaurant founded by a scented home-decor franchise would be like: Not only is the ambience incredibly charming, the food is wonderful, too — the fried chicken sandwich with maple smoked cheddar cheese and bacon beer jam is a must. Amongst older women sipping tea in the beautiful antique chairs of a two-century-old carriage house, Josh accurately calls this idyllic outpost a "country oasis." Agreeing, I forgive him for his "cheesy" assessment of Grafton Village on the way up (get it?).
Following a brief stop into the Kringle Village candle store (no purchases made, but hey — the smells are free!), we hit the road for the last leg of our journey. And within minutes, we're already planning our return trip for next year.