Hungry In Hanoi: The 10 Must-Try Dishes In Vietnam's Culinary Capital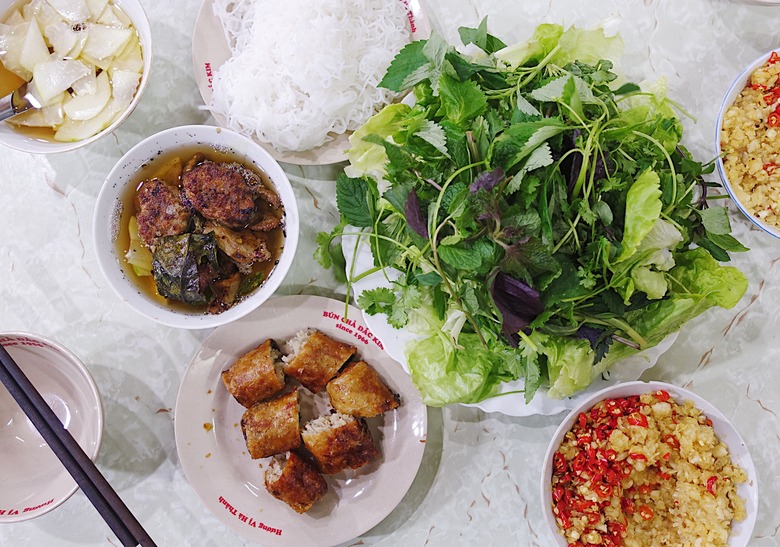 Bún cha is a popular lunch dish in Vietnam. (Photos: Elissa Goldman.
There is no lack of good eats in Vietnam's booming capital city of Hanoi. It is a metropolis rich in culinary traditions, and many of Vietnam's most famous dishes are thought to have originated here. The cuisine takes its cues from France, which occupied the country for nearly 80 years, and China, their neighbors to the north with whom they have a long history, and these cultural influences are evident throughout many of Vietnam's signature dishes. Here are the dishes and drinks I could not get enough of on a recent trip to this city of culinary dreams.
Bún Chả
A signature dish of the city and popular for lunch, bún chả consists of grilled pork patties (chả), chargrilled pork and rice vermicelli noodles (bún). It is served in a broth-like, diluted sauce, known as nước mắm pha, which is made from fish sauce, vinegar, sugar and lime. Accompanying the pork and noodles are a heaping plate of leafy greens and herbs such as lettuce, purple basil, coriander and bean sprouts as well as sliced green papaya and a minced garlic and chili mix. Pile in as many of the accompaniments as your heart desires and enjoy this most delectable dish. I found many good spots for bún chả, including Đắc Kim, where the pork was particularly flavorful and served alongside deep-fried spring rolls. 1 Hàng Mành, Hanoi, Vietnam
Phở Cuốn
The edge of the west lake area before you hit the old quarter is all about phở cuốn, noodle rolls made with fresh bánh phở rice noodles. Stir-fried marinated beef rolls mixed with lettuce and coriander are wrapped in sheets of fresh pho noodles. Walk along the streets of this area and you will find restaurant after restaurant serving this specialty. Grab a low plastic stool and help yourself to a heap of rolls served with a dipping sauce of water, sugar, vinegar, fish sauce and sliced green papaya. Add some fresh chili or chili sauce for heat or kumquat to add a sour flare. Phở Cuốn Hưng Bền is said to be the first to introduce phở cuốn to Hanoi. 36 Nguyen Khac Hieu, Hanoi, Vietnam
Bánh Mì
One of the more universally popular dishes and one with clear French influence is bánh mì. While we know it as a Vietnamese sandwich, the term literally translates to "bread" (more specifically referring to baguette), making it a clean slate with which to create any number of delicious sandwiches. A good bánh mì has warm crispy bread and high quality fillings, pâté being one of the most popular. There are seemingly infinite bánh mì options in Hanoi, ranging from the very traditional to more new-school approaches. At Bánh Mỳ Pate Lãn Ông, the duck pâté is made fresh every morning. 20 Chả Cá, Hanoi, Vietnam
Chả Cá Thăng Long
This turmeric-marinated fish is often considered the pride of the city as it originated at Chả Cá Lã Vọng, its namesake restaurant that has been an institution for over 100 years. Pieces of local fish are marinated and grilled before being brought to the table in a pan to be fried by diners on individual burners. Fresh dill is the herbal star of the show, and heaps of it are added to the pan along with spring onion and other assorted herbs, then served with peanuts and nước chấm dipping sauce. The dish is so popular, the entire street bears its name. 14 Chả Cá, Hanoi, Vietnam
Bún Riêu
Second to phở, bún riêu, or crab noodle soup, is a breakfast staple in Hanoi. There are several varieties to try, all of which start with a tomato and crab broth made with a paste of small paddy crabs. Different ingredients are added to create each variation. Order a bowl of bún riêu cua and you'll be eating the tangy broth with rice vermicelli noodles, topped with crabmeat, deep-fried tofu and often blood cubes. I repeatedly found myself opting for bún riêu nambô, which is essentially a kitchen sink version of the soup consisting of deep-fried tofu, pork patties, rare beef, blood cubes and sometimes annatto seeds, which give the broth a red hue. Fresh herbs, bean sprouts and shaved banana blossoms are typical accompaniments to the broth.
Bánh Chuối
When craving a sweet treat, bánh chuối is a great option. These fried banana cakes are a typical street food snack and can usually be found alongside sweet potato and corn cakes. Overripe bananas are favored for this dish due to their extra sweetness. Pro tip: Head to Cafe Duy Trí, a quiet respite in the city that has been around since 1936, and order a coffee to go with your sweets. 43A Yên Phụ, Hanoi, Vietnam
Bánh Rán
Another grab-and-go snack is deep-fried glutinous rice balls. Throughout my time walking around Hanoi, I came across two different variations. A savory version called bánh rán mặn that is filled with glass noodles and minced pork, and a sweeter version called bánh rán ngot, filled with sugary mung beans. There is a woman frying up these along with bánh chuối and other delights on Yên Phụ. The coffee at Café Duy Tri goes marvelously with this snack as well. 43A Yên Phụ, Hanoi, Vietnam
Cà Phê Trứng and Cà Phê Sữa Đá
Cà phê trứng, or egg coffee, originated in Hanoi in 1925, created by a barista named Nguyễn Giang while working at the Sofitel Metropol in the French Quarter. He was tasked with making cappuccino but could not find enough fresh milk, and even when he came across fresh milk, the unreliable electricity made it difficult to keep. He decided to try to replicate the flavor and consistency of cappuccino using egg yolks, whipping them up, adding cheese and butter, and pouring the whipped mixture into the hot coffee. When combined, it does indeed taste like a creamy cappuccino and offers an affordable alternative to locals. Another coffee beloved all over the country is cà phê sữa đá, Vietnamese iced coffee served with sweetened condensed milk. Both can be found at Giang Café, now run by Giang's son. 39 Nguyễn Hữu Huân, Hanoi, Vietnam
Bún Thang
Lesser known than some of the other noodle soups around town, bún thang requires a bit of seeking. It is a chicken noodle soup made with rice vermicelli noodles that contains about 20 or so ingredients including shredded chicken, dried shrimp, thinly fried egg and chả lụa (Vietnamese sausage) in a chicken and pork broth. Often presented to look like a flower in the bowl, bún thang epitomizes a beautifully delicate dish. Add a few drops of shrimp sauce or cà cuống (a juice from a beetle) to get the full effect.
Phở
When it comes to Hanoi and food, phở is a must. This noodle soup is one of the most internationally recognizable Vietnamese dishes, and for good reason. It originated here, and if you mention it to a local, they will be sure to remind you where it came from. While it can be found all day, the locals consider it a breakfast staple. The dish is named for the noodles, a white rice noodle, but the key to a great phở is the broth; clear, rich and aromatic. On a visit to Phở 10 I couldn't resist the phở gai (chicken) and phở bo (beef). 10 Lý Quốc Sư, Hanoi, Vietnam