Here Are 10 NYC Dining Ideas For February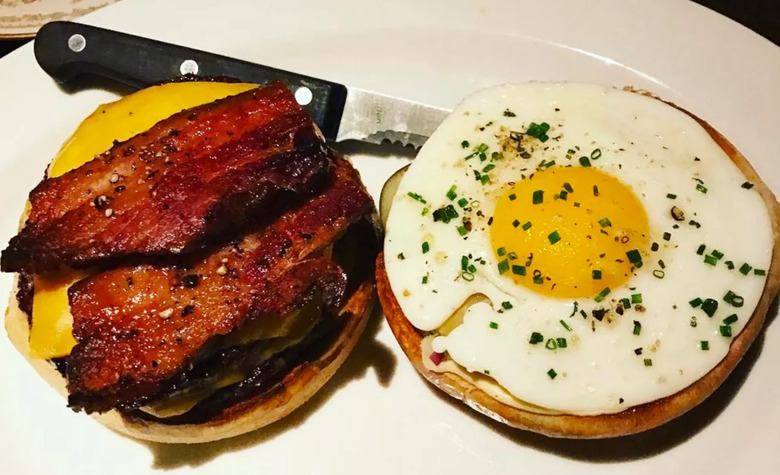 We get it, it's cold outside. And with our little friend seeing his shadow last week, there might not be an end in sight. But that's not necessarily such a bad thing — not in the world of NYC dining, at least. Between more unoccupied coveted seats at restaurants and classic cold-weather dishes, we're going to go out on a limb and call February one of the hottest months...to dine out in the city, that is. Here are ten ideas — restaurants, dishes, drinks and more — to explore in the Big Apple this month.
1. Slurp up some bone broth!
It may no longer be the city's hottest trend (that was circa 2015) but bone broth is here to stay, and there's no better way to beat the cold than by slurping up essential nutrients. Hearth's Marco Canora is rightfully credited with making the liquid elixir a "thing" by opening takeout-window Brodo, which has since expanded to a second location. Apart from the originals, check out Springbone Kitchen and Barneys Bone Broth.
2. Make the impossible reservation.
The first couple months of the year are traditionally slow for restaurants. That's not to say you'll be able to waltz your way to many — or any — of the city's hottest tables, but a little planning ahead and a well-placed phone call can go a long way in February. Or you can try your hand at walking in. We've crossed our fingers on your behalf, encourage you to shoot for the stars and highly recommend doing your best to get into 4 Charles Prime Rib, Loring Place, Le Coucou or Chumley's.
3. Dip into the upscale-Indian trend.
The past couple of years have been revolutionary for the city's Indian-food scene. It wasn't too long ago that the Big Apple had, arguably — with all due respect to excellent spots like Amma and Junoon — just one "fine-dining" Indian restaurant (Tamarind). Fast-forward to 2017, and we've been blessed by the openings of the NYC branch of New Delhi original Indian Accent, Floyd Cardoz's Paowalla, the impeccably contemporary Babu Ji, the internationally influenced Tapestry and the low-key chic Chaiwali. These spots are located all over the city — literally — and have breathed new life into an entire cuisine.
4. Revisit an NYC classic.
You can get carried away — lost, even — visiting the city's newest and hottest restaurants. Why not let things settle down a little, avoid the stampede and take some time to grab an overstuffed pastrami sandwich at Katz's Delicatessen? Or pig out on a gargantuan, off-the-bone Porterhouse at Peter Luger Steakhouse? Grab a pizza pie at Lombardi's and remember how easy dining was before the entire population was looking to make reservations at the same few restaurants.
5. Stay grounded with low-ABV cocktails.
No one wants to wake up with a raging hangover, especially on a cold winter morning. Session-friendly classics like beer will always be there, but why not enjoy a well-made, inventive low-ABV cocktail instead? Such drink options have become commonplace at many of the city's finest dining institutions, which also boast impressive bar programs. Start out by trying a sake-based cocktail at Piora or opting for a sherry-forward tipple at Maison Premiere. You might just find yourself enjoying more than one or two without paying for it dearly the next morning.
6. Dan Dan noodles for days.
Let's chat about Dan Dan noodles. They've never quite attained cold-sesame-noodle status here in the city, and that's a downright shame. The combination of piping hot noodles, spicy minced pork, and hot oil — meant to all be messily mixed — is ideal for cold February nights. Han Dynasty's might receive the most praise, but we like the doughy texture of the hand-pulled noodles at Uncle Ted's. Meanwhile, Hao Noodle and Tea makes a killer vegetarian version that is particularly light (an anomaly for this dish).
7. Northern Thai is the new Thai.
Thai is one of the city's most reliable cuisines: There's always a semi-decent neighborhood joint nearby serving lunch specials and large portions of Americanized classics like pad thai and pad see ew. It's only in the past few years that new restaurants have taken to focusing on regional specialties. Uncle Boons finally gave New Yorkers a place to want to sit down and take it all in, while sister restaurants Somtum Der and Kiin Thai have expanded diners' palates and made Northern Thai dishes household names. Larb Ubol and Zabb Elee are two other places worthy of inclusion here.
8. Get your char on for National Pizza Day.
It's no secret that NYC pizza is second to none (okay, maybe this is news to the Midwest). Between old-school staples like Di Fara Pizza, Grimaldi's, Patsy's, Totonno's and John's of Bleecker Street and more-contemporary pie-slinging dens, like Roberta's, Marta, Speedy Romeo, Rubirosa and Emmy Squared, we're confident you won't have trouble finding a seriously drool-worthy slice to celebrate with this Thursday.
9. Clean out your sinuses with hot chicken.
We've sung the praises of the fiery Nashville dish for years now, and the national dining scene finally took proper notice in 2016. The two main places to get your fix in NYC come to us via Brooklyn, in the form of the old (Peaches Hot House) and the new (Carla Hall's Southern Kitchen) kids on the block. You can also get a solid rendition on Monday nights at Harold's Meat and Three, but our pro tip is to hit up relatively obscure BBQ bar the Hog Pit in Chelsea for a surprisingly authentic — albeit slightly heat-lacking — take.
10. Keep an eye out for Spanish wines.
Tempranillo. Garnacha. Monastrell. Sherry. Cava. Get used to these Spanish grape varietals because they're increasingly popping up on wine lists throughout the city. Excuse us for intentionally keeping this one more general than our other recs and not mentioning specific restaurants that showcase a wide range of Spanish vino, but part of the fun is for you to come across them on your own! Major plusses: They're versatile — you can easily find light-, medium- or full-bodied pours within the category — and usually marked up less than their American, French and Italian counterparts at restaurants.
Bonus: Try to snag a table at Brooklyn's Olmsted, especially tonight.
Greg Baxtrom created one of 2016's breakout hits in Olmsted, a smartly designed Brooklyn restaurant where the chef-owner uses seasonal ingredients and a clever imagination to inform dishes such as carrot crepes and rutabaga tagliatelle. Tonight only, Baxtrom is sharing his kitchen with Aaron Silverman, the D.C. chef extraordinaire behind Rose's Luxury. As at Silverman's flagship, it's walk-ins only at Olmsted tonight, and get there early to wait in line. Or make a reservation for another night in February to experience Baxtrom's inventive dishes and Olmsted's charming space.