Last year brought us the prediction that fermentation would be a trend, and given the rise in produce preservation, the popularity of Korean food and our love of making things by hand, it wasn't a bad bet. For Denver-based chef and "food lab" founder Jensen Cummings, fermenting isn't a fad at all — it's a new way of pairing drinks with his menu. Hence the Brewed Food trend, something Cummings has dubbed the next big restaurant trend.
"We are like the mutant bizarro world of America's Test Kitchen, but for beer and food," Cummings says. "Overall, we are trying to redefine what beer and food mean by doing hyper experimentations with brewing techniques."
Cummings, along with various partner chefs and brewers, takes the skills and tools of beer making to the kitchen. It goes beyond just cooking with beer, instead featuring the yeast, hops, grains and fermentation that make beer what it is.
To start Brewed Food, Cummings began working with well-known fermented accoutrements like sauerkraut, kimchi, miso and soy sauce, which he began to ferment with different beer yeast strains. A lot of this early work started in the kitchen of the now-closed restaurant Route 14 in Denver, as well as in his own garage. Brewed Food was and is a side project of the chef, who now runs a restaurant consulting firm, Fortune Cookie Concepts. Before he started these ventures, the Southern California native found himself in and out of kitchens in his hometown. He worked in Iowa and and then Denver, where he was executive chef for Kevin Taylor's and helped open Troy Guard's Tag Restaurant. He got his cicerone certification in 2012, and during his run at Tag, he became the beer buyer, two things that helped solidify his dedication as a beer geek.
"By adapting the ways we cook and breweries adapting the way they brew, food and beer can come closer together. It helps create a sense of terroir."
One hope Cummings has for Brewed Food is to help define Colorado cuisine, which as it stands is mainly about bison, foraged ingredients and foods influenced by Native American and Mexican dishes. After all, he says, "I think because we have such a strong craft beer scene it can be intrinsic to what people call Colorado cuisine." Put that all together and you have a winning formula for pop-up dinners. Since Cummings started Brewed Food back in 2014, he's hosted a variety of meals and tasting events in Colorado, Oregon, California, New York and Texas.
"I've been playing with beer and food for a while, but after the event it made me rethink what the possibilities could be," says San Diego chef Chris Arzola, who cohosted a dinner with Cummings at the Patio on Goldfinch. "It changed from pairing food with beer to blending and blurring the lines of food and beer through fermented and aged foods."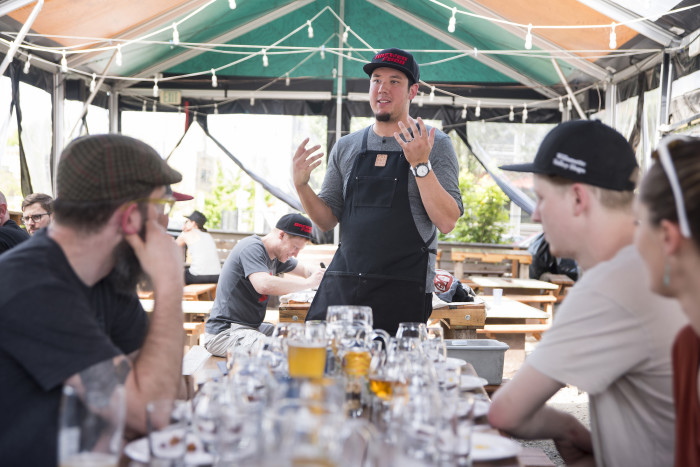 Highlights from that dinner were beer from Green Flash and Cellar 3 Brewery; tea-smoked scallops with pickled strawberry, sorrel, pink peppercorn and lime foam; Scottish salmon crudo with pickled mustard seed, beer-cured salmon roe, mustard frill and crispy salmon skin; and a coconut-lime semifreddo with fermented banana sauce, brûléed pineapple and chocolate rye malt. Other dinners have featured gulf fish with hop and spent grain sauce, malt-roasted pork belly (recipe below), yeasted baechu kimchi and barrel-smoked bacon with hop-cured yolk.
"If you look just at fermentation, you have bread, chocolate, coffee, kimchi and vinegar. Jensen is taking things like kimchi and blending batches to create different flavors and textures," says Arzola. "I think the idea of Brewed Food is growing because there are a number of chefs playing with fermented and aged food items."
It was seeing barrels of spent beer grain that first got Cummings thinking about the relationship between beer and food. Seeing 30-plus bins of sweet-smelling beer mash covered with flies broke his heart but inspired him at the same time. All of that Grape Nut–like grain was garbage, but could be repurposed into food.
"By adapting the ways we cook and breweries adapting the way they brew, food and beer can come closer together," he says. "It helps you create a sense of terroir."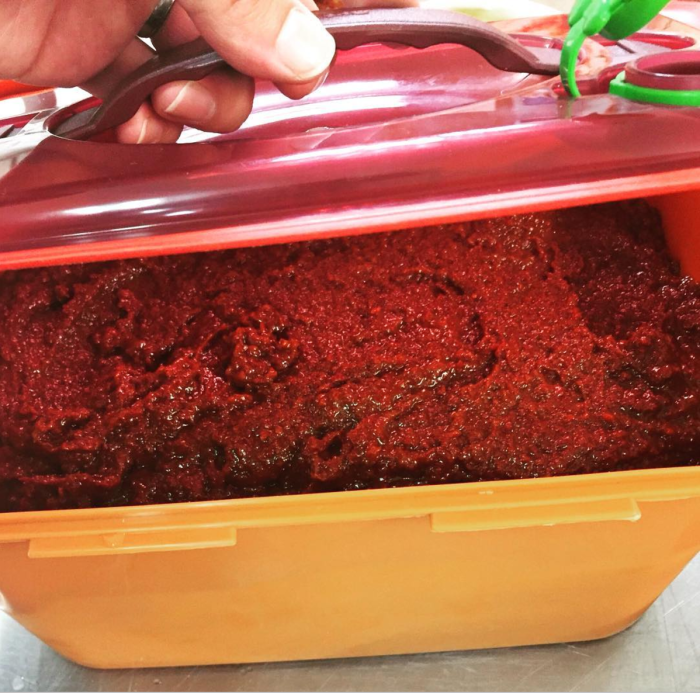 Overall, Cummings's goal is to showcase beer and food combinations like wine and food pairings while also utilizing the beer components to make his New American dishes stand out from the standard. If it sounds a little convoluted, it is, which is all part of the chef's plan to keep the concept open and fluid as it evolves.
"What's special with what Jensen is doing is it's not complementary. He focuses on the food and balances it on the plate," says Jimmy Carbone, who hosted one of Cummings's dinners at his beer-centric Jimmy's No. 43 in New York City. "Yeah, it goes with the beer, but it's more about how his food stands alone. He's kind of revolutionary in that way."
If Cummings continues to push the envelope, 2017 may just be the year this movements hits the mainstream.
Malt Roasted Pork Belly
Courtesy of Brewed Food and Jensen Cummings
Ingredients
¼ cup light malt extract
2 tablespoons apple cider vinegar
1 tablespoon Worcestershire sauce
1 tablespoon soy sauce
½ teaspoon kosher salt
¼ teaspoon black pepper
2 ½ pound pork belly
Directions
In a mixing bowl, whisk together the light malt extract, apple cider vinegar, Worcestershire sauce, soy sauce, salt and pepper.
Place pork belly in a hotel pan and pour glaze over top. Marinate for one hour, flipping pork at 30 minutes.
Heat oven to 325°F. Line sheet pan with foil and place cooking rack over pan. Place pork belly on cooking rack and put it in the oven.
Cook at 325°F for 20 minutes, then turn oven up to 400°F for 8-10 minutes, or until pork has a dark, caramelized color. Pull out of oven, place heavy pan, partially filled with water, on top of pork belly to press out excess fat.
Allow to rest, weighted, for at least ten minutes before slicing and serving.