When It's Time For Chamomile Tea, And A Cocktail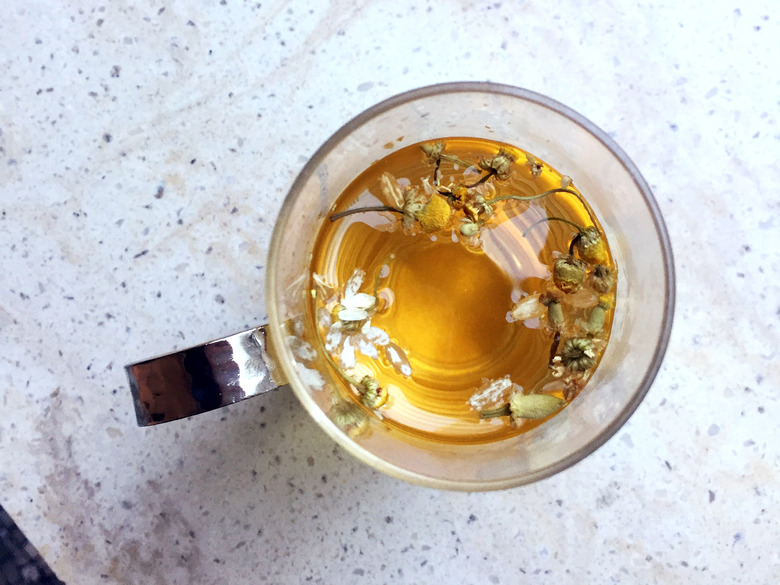 Chamomile tea pairs perfectly with scotch in this cocktail easily made at h
Tea has been in the company of spirits since before the word "cocktail" even existed, dating back to the late 1700s as one of the five key ingredients that comprised the first punches. Though tea very rarely appears in craft cocktails, it's easy to see the similarities between teas and the flavors of herbs, flowers, roots or spices typically found in liqueurs or amari. For Seyeram Anagbonu, head bartender at the Oak Door Bar in the Grand Hyatt Tokyo, he offers up tea cocktails blending rose tea with Canadian whiskey, English breakfast with Amaretto, and an elderflower-chamomile tea with scotch.
"The floral characters of the chamomile tea and St-Germain balance perfectly with the whisky's mellow vanilla and spicy hints," notes Seyeram. "Some bartenders burn [literally take a lighter and light a glass of alcohol on fire] alcohol to soften the smell." Calming and sweet, chamomile dates back to ancient Egypt, though it is technically not a tea, but a tisane (a French word for "herbal infusion") made from dried flowers. Not so calming is the blast of hot alcohol that could singe your nose if the drink is not balanced, which is why Seyeram mentions burning off some of the spirit in the glass. While two ounces of spirit will work perfectly in a cold cocktail, be aware that a hot drink can make half that amount start to feel unpleasant.
Pairing any spirit with tea might seem easy — and a strong rum will arguably go well with anything — but it's important to consider more nuanced elements, such as how the nuttiness of both sherry and darjeeling tea might pair well, or how the grassiness of green tea might complement the earthiness of tequila. True teas are closer to wine in flavor profile and complexity, with many having tannins that can provide a lovely dryness in a cocktail, in addition to the added benefit of antioxidants. Some bartenders infuse teas into the spirit directly, while others might make a tea syrup, or even use tea ice cubes to chill and dilute in the drink. Given the possibilities, this cocktail still feels ripe for exploration for those who enjoy a gentle kick with their tea.
Elderflower-Chamomile Tea Cocktail
Servings: 1 cocktail
Ingredients
1 ounce Monkey Shoulder Blended Malt Scotch Whisky
1 ounce St-Germain Elderflower Liqueur
Simple syrup (served on the side)
1 bag chamomile-elderflower tea
Directions:
Prepare a cup of hot chamomile tea separately.
Pour the whisky and St-Germain into a teacup. Add in pre-prepared hot tea.
Stir briefly and serve with a side of simple syrup.
Prep time: 5 minutes
Difficulty: Easy