Jehangir Mehta, Food Waste Crusader, Is A Savior Of Scallops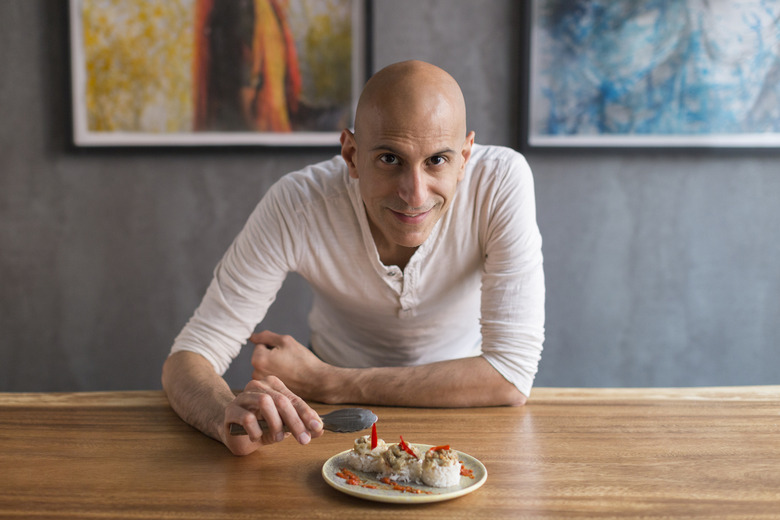 New York–based chef/restaurateur and former Next Iron Chef contestant Jehangir Mehta runs a tight ship at his latest restaurant, the modern Indian- and Persian-tinged, vegetable-forward Graffiti Earth in TriBeCa's Duane Street Hotel. A formidable addition to his East Village restaurants Me & You and the original Graffiti, this newly launched venture focuses squarely on efficiency, responsible sourcing, food-waste awareness and creative repurposing. An activist in life as well as work, Mehta also spends time at colleges around the country, working with students in kitchens and gardens to help make campus dining halls centers of food education.
When dining at Graffiti Earth, be sure to try the delectable vegetable soup made entirely from salvaged produce, the savory blended-beef-and-mushroom burger and especially the broken scallops. Seriously, try Mehta's sweet and savory scallop brûlée, made exclusively with perfectly great pieces of famously delicate diver scallops that would otherwise be unsellable. We sat down at the restaurant to talk mollusks, mushrooms, waste reduction and how to get one's kids to eat sardines.
Why can't these scallops still be sold? Surely there's a market for discount diver scallops.
Two reasons: One, I think in basically every food magazine you open, you're shown a beautiful scallop seared in ounces of butter. I never understand that concept of taking something completely nonfatty and putting as much fat on it as a bacon slice. Chefs are so used to doing it in that certain format. It's like how people are just so used to seeing a Barbie with blonde hair that it took so long for people to adjust to another color of Barbie.
Second: It takes more technical ability to cook broken scallops because there's a big piece, a smaller piece and a third, even smaller piece. Normally you want to heat the pan and throw the whole thing in. With broken scallops, you have to have an order of operations: Let the big piece cook for 30 seconds, then the medium piece, then after 10 seconds, put in the smallest piece. It's a little annoying, and also, if you think about it, even though we keep the dish virtually raw, it's still a technical issue. I think that's why people say, 'Why bother about it?' If a cook screws it up, it's not worth it. I understand where they're coming from.
And scallops are expensive. The price point makes it so it's not an earner for the restaurant, but a lot of chefs feel compelled to have a scallop dish on their menu because of those perfect magazine photos.
But scallops don't actually take anything to raise. You never need to feed a scallop because they do it themselves by moving around a lot. That's why a lot of farmers don't want to grow them. You start here, then you find your scallop has moved way over there. So it's a hunt for the fishermen, which makes scallops a more expensive fish.
How do you source them?
From a company called Sea to Table. They put you in contact with the fishermen directly, so there's no middleman. We'll say we want broken scallops and they'll say, "Our Maine guy has it" or "Our Florida guy has it." The fishermen make more money compared to the whole system of the fisherman sending it to a company and the company wanting to make money off it.
Let's talk about another scrap-based dish you serve: your blended vegetable soup, which is different every day.
It's entirely scraps that we use in this soup. We never buy vegetables to make stock. The soup stays in the same format of the bean, vegetable and coconut soup, but the flavor changes daily because of the vegetable scraps that we use. It's not a consistent taste — sometimes it might taste more like root vegetables, at other times it may taste a little more onion-y, sometimes it may taste a little more tomato-y, but it still has the coconut that balances it and the chile that gives it spice. It's like everyone is human, but everyone's bone structure is different.
Can you tell me what inspired you to use newspapers as placemats?
This is our signature Graffiti placemat we've been using for ten years.
Any favorite paper you use, or just whatever's around?
Here, we use papers that the hotel puts out, which is the Wall Street Journal and The New York Times on the weekend. So here we just use those two because we have them already. Over at [East Village] Graffiti, we get Korean ones because we have a Korean purveyor over there. I used to pick up the Urdu and French newspapers myself.
One day, when we had just opened Graffiti, a guy went ballistic on me, saying that I was harboring terrorists because I'm pulling Urdu newspapers. That was so new to me, and you know how high the failure rate is in the restaurant business. The last thing I needed to do was damage control—I'm just too small a person to prove a point—so I stopped using Urdu papers. Sometimes I think I caved for a bully, but it wasn't worth fighting. I know I would not insult any human person or religion for no rhyme or reason.
Can you reuse or recycle the papers after they're placemats?
Most of the time they get dirty, but we do recycle them. We use them for packing and wrapping things. If a glass breaks on the floor, a lot of people would use paper napkins to clean it up, but we only use newspaper. If there's a small spill on the floor, we always say, "First soak it up with newspaper." That way you use a little less.
The plates and the cutlery, I've noticed, don't match and look so good as a result. Is that also something that you've been doing?
[Points to a bread plate]. I think a customer just gave me those gray ones, another gave me these glasses. It was such an unexpected present, so thoughtful. It doesn't matter who thinks something is trash. Almost everything is hand-me-downs. My sister gave me some forks and knives because she got a new set. Two or three sets were given to us from people who were moving. We've been lucky.
Did your sister do the paintings you have up on the wall here?
Actually, they're by a friend of ours with the same last name, Shreya Mehta. Her art is inspired by Graffiti Earth's mission of "food empathy," and she donates 100 percent of the net proceeds from her paintings to a Mumbai, India–based charity for women's education. We want to do anything that's giving back.
Can you tell me about your relationship with the National Mushroom Council?
We've been doing our mushroom burger since the beginning of Graffiti. I met the head of the Mushroom Council at an event and told him we'd been doing this blending thing. We ended up doing some events together, then they asked me, "Will you do an event for us and teach at a college?" I said sure. Then they asked if I would be the spokesperson, then suddenly I was going everywhere teaching about how to cut down on red meat and how to blend with mushrooms. This year we're a little slower on the college front: We only went to five, but in previous years I would go visit 12.
You've told me before that mushrooms take so little water to cultivate, while beef takes so much.
Also, mushrooms are grown vertically, so you're using much less land. They grow in closed environments. It's actually very spooky in some ways, especially on a cold, brisk day. I told one Mushroom Council board member that a mushroom farm would be the best place to throw a Halloween party. You wouldn't even have to do anything — it's creepy by itself.
Do you think that specialty mushrooms cultivated in this way is positioned for a trend, like the resurgence of heirloom tomatoes?
I think people are still growing into it. I think people think, "Oh my God, it's a fungus! You can get sick from this." Some people just don't like the texture; some people find it too spongy. It's just something people need to get used to, to see on the plate. A lot of the time people just see it on the plate and don't want to eat it. That's why we're focusing on blendability, that you can't really see it. We're grinding it into the meat.
So the meat and mushrooms are ground together?
No, we grind the meat and mushrooms separately. You can do it through the meat grinder or you can do it through the food processor; both work well.
If there was a home cook trying to make a blended mushroom burger for the first time, what is the single most important thing to know about experimenting with the mushroom and beef mixture?
For someone who really doesn't like them, start with button mushrooms. Button mushrooms have zero flavor of their own, so they can absorb the beef flavor nicely. If you want to add a little bit more flavor to it, then start with shiitake, then move on to the portobello. Or maybe when they've gotten used to eating a portobello in a bun at Shake Shack or wherever, then go along with the portobello.
You know, it's funny how much Shake Shack is talking about their beef and how it's so much healthier. It's not really healthier, though. I was standing in line at the Shake Shack at the Chicago airport and they told me both the chicken and mushroom were fried. I said, "That's how you're going to make a vegetable popular?" I don't want to make it popular. I don't think it's worth it if that's how you're going to do it. It's like how Brussels sprouts became popular when they were marketed with bacon. I think it's sad if that's how things need to be prepared in order for people to eat them, instead of just saying, "Let's eat this vegetable."
Some people call it "baby steps."
For a baby step, I would rather say "Eat one teaspoon of something, but eat it the right way."
So, the home cook has now made their first burger mushroom patty. Is there anything different in cooking it that you would do with a regular burger?
[Shakes head.] Exactly the same. The only thing I would say is to start with 5 percent, then move to 10 percent, then move to 15 percent, then move to 20 percent. Don't go right to 20 or 30 percent right away. For our burger, we go to about 20 percent.
Is that the sweet spot?
Well, I have felt that after that, it doesn't taste like a burger.
What is your kids' favorite thing that you make for them right now?
They've been eating a lot more fish — last week they had trout for the first time. It was something I had not bought, only because I'd never thought to. Then it was sardines. I did a tarte flambée with sardines instead of bacon. They love shrimp; they like dumplings very much. They've started liking soup a lot and just started drinking soup as a snack. Oh, and the big thing: We have a panini press at home, and they don't mind anything that we put in the press to make a sandwich. In fact, they're quite excited about that.
And finally, what was your last favorite trip abroad?
I last went to India, which is always nice, don't get me wrong on that one. But I think my last favorite trip was when I went to Vancouver, which I love. I just find it extremely pretty as a city.