How NYC Chef Janine Booth Stays In Shape Without Skipping The Fried Chicken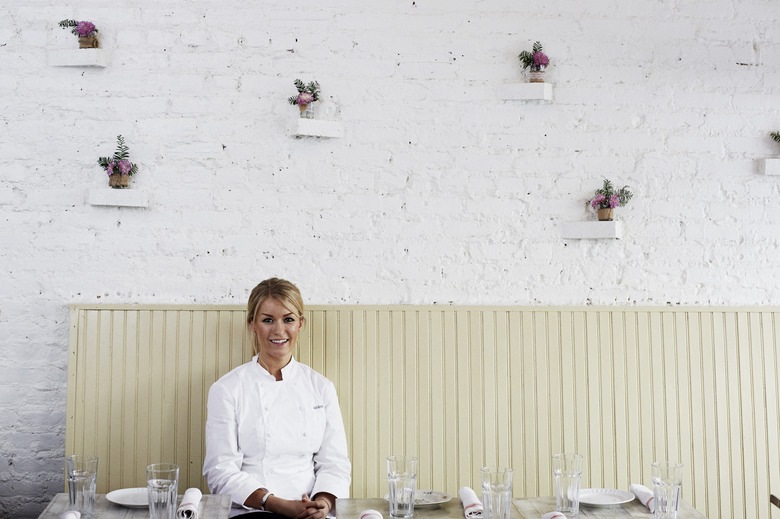 Janine Booth will not deny herself anything she craves.
In honor of Food Republic's annual Healthy Living Month, we reached out to chefs about their diet and fitness routines and are featuring these interviews throughout January. Next up is Janine Booth of New York City's Root & Bone. 
Hailing from Perth, Australia, Janine Booth was born into a family of restaurant owners. Following that theme, Booth studied at Le Cordon Bleu in Miami, where she worked for her now-partner Jeff McInnis at Gigi, Yardbird Southern Table and Bar, and Khong River House. She and McInnis moved north and opened Southern comfort–inspired Root & Bone in New York's Lower East Side neighborhood a couple of years ago. More recently, Booth welcomed a baby girl, Sunny, to the mix. So how does a new mother who's regularly in a kitchen cooking fried chicken and cornbread stay in shape? It may seem like it'd take a miracle, but here's what Booth has to say.
What's the first thing you eat or drink in the morning?
I have a two-month-old baby girl, so the first thing I usually make is a double-shot almond milk latte sweetened with a little honey to get things going, followed by scrambled eggs with kale, chili, quinoa, avocado and queso fresco. 
How do you manage to keep in shape and not snack while always being in kitchens?
My biggest challenge while working is actually taking five minutes to eat a balanced meal, so I usually get organized in the morning and make green smoothies to sip on throughout the day to ensure I don't get so ravenously hungry that I eat the entire sheet pan of cornbread that just came out of the oven! If I can take a five-minute break to eat a salad throughout the day, it's a great day!
What's your fitness routine?
I am obsessed with Pilates! I have always loved it but developed my obsession early on in my pregnancy. It not only kept my core and back extremely strong, but it changed my body in amazing ways. I also love jogging and power-walking in the fresh air with my baby girl.
Do you practice any wellness routines, such as meditation, acupuncture, massage?
I believe it is super important to take a holistic approach to health, not only eating right and exercising but supplementing with the right vitamins and practices specific to what your body needs. I see a chiropractor monthly who focuses on acupuncture, massage and overall body balance. 
Any New Year's eating resolutions?
With all of the evidence of the impact of farming on the environment, I am trying to focus on eating more vegetables and grains instead of meat. I don't think I could ever be completely vegan, but I think focusing on creating and eating amazing vegetable dishes is obtainable. 
Have you ever done a fad diet? Juice cleanse?
I have done a lot of different fad diets over the years, more so when I was a lot younger. Lemon-juice cleanse, grapefruit diet, cabbage soup diet, milk shake diets — all kinds of things! What I discovered is that denying yourself the foods your body craves is the worst thing you can do. I would lose weight while on the diet, but the day I would stop I would end up eating everything I could get my hands on! Over the years I have realized the most effective diet is changing your lifestyle so that you live in balance. Eat healthy, nutritious food often, drink lots of water, stay active, exercise when you can and treat yourself with the foods you want to eat whenever you want to eat them.
Any food or drinks you actively avoid?
Not really—everything in moderation! If I feel like eating or drinking something I won't deprive myself of it, but I just won't eat the entire bucket of fried chicken and a full gallon of ice cream; I will have a piece or two of fried chicken and one scoop of my favorite ice cream in a waffle cone, because ice cream should ALWAYS be enjoyed in a waffle cone!
Have you ever struggled with your weight?
I have always loved food, cooking and baking, even as a child. I remember being a child and being a little on the chubby side, but once I joined a dance class I became completely obsessed with ballet, modern, jazz, contemporary and performing! I was able to eat all the things I loved, but my life suddenly had balance. As an adult, of course life gets busy, and it is not always super easy to get to the gym or a Pilates class, but I just try to stay as active as I can and know that that is enough.
Do you have any go-to, quick-fire healthy recipes that you can provide us off the top of your head?
I love to have cooked quinoa in the fridge to have with eggs in the morning, add to a salad at lunch or to replace rice at dinner; it is definitely a staple for me. Avocado on sprouted grain English muffins, heirloom tomatoes, basil, olive oil, sea salt and chili flakes is also a go-to for breakfast or lunch. When I have time I roast a bunch of vegetables like pumpkin, eggplant, fennel, red onions, cauliflower and keep them in the fridge to use in salads, top with lean proteins or use in quinoa bowls for breakfasts.