5 Creative Falafel Recipes For Meatless Monday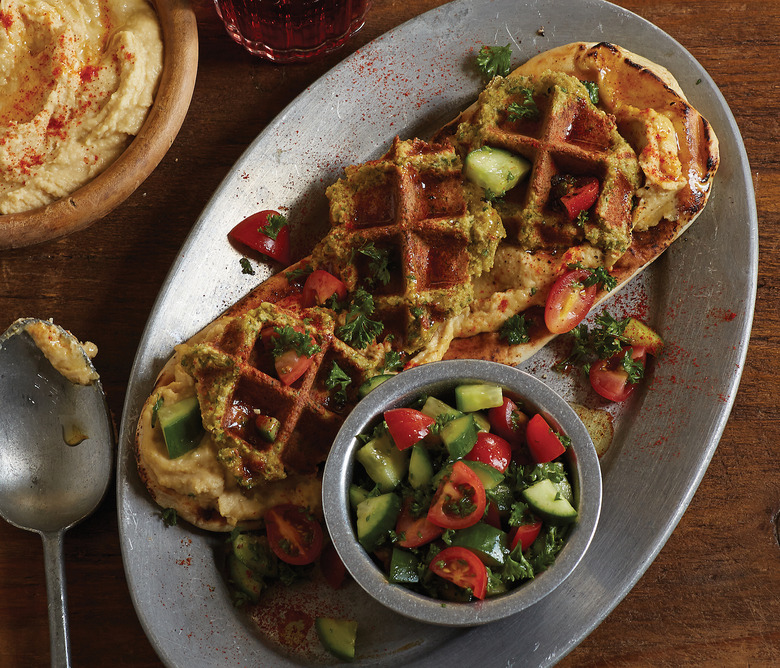 Crunchy, savory falafel is one of our favorite Middle Eastern treats. The formula is simple: Fry balls of garlicky spiced chickpea batter and load into a pita, on top of rice or in a salad. It's vegetarian, vegan and packed with protein, and tonight, it's what's for dinner. Take a trip off the beaten path with these creative falafel recipes, and find your new favorite way to spin this healthy classic.
Recipe: Fawaffle, The Waffled Falafel And Hummus
Not only is waffled falafel a healthier alternative to the deep-fried version, it's as delicious as it is fun to say.
Recipe: Falafel Crouton Salad
Making falafel from scratch isn't complicated; it just requires some planning: Soak the chickpeas in advance, pulse with seasonings and a few binders, shape and fry. To my mind, few freshly fried crispy things are as delicious. You can even make the batter a day before you fry it; I tried it and was surprised at how well it held up in the fridge.
Recipe: Falafel Burger
I'll be honest: I find most veggie burgers bland and mushy, so I struggled when I was considering a vegetarian offering for Black Tap. This falafel, which is based on a recipe I developed with Michael Schwartz in Miami, was the solution. It's more of a Parisian- or Israeli-style falafel that reverses the ratio of herbs to chickpeas you find in many recipes. All the parsley, cilantro, and mint create a vibrant, herbaceous flavor that is complemented by homemade tahini, hummus, pickled onions, and feta cheese.
Recipe: Falafel-Stuffed Eggplant
Enjoy seasonal eggplant stuffed with hearty falafel for a steak of a veggie dish you'll make over and over again.
Recipe: Fava Bean Falafel
Serve these as an appetizer or hors d'oeuvre — they make awesome party food — or go the whole nine yards and cram them in a nice warm pita with the works for a great vegetarian sandwich.