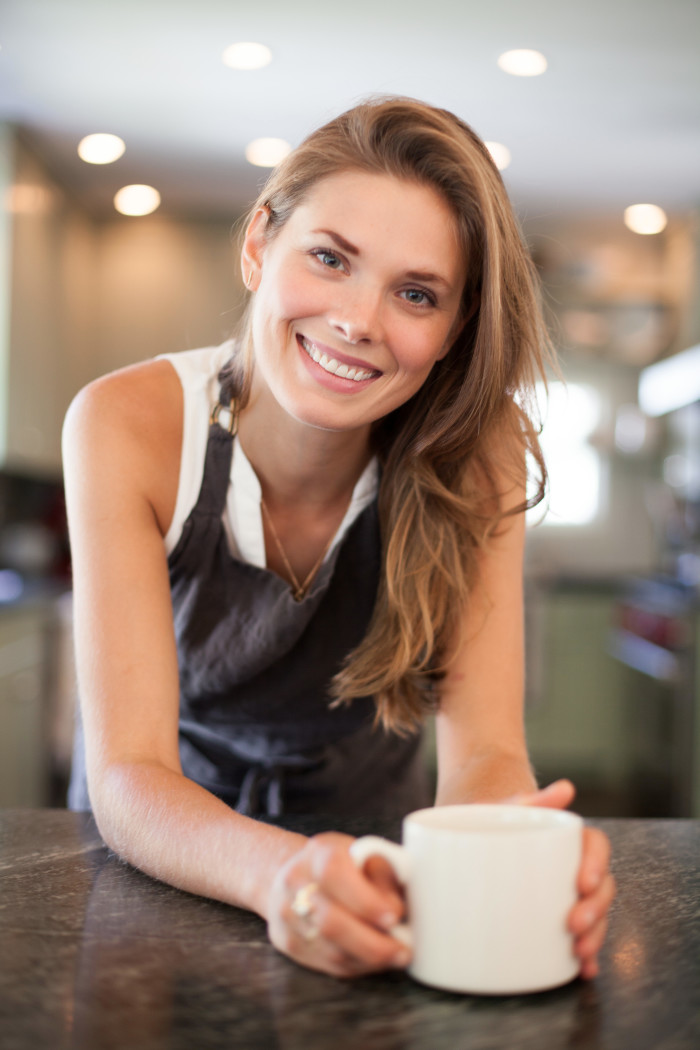 In honor of Food Republic's annual Healthy Living Month, we reached out to chefs about their diet and fitness routines and are featuring these interviews throughout January. Next up is Laura Lea Goldberg of LL Balanced.

Nashville native Laura Lea Goldberg is a certified health-supportive chef. After training at the Natural Gourmet Institute and ABC Kitchen in New York City, Goldberg decided the Big Apple wasn't the place for her and returned to Music City, U.S.A. There she created her health food–focused website, LL Balanced. She's also working on a cookbook slated to be published this April.

What's the first thing you eat or drink in the morning?
I'm a total health cliché, and I'm not mad about it! Twenty-four ounces of water with the juice from one organic lemon and a teaspoon of apple cider vinegar.

Right afterwards, I'm on to a hearty breakfast — usually a green smoothie and toast with nut butter, or some fun variation of overnight oats. Plus tea, always tea!

How do you manage to keep in shape and not snack while always being in kitchens?
I think at this point, I'm just pretty good at listening to my body. I always eat a big breakfast, which helps eliminate the "snackies" and cravings throughout the day. I also make a point to include healthy fats, protein and fiber in each meal, which makes them more satiating. I'm definitely routine-driven, so I never go without my three squares, and I almost always have two snacks as well to keep blood sugar from trumping my willpower.

If I do find myself taste-testing just a little too much, I just wrap up any leftovers and pop them in the freezer! It's a lot harder (literally) to go hog wild on frozen food!

What's your fitness routine, if any?
In my healthy living journey, one of my greatest discoveries was that I am happiest with a gentle-exercise routine. My body and mind thank me when I focus on long daily walks and intermediate vinyasa yoga, rather than running or spinning or even intense weightlifting. Those things actually make me feel anxious! In addition, I truly love my walks and yoga, and there's little better than actually looking forward to exercise!

Do you practice any wellness routines, such as meditation, acupuncture, massage?
Part of the reason I love my chosen forms of exercise is that they're also "moving meditation." I find it easier to tune inward when I am not just completely still. I am also a huge fan of scheduling regular massages for managing anxiety and loosening my back — I tend to pull muscles between my shoulder blades after cooking long hours!

Lastly, I've gotten really into homeopathy in the last few years. It's been used successfully for centuries, but people seem dubious about it. However, I have an amazing practitioner here in Nashville, and she's helped me regulate my hormones after a decade on birth control, as well as manage stress.

Any New Year's eating resolutions?
Honestly, I'm more of a daily resolutions person! I like to approach each day as a brand-new opportunity to make the next best decision. I don't want to have an arbitrary timeline encouraging me to make less-than-healthy choices. This also helps remove any sense of guilt from the equation — if I eat a burger on January 2, I don't feel any differently about it than I would on December 2. And I find that when I consume a high-quality whole-foods diet, it all kind of works itself out.

Have you ever done a fad diet? Juice cleanse?
A few years ago when I was living in NYC, I started having some strange skin breakouts on my cheeks and around my nose — it looked like rosacea but wasn't, according to the dermatologist. So I did a one-week juice cleanse in the middle of January to try to improve my skin. Well, it didn't have the least effect on my breakout, but I've never been so cold in my entire life! After that, I decided that fad diets and extremes just weren't for me personally. 

Any food or drinks you actively avoid?
Anything with vegetable oils, especially partially or full-hydrogenated, as well as high-fructose corn syrup. No, ma'am! Not only are they inflammatory, there are just so many great companies making packaged foods with respectable ingredient lists. Buddha Bowl popcorn, Epic Bars, Jackson's Chips and Simple Squares bars, just to name a few!

Oh, and anything with mango, because I'm allergic! It's tragic, because mango used to be my favorite fruit.

Have you ever struggled with your weight?
When I lived in New York, I was consistently underweight. I thought I was eating "healthy," but I really wasn't nourishing my body enough to compensate for the intense lifestyle of constantly walking, along with the cardio exercise I did at the time. When I made the decision to go to culinary school at Natural Gourmet Institute and pursue my dreams, one byproduct was that I was able to relinquish my need to control food, because I actually felt in control of my life. After graduating and moving home to Nashville to start LL Balanced, I naturally put some weight back.

Do you have any go-to, quick-fire healthy recipes that you can provide us off the top of your head?
Yes! I'm currently obsessed with my Green Banana Milk! I love granola, but I also love getting veggies into my system in the morning. So I've started making this milk! Just add one ripe banana (room temperature), 3/4 cup almond milk and one cup organic baby spinach to a blender and puree until smooth. I also like to add a few drops of stevia, a pinch of cinnamon and a splash of vanilla extract. Use like you would milk!