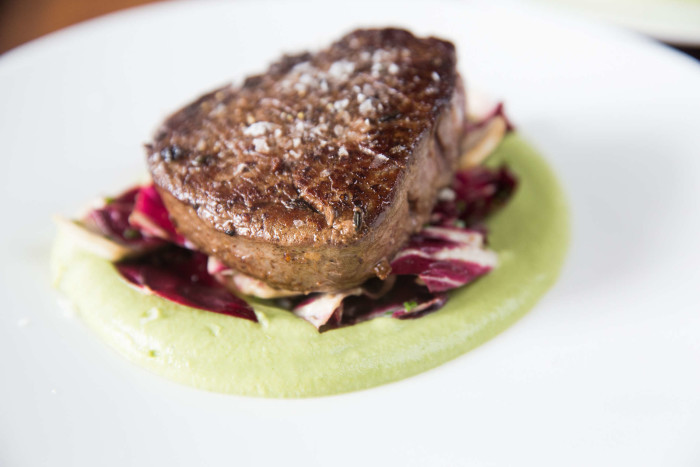 Velvety-smooth tenderloin steak — or filet mignon — makes for a decadent dinner. But there's no denying it's pricey. And when you throw down for some premium meat, the last thing you want to do is stress out about over- or undercooking it. That's why our friends at ChefSteps prepare theirs sous vide, then give that filet mignon a quick sear to develop a dark, crispy crust.
The beauty of this technique — beyond the tender, flavor-packed results it produces — is that it's simple enough for a weeknight meal yet wow-worthy enough for a special occasion. Serve the filet mignon up with some of your favorite steak sides, and if that drink date turns into a dinner date at your place, you've got a foolproof feast in your back pocket. Check out the instructional video and full recipe below.
[Editor's note: ChefSteps cooks sous vide with the Joule, a tool created by its in-house team of chefs, designers, and engineers. Joule is a Wi-Fi-connected device that you control with your smartphone. For more, check out Food Republic's independent review of the device.]
FAQs
What if my steak is frozen?
Not to worry! With steaks, you can always just take the fresh cook time, divide it in half, then add that to the original cook time.
The Joule app says that I should cook inch-thick steaks for an hour, but you cook these for 45 minutes.
Good, you've been paying attention. Because tenderloin steaks tend to be smaller around than your rib eyes or porterhouses, an inch-thick tenderloin will end up cooking through a bit faster than other inch-thick steaks.
Sous Vide Filet Mignon
Servings: 4
Ingredients
4 filet mignons, one inch thick
Salt, as needed
Black pepper, as needed
Olive oil, as needed
Garlic, clove, optional, as needed
Thyme, fresh, optional, as needed
Bay leaf, fresh, optional, as needed
Butter, as needed
Directions:
Heat Joule to 129°F. This recipe walks you through the easy steps of cooking a medium-rare steak. If you prefer your steak rare, simply set your sous vide device to

126 °F

 instead. For a medium steak, try

133°F, 

while

140°F

 is the choice for lovers of medium-well steak.
Season steaks with salt and pepper, and add any additional spices you like.
Transfer steaks to a ziplock-style freezer bag or bags, taking care not to overcrowd them. Add some olive oil to each bag. If you'd like, smash a whole garlic clove with your knife and pop it in the bag. Add some thyme and a bay leaf or two. You can add any herbs or aromatics you like!
Lower bags into the pot with Joule. Cook for 45 minutes.
Heat a nonstick pan on medium-high. While your pan heats up, transfer your steaks from the bag or bags to a clean, dry plate and pat dry with a paper towel. Reserve juices and herbs from the bags. Now wait until the pan is really hot — to test heat, flick a few drops of water into the pan. If they sizzle, it is time to sear.
Add some oil to the pan, then add the steaks and a few knobs of butter. You can also pour in the herbs, garlic and juices from the bag to make a quick pan sauce.
Sear steaks, basting with butter, for about a minute per side, or until they develop a dark, crispy crust. (Remember, your meat is fully cooked before you put it in the pan. Just cook until the crust looks good, then remove.)
Plate and serve!
ChefSteps comprises a team of award-winning chefs, filmmakers, scientists, designers and engineers focused on revolutionizing the way people cook by inspiring creativity and encouraging expertise in the kitchen. You can also get access to all of ChefSteps' Premium content — including paid classes and dozens of recipes available only to Premium members for a onetime fee — for the special price of $24 (regularly $39). Classes include Sous Vide: Beyond the Basics, Fluid Gels, French Macarons and more!