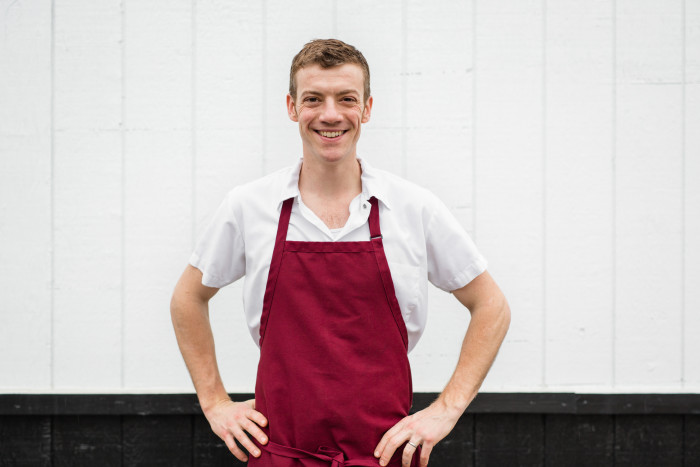 In honor of Food Republic's annual Healthy Living Month, we reached out to chefs about their diet and fitness routines and are featuring these interviews throughout January. Next up is Carl Dooley of the Table at Season to Taste in Cambridge, Massachusetts.

You've heard of shower beers, but Top Chef alum Carl Dooley prefers shower wine when he gets off his shift at the Table at Season to Taste, his intimate 20-seat restaurant in Cambridge. Dooley, who has logged time working for Eric Ripert and Tony Maws, and at Battersby in Brooklyn, offers a prix fixe menu at the French-influenced seasonal spot, where dishes like grilled squid and pig foot pho showcase his originality. Dooley recently welcomed a baby girl into the mix, so he says he's keeping extra tabs on what and when he's eating when he's not tasting everything that comes through the kitchen.

What's the first thing you eat or drink in the morning?
Coffee. I have a newborn baby, so in the mornings when I'm hanging out with her, I'll have a few spoonfuls of frozen yogurt to start the day on a sweet note. Then my wife and I usually go to town making smoothies; my go-to is frozen berries with yogurt and almonds. 

How do you manage to keep in shape and not snack while always being in kitchens?
One of my favorite things about being a chef is being able to snack all day! We have family meal every afternoon, like most restaurants, but I also love to eat our house-made sourdough bread dipped in whatever sauce is going on the stove. We also have a really active kitchen, so I'm moving around all the time, which helps. 

What's your fitness routine, if any?
I take the baby and our dog for a run around Fresh Pond in Cambridge before coming into work. I also bike to the restaurant a lot, so I feel like that allows me to eat whatever I want. I love food, and I love to eat, so I do what I can to balance that out.

Do you practice any wellness routines, such as meditation, acupuncture, massage?
When I come home at night I stretch, watch SportsCenter and then have a glass of wine in the shower! That's a great routine!

Any New Year's eating resolutions?
I'm always trying to be more conscious of what I'm putting into my body. This last year has been busy with the restaurant opening and having my first baby, so I'd like to be more mindful of what I'm eating and when I'm eating it so that I'm really able to enjoy it. 

Any food or drinks you actively avoid?
I stay away from anything processed, so that way when I'm eating stuff that's "bad for me" at least I know it's real food.

Have you ever struggled with your weight?
I have the normal amount of self-consciousness, like anyone else. Let's just say I'm still working on my Ryan Gosling abs!

Do you have any go-to, quick-fire healthy recipes that you can provide us off the top of your head?
At home, my wife and I love to make baked sweet potatoes stuffed with sautéed kale, red chili sauce and a little queso fresco. It's fast and super easy to throw together!