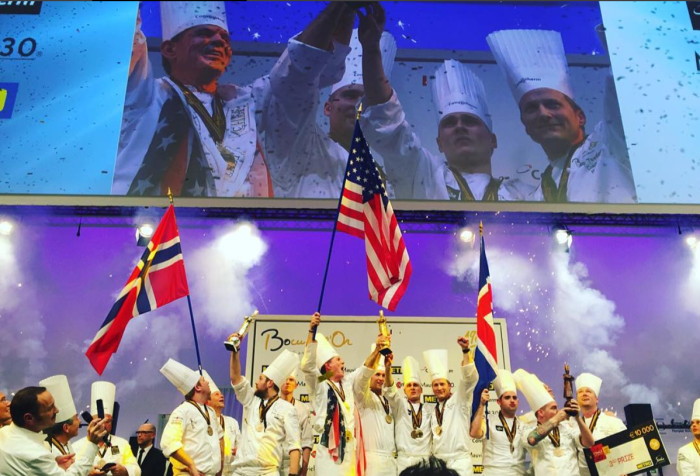 Minutes ago it was revealed that Team USA — led by chef Matthew Peters and his commis, Harrison Turone — has won the gold medal at the biennial Bocuse d'Or gastronomic tournament in Lyon, France, for the first time in the competition's history. Created in 1987 by renowned French chef Paul Bocuse, the culinary equivalent of the Olympic Games treats haute cuisine like a sporting event, pitting 24 chefs from around the world against each other in an intense, five-hours-long cook-off in front of a live audience. Norway finished in second place, while Iceland took home the bronze medal this year.
It had not been until recent years that the United States had even made a serious play for the honor. The 2015 team, led by Philip Tessier, shocked the culinary world by placing second. Before that, no team from the U.S. had ever finished better than sixth.
Consider that until 2007, the U.S. hadn't even formed a traditional backing organization, and the American competitors were getting beaten badly. Bocuse told Thomas Keller that he, Daniel Boulud and Bocuse's son, Jérôme, were the three chefs who could bring the United States to prominence in the Bocuse d'Or, and it was time to step up their game. And so, Keller said, "we promised him back then that that's what we would do," as he told Food Republic from the 2015 event. Today's victory in Lyon marks the successful culmination of that promise from Keller and a proud day for all American chefs worldwide.