The Way To Save The Restaurant Industry? Put The Fast In Fine Dining.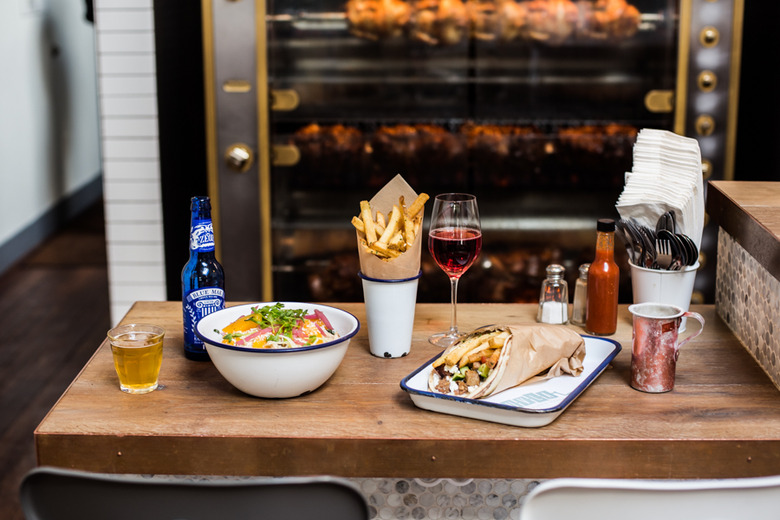 Fast casual gets an uplift at San Francisco's Souvla. (Photo courtesy of Souvla.
At first glance Corridor seems like any other buzzworthy San Francisco restaurant: low lights, curated playlists, thoughtful wine list, reclaimed-wood tables set with stemmed glassware, artisanal china, fine flatware and a California-inspired American menu of on-trend plates — roasted carrot and citrus salad with coriander spiced yogurt and crispy quinoa; pan-roasted salmon with roasted cauliflower, Brussels sprouts, caper vinaigrette — prepared by a brigade of classically trained chefs. It's run by a team of Michael Mina veterans and received a three-star review from the San Francisco Chronicle. It's a fairly standard fine-dining operation in most respects, really, except for one little thing. There are no waiters. No one will take your order. Instead, when you arrive, you'll walk up to a counter to order your entire meal there. You'll be handed a discreet GPS device (it does not buzz), which locates you in the restaurant so a runner can deliver your food. Once seated, floor staff will refill water glasses, reorder drinks and add desserts as needed. Welcome to "fast fine," a hybrid dining phenomenon sweeping San Francisco thanks to revolutionaries like Souvla, Barzotto and RT Rotisserie and soon to arrive in New York City with Daniel Humm and Will Guidara's Made Nice.
"Fast fine" is a bold new concept built on the back of one of the restaurant industry's most pressing problems: the crippling cost of labor. Corridor, located in San Francisco's Mid-Market neighborhood, where high-profile closures are frequent (local hot spots Cadence and Oro are two such casualties), was created with this high mortality rate in mind. Think of it as fine-dining CPR: You retain the high quality of food and detail-driven level of hospitality but ditch formality for counter service. While hard data has not yet been collected, Kevin Dugan of the New York State Restaurant Association says fast fine is growing "in large part because these types of establishments often have a lower overhead when it comes to labor costs. These rising costs are forcing many restaurants to begin looking at nontraditional concepts, like fine-dining counter service, to ensure that they can maintain profitability. I would expect this trend to continue."
Restaurateurs agree. "The fine-dining business model is fundamentally flawed," says Charles Bililies, who worked for Thomas Keller and Michael Mina before opening Souvla, a fast-fine Greek restaurant featuring spit-roasted meats, in 2014. It now has three locations in San Francisco. "There are so many expenses that are part of delivering that fine-dining experience. Even at a high price point, it is challenging to operate successfully." Bililies's solution was to cut out the labor and move to a counter-service model. Like Corridor, you place your order with a counter person who greets you and acts very much like a server, answering any questions about the menu or allergies and the like. You take a table number (they don't use the cool GPS tracker at Souvla), find a seat and your meal arrives by food runner. When you're done, your tables are bussed. If you'd like water, there is a self-service station.
"We are not eliminating the whole service aspect; we are just mitigating it."
The benefits of the waiterless model are game changing: Labor costs are slashed significantly. Corridor partner Ryan Cole estimates that he uses two to three less people per service, a significant savings, in particular for the San Francisco model where operators are not afforded a tip credit for front-of-house employees. (Under federal law and in most states, employers may pay tipped employees less than the minimum wage, as long as employees receive enough in tips to make up the difference. San Francisco, however, does not offer employers a tip credit, so tipped employees get full wages plus tips. It's a significant issue for operators in this state.) Souvla's Bililies has seen similar savings. "Most full-service restaurants are working with 30 to 40 percent labor cost," he says. "Ours are considerably lower than that."
While the formula requires cuts in labor and service, this hybrid model retains the touch points of a fine-dining restaurant. Walk into Souvla and you could be in a charming taverna on the Santorini coast. The restaurant is lined with glossy white subway tiles and decorated with copper and brass artifacts from Bililies's travels. There are grand installations of olive trees and bay leaves, and tables are set with stunning enamelware and real wine and beer glasses. The restaurant feels special. For Bililies, the litmus test was this: Is the restaurant nice enough to bring a date to? "It's a simple question, but it's fairly profound in terms of how we approach our operation," he says. "We spent a lot of time and money building a beautiful restaurant where you can pop in and have a fast lunch in a bright, high-energy setting and yet have it transform into a restaurant that feels intimate and like a full-service restaurant when the lights are down and candles are lit on the table."
Similar goals are at work at San Francisco's soon-to-open RT Rotisserie from Rich Table's Sarah and Evan Rich. Here, guests order a choice of rotisserie-cooked chicken, pork or cauliflower, along with wine or beer at the counter, take a table number and sit down to a table set with real dishes, silverware and glassware. Bottles of tap water and glasses are given out when you order, and someone walks around pouring water occasionally as well. The food is brought out by food runners, and staff walk through the dining room with an iPad using a system called Toast for folks who'd like to order additional wine or desserts. Bussers also clear the tables. "We are not eliminating the whole service aspect; we are just mitigating it. But we still want to embrace that tone of being taken care of. I see fast fine as a nice restaurant where you just happen to order at the counter," says Evan Rich.
"Counter service is a low-pressure, low-commitment model."
The adaptability of the model to all meal periods also adds to the financial success of fast fine. These restaurants stay open all day, most from 11 a.m. through as late as 10 p.m., and can capture diners who eat at off hours. They also benefit from delivery and takeout business, a boon to the bottom line. "This is the way that the consumer wants to dine: They want quality, they want efficiency and flexibility in terms of the when and where and being able to eat at any time of the day, not just at traditional mealtimes," says Bililies. "We can be many things to many people and check the box for every dining need."
Marko Sotto, the owner of San Francisco's Barzotto, which opened in August 2016, also decided to go the fast-fine route because of the push and pull between the incredibly high cost of labor and the desire to hold on to the hallmarks of "fine" dining. At Barzotto, guests order at the counter, are given a GPS device and are served at the table. Staff bus the tables, but the restaurant does not have floor staff offering to refill your wine and beer or add on food items like Corridor does, which he admits may not be for everyone. "This may not be your go-to place for a Friday night out with your parents," he says. "Some people are put off by the speed that the food comes out. And they might not want to get back in line for a second glass of wine."
For the most part, Sotto sees a willing customer base. "There is a good market for this type of concept in San Francisco, which is fueled by the tech industry and heavy on young people on the run who appreciate quality, value, atmosphere and hospitality outside of traditional restaurants. Counter service is a low-pressure, low-commitment model. You are in and out and easy and you get a great plate of food and can go on with your day."
Which brings us to the other reason fast fine is becoming so popular: The concept is wildly appealing to a set of diners, some millennial and some not, who are looking to go out but are not willing to sit for hours and pay more than $100 for a dinner for two. "Most people don't want to stop what they are doing and sit down and eat for two hours and be at the mercy of a server who might not want to bring the check or the wine when you want it," says Nation's Restaurant News senior food and beverage editor Bret Thorn. "They don't want the ceremony of it anymore. They want more control over their experience."
The other upside of fast fine is that since operators' costs are kept down, your meal will be considerably more affordable. At Souvla, for instance, you can get a meal for two with wine for less than $50, which would be nearly impossible in a full-service setting. "So many operators are being forced to charge exorbitant prices, over $24 to $25 for a bowl of pasta," says Sotto, who offers pastas at Barzotto ranging from $10 (with tomato and ricotta and lemon zest) to $17 (braised beef on pappardelle with rosemary and crimini mushrooms). "There is a breaking point where as good as the pasta is, the guest questions that value. They can't pay that and feel okay about it. This concept has allowed us to keep our pricing down.". "There is a breaking point where as good as the pasta is, the guest questions that value. They can't pay that and feel okay about it. This concept has allowed us to keep our pricing down."
Fast-fine restaurants also eliminate or lessen the need for tipping, which goes a long way to a more equitable distribution of income between front and back of the house and also helps ensure repeat business. "We've heard Danny Meyer talk to death about how the economic model of the restaurant is broken," says Thorn. "Servers make a lot of money, and those tips cannot be shared with back of the house, which means 20 percent of the revenues of a restaurant cannot be distributed to back of house, where there is a labor shortage. By eliminating tipping you are able to have customers come in more often because they spend less money per visit and all that money can be more equitably distributed by management to the back of house."
The other boon to operators: exceeding expectations. "Expectations are lower in a fast setting where you order at the counter," says Rich Table's Sarah Rich. "People don't expect tables to be cleared, or glasses of wine to be refreshed, so you are able to surpass those expectations. We always want to underpromise and overdeliver, so the simplicity of the concept and the idea eliminates some of the struggles," she says.
The fast-fine model is so compelling that some fast casual operators are even tweaking their concepts, turning them up a notch to the right on the service scale. Adam Eskin, founder and CEO of Dig Inn, the fast-casual, scratch-cooking restaurant chain that opened in 2011, says his restaurants will undergo slight changes in the coming months. New Dig Inns will have a more modern design with improved acoustics and attention to playlists and added elements of hospitality, including staff-to-bus tables, food served in ceramic bowls with proper forks, knives and stemware, and a beer and wine and full alcohol license. While Eskin is stopping short of adding waitstaff, he does plan to involve chefs in creating specials. The just-opened restaurant in Rye Brook, New York, also features a chef's counter with brunch and dinner service and a tasting menu at that counter.
Since fast fine is so new, operators say it's essential to keep things fluid. Figuring out whether you have service staff on the floor or whether you should have people return to the line for another glass of wine? It's all a process. Possibly for diners, too, who will figure out how or how often the fast-fine model fits into their lifestyle. But it's a learning curve that many will gladly climb to find a way to save an industry that's struggling to find a way forward. "It is so much more difficult to run full-service restaurants on those tight margins," says Cole. "Knowing just how much you can save with labor? This is the direction that restaurants are going."