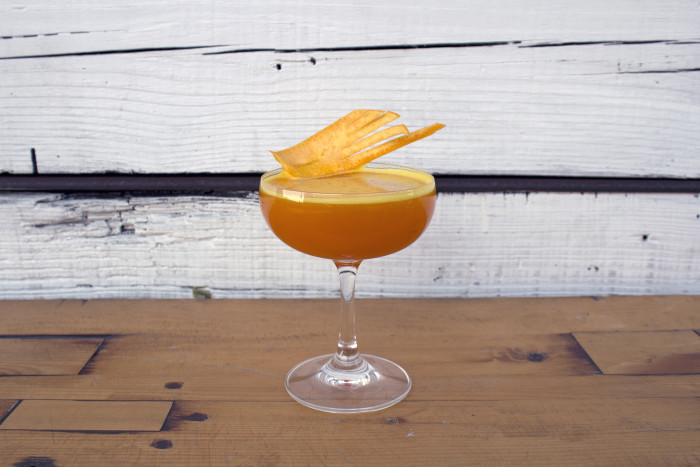 There aren't many (any?) cocktails that can truly be considered health-conscious. Sugar often prevails, no matter the drink, but that does not mean the vitamins or antiseptic properties found in a drink's ingredients aren't important. Ginger is probably the most curative ingredient found in traditional cocktails, and now its cousin turmeric happens to be one of the latest ingredients showing up in many restaurants and bar programs.
When Robert Ceraso and Jason Mendenhall opened the health-focused restaurant the Wild Son in NYC's Meatpacking District, they initially served just an array of nonalcoholic juice blends at the bar in lieu of cocktails. Adding alcohol to these juices came months later. "The turmeric-mango shrub itself started as a nonalcoholic healthy tonic on our daytime menu. We liked it so much that we wanted to integrate it into the cocktail program," notes Ceraso. "The Golden Shrub was one of our first cocktails."
There is nothing shy about this drink, which is what makes it delicious. With the intensity of amaro, a dose of turmeric hits the tongue like bitter sand, only to be quenched by a mango-citrus tang. In wine, that sandpaper dryness often refers to the sensation of tannins, which, opposite fruit and other aromas, can be a very desirable experience. It's rare to feel that in a bright, lemony cocktail, but the organic nature of this sensation in the Golden Shrub does contribute to the drink's restorative feel. Cocchi, a low-ABV aromatized wine, and Cappelletti, a bitter amaro, largely fade into the background while adding just the right herbaceous balance.
A known remedy and anti-inflammatory, turmeric has long been used in India for combatting illness, akin to the way moms might prescribe hot ginger, lemon and honey for colds. With its bright yellow cover, distinctive flavor and health appeal, it's also set to be a recognizable facet of many cocktails to come. Enjoy.
Golden Shrub
Servings: 1 drink
Ingredients
1 1/2 ounces Cocchi Americano
1 1/2 ounces Cappelletti or Aperol
2 ounces mango-turmeric shrub*
1 ounce fresh lemon juice
1/2 ounce agave or simple syrup (1:1)
Directions:
*For the mango-turmeric shrub:
Combine 1 part fresh juice of turmeric root, 1 part Bragg Organic apple cider, and 3 parts fresh mango nectar.
2. Mix well and store for future use. The mixture will last refrigerated for approximately 7 days.
For assembly: 
Combine ingredients in a cocktail shaker and add ice.
Shake vigorously for 10 seconds and strain into a chilled coupe.
Garnish with an orange twist.
Prep time: 2 minutes
Difficulty: Moderate