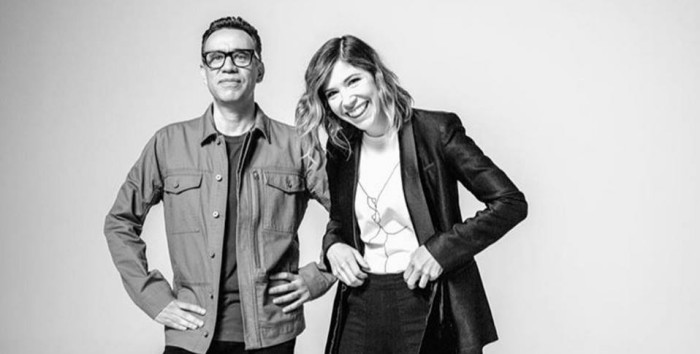 In the latest episode of the Talkhouse podcast, actors and musicians Carrie Brownstein and Fred Armisen chat about their cooking habits before and after starting their IFC show, Portlandia, and niche cooking trends.
Both Armisen and Brownstein say they have attempted the home cook lifestyle, but because of their work schedules, neither entertains the idea much. Armisen confesses that he doesn't like to cook and in fact doesn't "like seeing pieces of vegetables [in the kitchen]." The only thing he will cook, however, is breakfast.
Garlic comes up in conversation as a mythical cure-all that they've encountered in their social circles. Armisen mused that anyone who "fancied themselves a cook" would add some extra flair by adding extra garlic to whatever they were making. Meanwhile, Brownstein says that she's been told sucking on a clove of garlic can ail a sickness and even that sticking a clove into a woman who had a yeast infection could remedy the itch.
Brownstein reminisces about her communal housing days, when she says the worst thing someone made in the shared kitchen was refried beans on bread. "I'd rather watch someone eat dog food," she says. Also to her distaste, Brownstein compares television editing to making one's own crackers.
The duo also talk about Armisen's recent trip to Tokyo, performing live, comedy, Wikipedia and more.
Check out the episode below.