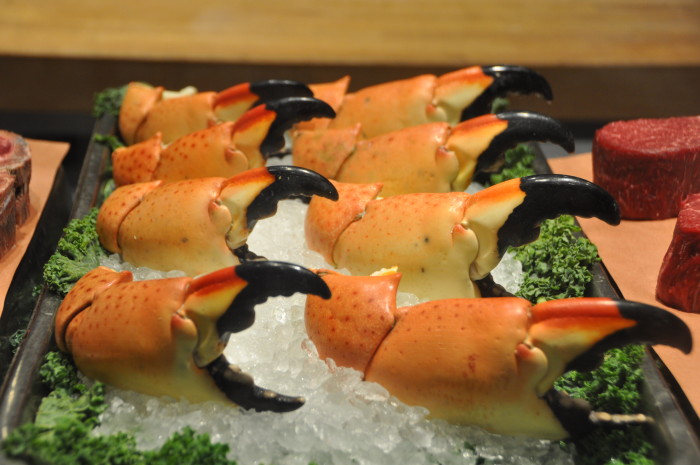 Potential crisis afoot: You are in the midst of stone-crab season, and we aren't sure you are making the most of it. That's right. The light, succulent meat of decadent, delicious stone crabs is prime for the cracking between the months of October and mid-May.
In honor of this ocean-fresh blessing landing on tables and menus around America, we thought we'd bring you a basic primer to prepare you to go forth and enjoy the water harvest.
Here are nine things you probably never knew about stone-crab season. The fun facts are brought to you by some incredible chefs and restaurants plating them up and selling them by the pound.
1. Stone crabs become soft-shell crabs.
"Many people do not know that soft-shell crabs are actually stone crabs going through a molting stage," offers owner/executive chef Charlie Yusta of Horse's Mouth in the Koreatown neighborhood of Los Angeles. "During this phase, they shed their hard-shell exterior. This process is very quick and normally happens within a two- to three-hour time frame." Stop in Horse's Mouth for an original po'boy sandwich featuring soft-shell crab or one of his stone crab Vietnamese spring rolls.
2. Ninety-eight percent of stone crabs come from Florida.
The Lobster Place in Chelsea Market — one of NYC's largest seafood retailers and wholesalers — works exclusively with Rich Crawford, who individually harvests from traps he owns in the waters off Manasota Key along the Gulf Coast of Florida. Well-managed fisheries like Crawford's limit bycatch and ensure healthy population stocks are maintained.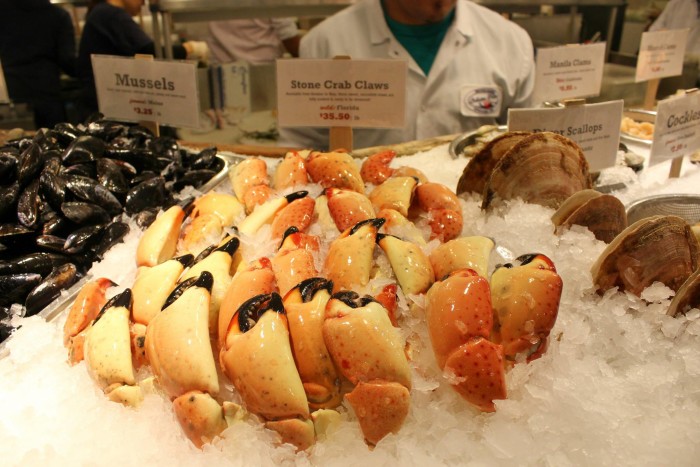 3. Only the claws are harvested, and they must be at least 2¾" in length.
Stone crabs mature rapidly, and they regenerate lost claws. There is a ban on taking claws from egg-bearing females, which maintains healthy population stocks, the experts at the Lobster Place explain. Inside their seafood market, you'll find a space that's a cross between a grocer, a casual eatery and an Instagram heaven. Cascading mountains of ice serve as the backdrop for giant tuna, live lobsters and, of course, the claws of stone crabs during this time of year. You can dunk the fresh meat into butter right there at the in-store raw bar.
4. They are not ambidextrous.
"Stone crabs are typically right-handed, which means that the larger crusher claw is usually the right hand," says chef de cuisine Daniel Rebelo of Union in Pasadena, California.
5. You will not win a "thumb war" against a stone crab.
"Their claws can crush up to 19,000 pounds per square inch," Rebelo says.
6. They do have a few enemies.
Adult stone crabs have to keep an eye out for octopi, grouper and sea turtles, all of which, much like humans, find them delicious.
7. The females get an extra birthday.
Male stone crabs live to around seven years old, while females live to about eight.
8. They have a lot of siblings.
Females may lay up to 1 million eggs at a time, producing them in four- to six-egg sacks that are called sponges.
9. Touch and smell before you buy.
"Stone crabs have a delicate texture and sweet flavor that I love," says Alex Harrell, chef/owner of Angeline in New Orleans, where he plates steamed claws with fermented aioli and chilled, marinated stone crab with fennel coriander, bay leaves and lemon. "The claws have a very short shelf life before they go bad," Harrel advises. "If you are buying them fresh, make sure that you smell and touch. If they even faintly smell like ammonia or are sticky/slimy, don't buy them."
Stone-Crab Spaghetti Recipe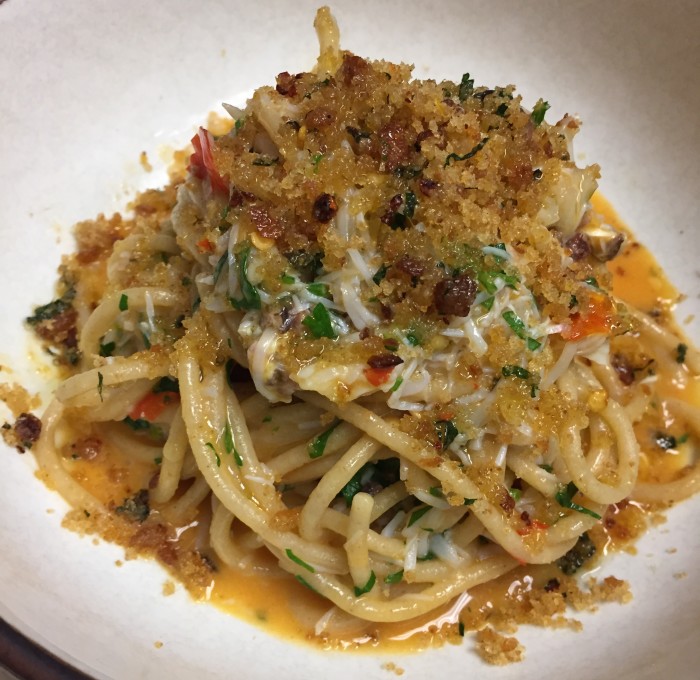 Union is an award-winning northern Italian restaurant in Pasadena, California, helmed by James Beard–nominated chef/owner Bruce Kalman. Chef de cuisine Daniel Rebelo is using this season's stone crab in a lightly spicy, full-flavored spaghetti. It's an easy and awesome option for a seasonal supper.
Servings: 1
Ingredients
1 tablespoon olive oil
1 sprig oregano
1 teaspoon Calabrian chili paste (or red pepper flakes)
5 thin slices garlic
3 ounces pasta water
1 tablespoon lemon juice
2 tablespoons butter
2 ounces stone-crab meat
1/2 tablespoon parsley, chiffonade
1 tablespoon seasoned breadcrumbs
3 ounces dry spaghetti
Salt & pepper
Directions:
In a saucepot, boil a gallon of water with ½ cup salt. "It should be salty, like the sea," chef Rebelo says.
Cook the spaghetti until done and reserve the pasta water.
Heat oil and oregano in a skillet for one minute, over medium heat. Add in chili paste and garlic and sauté for 2 minutes, until garlic is cooked.
Add the pasta water, lemon juice, butter and crab.
Stir in cooked pasta, parsley and toss together, cooking down for 1 minute.
Add salt and pepper as needed, transfer to a plate and top with breadcrumbs and a sprinkle of parsley, then drizzle with olive oil.