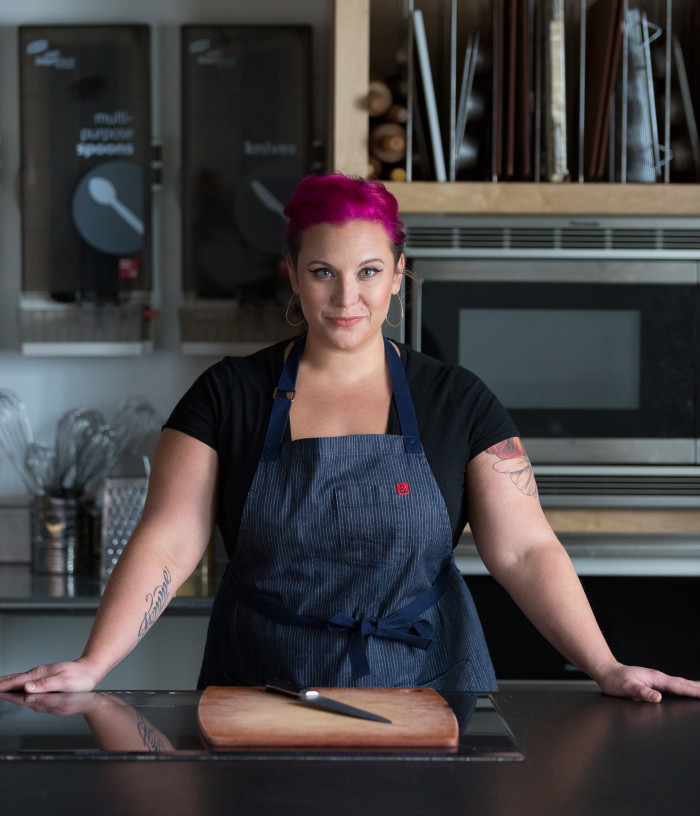 In honor of Food Republic's annual Healthy Living Month, we reached out to chefs about their diet and fitness routines and will be featuring these interviews throughout January. Next up is Karen Akunowicz, executive chef and partner of Boston's Myers and Chang.

Karen Akunowicz has cooked in some of Boston's most esteemed kitchens, in Italy and even on television as a Top Chef contestant. Most recently, Akunowicz founded the Fresh Roots Culinary Program at UTEC Lowell, a youth organization focused on enriching the lives of Lowell, Massachusetts's disengaged youth. The two-time James Beard nominee for Best Chef Northeast now spends her time at dim sum hot spot Myers and Chang, where she coauthored its cookbook.

What's the first thing you eat or drink in the morning?
The first thing I drink in the morning is a pint glass of water; I don't have anything else until I do. I use those few minutes to ground myself in my day. After that it's coffee (probably more than I should have, but I love it!) and a hard-boiled egg.

How do you manage to keep in shape and not snack while always being in kitchens?
I've been much more disciplined about this in the last few years. If I don't schedule what I'm going to eat, I end up grazing or eating whatever is nearby, which is usually not very healthy. I eat the same things every day: poached chicken and egg whites with gai lan (Chinese broccoli) when I get to work and a piece of salmon for premeal before dinner service. I taste carefully to check our mise en place, but I try not to snack otherwise. It's a slippery slope if you are not really regimented.

What's your fitness routine, if anory?
Powerlifting! I get to the gym four to five times a week before work; I have a trainer, Genevieve Arndt, who I work with three times a week.

I can't say enough how lifting heavy weights has changed my life. I had a back injury that caused me pain for two years. Standing and even just walking was painful. Through a year of consistent work, my pain is gone and my health has greatly improved. Weightlifting has also made an amazing change in my confidence and mood. When you lift thousands of pounds before your day starts, you feel like there is nothing you can't accomplish.

Do you practice any wellness routines, such as meditation, acupuncture, massage?
I have a pretty strict wellness routine. I see my trainer, therapist and chiropractor every week. I often fall asleep to guided meditation. I get massages when I can squeeze them in. I'm dying to try acupuncture!

If I didn't invest in myself this way, I couldn't keep working the way I do. Cooking is pretty brutal on your body, and if you are doing it for 10-plus years you need to combat that. I'm still on the line five days a week, and I feel better than I have in years.

Any New Year's eating resolutions?
My resolutions are all weightlifting-based — it's to smash my goals of a 250-pound squat, 180-pound bench press and 300-pound deadlift. And to add a day of yoga in for increased mobility.

Have you ever done a fad diet? Juice cleanse?
Absolutely! I actually really like to juice, but being on a juice cleanse made me so cranky. My mood sucked and I was sooo hungry.

Any food or drinks you actively avoid?
Dairy when I can, because I'm lactose intolerant (which is really sad because I love cheese). I try to eat high in protein and greens mostly because I feel the best when I eat that way. That being said, I eat out on Sundays, and I love pizza and wine. Balance where you can but don't skip out on the good stuff. I also avoid alcohol on "school nights." It keeps me more focused throughout the week.

Have you ever struggled with your weight?
Sure. I think it's tough to work in this industry and not struggle with it. God bless those people with naturally awesome metabolisms!

I also think most women have [struggled with weight]. Due to unrealistic expectations set by the media, studies show that 50 percent of girls think they are fat by age 6, and most girls start to lose their self-confidence by age 9. It's a tragedy and an abomination. I think the body-positivity movement is getting stronger, and I hope that we can teach young girls to be strong, and that their self-worth doesn't depend on the numbers on the scale.

Do you have any go-to healthy recipe that you can provide us off the top of your head?
Sure! This is a soba noodle and tofu salad that is flavorful and delicious — substitute quinoa for the buckwheat noodles for extra protein. This is on the lunch menu at Myers and Chang, and it's a go-to for me.
Myers And Chang's Soba Noodle Salad With Fresh Tofu
Serves 4
Ingredients
10 ounces dried buckwheat soba noodles (about 3 bundles)
1/4 cup vegetable oil, such as canola
2 tablespoons lemon zest (zest of about 2 small lemons)
1 inch piece of ginger, peeled and finely grated
1 tablespoon + 1 teaspoon honey
1/2 teaspoon cayenne pepper
2 tablespoons lemon juice
1/3 cup rice vinegar
1/2 cup low-sodium soy sauce
3 tablespoons extra-virgin olive oil
3 tablespoons sesame oil
1 English cucumber
2 blocks firm tofu
1 cup cilantro leaves
1 bunch of scallions
2 teaspoons kosher salt
1 teaspoon ground black pepper
1/2 cup dried toasted nori (seaweed sheets — you can purchase in the natural-food section of the grocery store or in Asian grocery stores)
4 tablespoons white sesame seeds
Directions
Bring 1 1/2 gallons of water up to a rip-rolling boil and add the dried buckwheat soba noodles, making sure to stir, stir, stir and keep that water boiling. Cook the noodles for three to four minutes until soft and drain in a colander. Pour ice-cold water over the noodles to stop them from cooking and then toss them in a large bowl with the 1/4 cup vegetable oil. This will keep the noodles from sticking together, which will make you (and us) sad.
Whisk together the lemon zest, ginger, honey, cayenne pepper, lemon juice, rice vinegar, soy sauce, olive oil and sesame oil. This dressing is really easy to make and will keep for up to a month in the fridge. Another nice way to make it is to combine all of the ingredients together in a ball jar, screw the lid on tight and shake, shake, shake!
Slice the cucumber lengthwise and then slice each half thinly, making 1/4-inch half moons. Take two blocks of firm tofu and cut them into one-inch cubes. "Top and tail" the scallions (which just means to take off the root and the very top of the green part) and slice them thinly in small circles. Set aside.
To put the salad together, toss the cooked noodles with the dressing. Add the cucumbers, tofu, cilantro and scallions and season with kosher salt and black pepper. Distribute noodles evenly between four bowls. Crumble the nori and top each bowl with two tablespoons of nori and a tablespoon of sesame seeds. Serve immediately.