Where To Eat Near The Lincoln Memorial In D.C.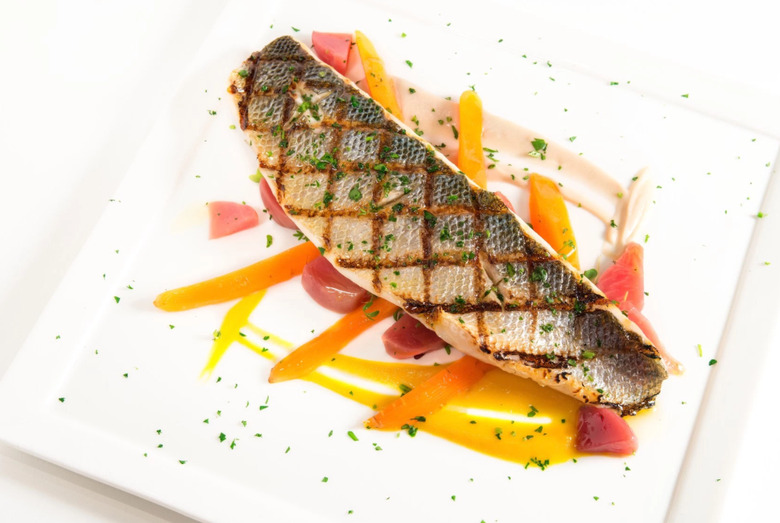 Food Republic has partnered with hospitality technology platform Reserve to bring its readers new content from the restaurant world. Love to eat? Check out Reserve's blog, where this post first appeared, for the latest food trends and U.S. restaurant tips. With scores set to descend upon Washington, D.C., for the 58th presidential inauguration this Friday, January 20 (and thousands more for the Women's March on D.C. the following day), many of the city's restaurants will undoubtedly be packed. Here are some places to keep in mind — and to book a table at now — should you be heading to our nation's capital this weekend.
Found on the east side of the nation's capital, Penn Quarter has become a bustling and exciting area of Washington, D.C., where both tourists and locals gather for arts, entertainment, sports and history. A stroll through its streets will lead you past lots of historical sites, including the J. Edgar Hoover Building, the Smithsonian American Art Museum, the National Portrait Gallery and the National Mall.
With all the amazing activities on offer, you're bound to work up a fierce appetite. Luckily, this area has been revitalized with many amazing restaurants, cafés and bars. Chefs like José Andrés have invigorated the area, with plenty of options to suit any occasion. Let's wander through the streets, stopping at a few restaurants along the way.
Restaurants near the Lincoln Memorial in D.C.
China Chilcano (Peruvian/Asian Fusion)
Starting off the list of must-visit restaurants in this area is the first of many from chef José Andrés, where he showcases Peruvian cuisine. There's a high percentage of Asians in Peru (about 3 to 5 percent), resulting in a native cuisine that reflects a Chinese-Japanese-Criollo (native) mix. The menu at China Chilcano shows off all these unique styles of cooking. This place is seriously bustling, so be sure to book ahead. Great spot for a delicious pisco cocktail and a selection of sashimi, dim sum and ceviches.
Fiola (Italian)
For those craving a wonderful fine-dining experience, chef Fabio Trabocchi's Fiola is the place to go in D.C. With multiple awards under his belt, Trabocchi serves upscale traditional Italian dishes in an elegant atmosphere. The highlights include lobster ravioli, tuna carpaccio and a luscious pappardelle with veal ragout. Best bet? Do the tasting menu or "Indulgence and Celebration," which features five courses plus dessert. Having a ladies' night out? Hit up the bar and patio on Thursdays and Saturdays for a complimentary glass of sparkling rosé.
Graffiato (Italian)
Chef Mike Isabella serves up his take on Mediterranean and Latin dishes at Graffiato, a short walk from the Gallery Place Chinatown metro stop. The atmosphere is laid back in a lively way — you can definitely expect a trendy crowd here. The dishes include a range of pizzas and Italian small plates, plus prosecco on tap! Be sure to try the White House–inspired pie, topped with mozzarella, taleggio, ricotta, prosciutto and black pepper honey. If you're in the city for a long stretch, check out the restaurant's site for information on classes —recent ones include cocktails and pizza making.
Jaleo (Spanish)
Chef José Andrés can do no wrong in this city! Open since 1993, Jaleo is still as popular as ever. With a laid-back vibe, this restaurant attracts those seeking authentic Spanish tapas this side of the Atlantic. Expect to find classics such as pan con tomate, croquettas and patatas bravas served alongside sangria, sherry and other Spanish wines.
Oyamel Cocina Mexicana (Mexican)
From Spanish tapas to a Mexican take on small plates, Oyamel Cocina Mexicana dishes out an amazing selection of ceviches and tacos served in house-made tortillas. Prepare to be pleasantly surprised by the Chapulines (grasshopper tacos) — tasty morsels that are not to be missed! The tequila list doesn't disappoint, with handcrafted house cocktails to match. If you're in the area around brunch time on the weekend, be sure to stop in for the superb chilaquiles con chorizo y huevo estrellado (tortilla chips with chorizo, cheese and fried eggs).
Tosca (Italian)
Tosca is another great spot near the Lincoln Memorial for an upscale dining experience. The space is elegant, so you'll want to dress up for this meal. A great option for a pretheater dinner, Tosca offers spectacular house-made pastas (don't miss the butternut squash ravioli) and a varied collection of American and Italian wines. While they can easily accommodate groups, it may not be the best spot for the young ones!
Zaytinya (Mediterranean)
A short journey from the National Gallery of Art and Sculpture Garden, Zaytinya will satisfy your sightseeing hunger. Another gem from José Andrés' ThinkFoodGroup, its take on eastern Mediterranean cuisine really satisfies. The bar scene is vibrant, perfect for people-watching while you sample a few Greek-inspired mezze (small plates). Want to try the best Zaytinya has to offer? Go for the $55-per-person Zaytinya Experience, which consists of several chef's choice dishes. Add the Beverage Experience too, at just $30 per person, which features cocktails and wines from Greece and Levant.