For fans of the American craft beer movement, it seemed as though Louisiana was a little slow to catch the brewing bug. Abita Brewing in Abita Springs, Louisiana, was the pioneer, and remained without competition from its founding in 1986 until more than two decades later. NOLA Brewing and Parish Brewing joined the scene in 2008 and have become heavyweights in their own right, paving the way for brewpubs around the state. Today, Louisiana boasts more than 25 producing breweries, most selling up and down the chain of distribution, from retail to pouring frosty pints in their own taprooms. Whether you're a native or just passing through, Louisiana has some world-class beers for you to try.

For the purposes of this list, we combined tried-and-true taproom favorites with fresh, brand-spankin'-new breweries bursting with bright ideas and powerful talent to back them up. Working from the ankle down to the toes of the old Louisiana boot, follow us down-river to explore the frontiers of Southern craft brewing.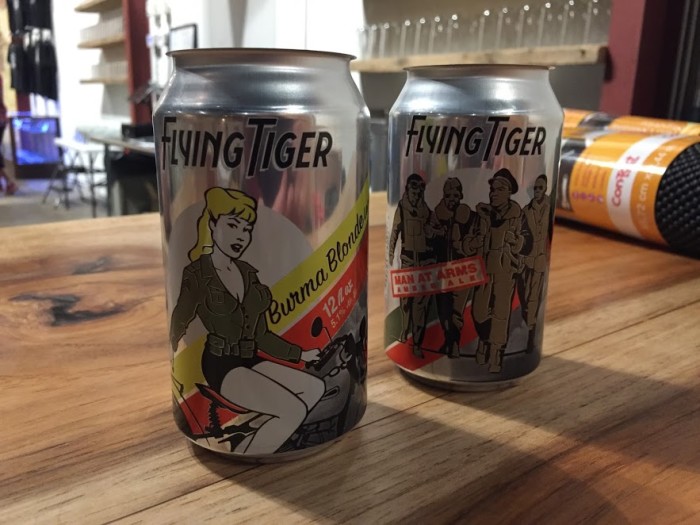 Monroe, Louisiana
One of the newest additions to the Louisiana craft beer scene, Flying Tiger opened its doors in early December. Everything eventually comes full circle, and Flying Tiger is a perfect example. Brewmaster Brooks Hamaker has a storied past of making fantastic brews throughout the South, especially in North Carolina. He got his start as founding brewmaster for Abita Brewing, Louisiana's first craft beer brewery. Starting fresh again in Louisiana, Hamaker guides the brewing operations behind this military-history themed taproom.
The Flying Tigers was a World War II Army Air Corps squadron commanded by Monroe hometown hero General Chennault. Their calling card was a bright tiger face painted onto the noses of their planes. An example of one such plane hangs gracefully over the bar in Flying Tiger's tasting room. The brewery hit the ground running, having already canned their two flagship beers, on shelves now. The Burma Blonde is a blonde lager and Man at Arms is their Amber. The taproom features seasonal small-production brews like a Belgian strong ale and a double IPA. Growlers are available, and seating at the hand-hewn pecan slab tables and bar is ample. Feel free to bring a lawn chair and lounge in the large backyard in the center of downtown Monroe. Plans are under way to host food trucks and live music events at the taproom.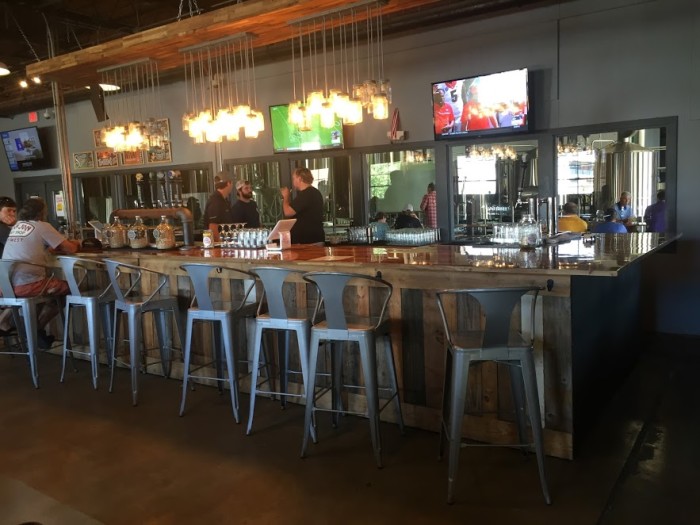 Shreveport, Louisiana
Begun by the husband-and-wife team of Lindsay and Andrew Nations, Great Raft has brought the northern Louisiana beer market to new heights since it officially opened in 2013. The brewery continues to grow in size and quality, continually releasing seasonal bombers and specialty canned brews into the retail market. The taproom is an inviting, industrial space that showcases the three core brands of the Great Raft lineup as well as rotating selections, some of which can only be tried at the brewery.
The barrel-aged Old Mad Joy stands out as a baltic porter that's taken a relaxing turn in Pappy Van Winkle barrels. They're also experimenting with more Louisiana products, like dry-hopped Kolsch that uses Louisiana long-grain rice. The offerings are ever changing, so every trip to the taproom offers a brand-new opportunity. Tours are offered for free on Saturdays, and a rotating cast of food trucks are handily parked out front.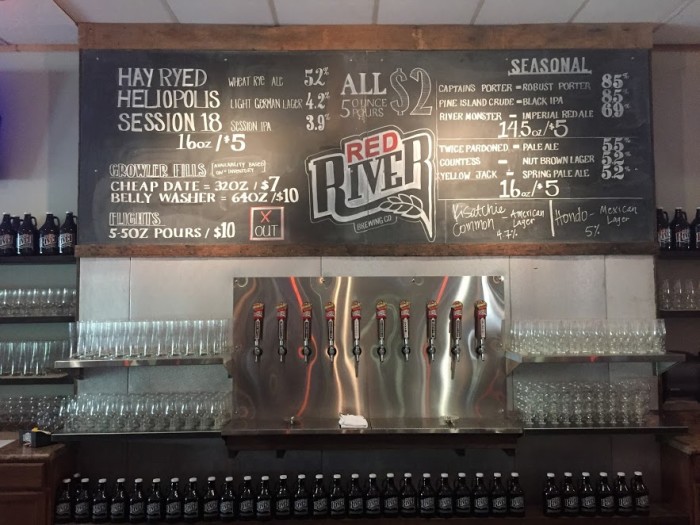 Shreveport, Louisiana
Established in 2008, Red River Brewing moved to its updated downtown facility in 2015 and is named for the vast and mighty river that runs through Shreveport.  Expansive and engaging, the environment at Red River Brewing is festive, especially given their very competitive beer prices. All pours in the pub are $5, and all growler fills — even the high-gravity ones — are $10. A patio, indoor gaming corner and frequent live music events keep visitors coming back. The tours run every
Saturday
, and knowledgable servers continually serve up new and innovative selections on 10 taps. The taproom also hosts neighborhood events, including yoga and benefits for nonprofits.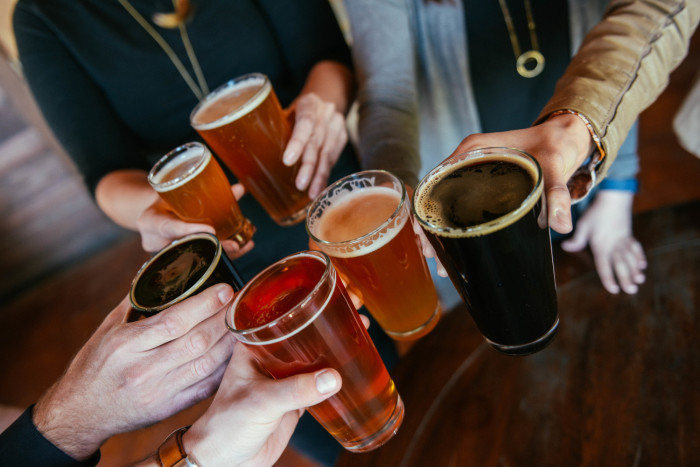 Marksville, Louisiana
Driving down Louisiana Highway 1, keep your eyes peeled for the Fresh Catch Bistreaux sign. Don't let its restaurant façade confuse you — the building is the home of Broken Wheel Brewery, central Louisiana's first taproom. Jonathan Knoll opened Fresh Catch in 2009 after returning from college in Colorado, where he spent time exploring the state's wealth of craft beer. Why Broken Wheel? Legend has it that Marksville was settled by merchant Marc Eliche, who was peddling his wares to Native American tribes. He broke a wagon wheel, and without means to fix it, he simply decided to settle, christening the town Marksville. The broken wheel symbol has stuck ever since.
They're currently undergoing an expansion, with plans to open a full-fledged brewery and taproom in the near future. The brewery's current seasonals include Grand Chien, a delicious milk stout, and Pachafa Pale Ale. The new facility will also be home to a dedicated experimental lager program.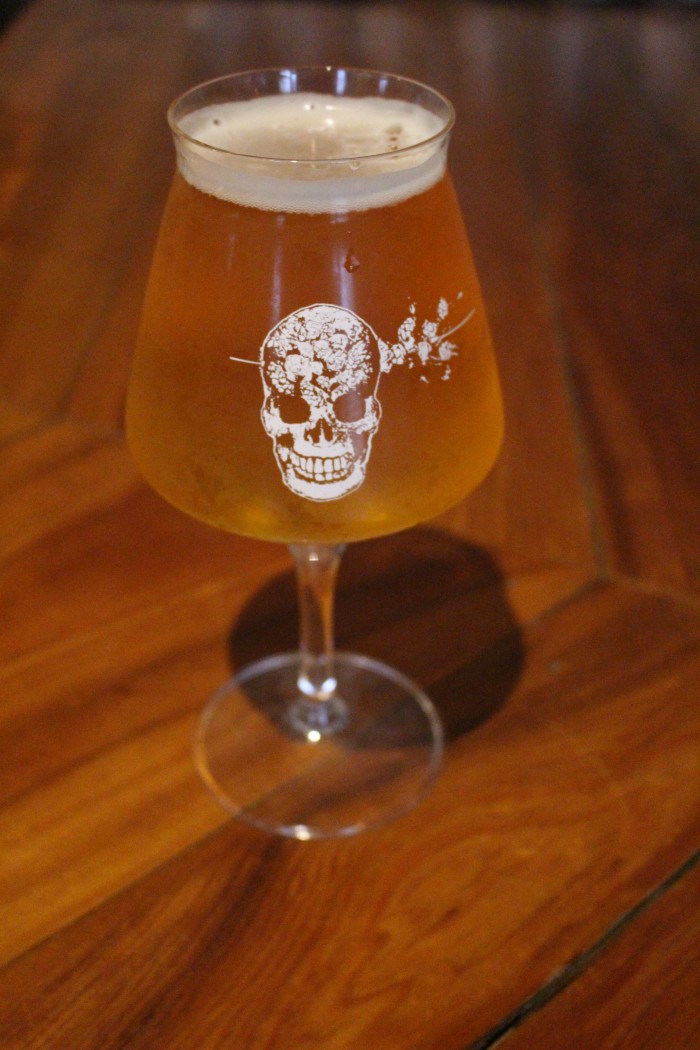 Broussard, Louisiana
This brewery and taproom on the outskirts of Lafayette focuses on new American-style beers, IPAs and experimental brewing. Opened by Andrew Godley in 2008, Parish has seen great success and is highly ranked and regarded by beer professionals nationwide for the quality of its brews. The most elusive and sought-after beer, Ghost in the Machine, is a double IPA with a fresh, luscious hop profile. Not a hophead? Their bottle-conditioned barleywine released every November, Grand Reserve, is collectable, age-able and very drinkable. Take home your favorite brew in a Crowler: a 32-ounce canned-on-site beer of your choice that costs little more than the beer itself.
Parish is currently developing a new program of petite sours, non-barrel-aged sours with a sessionable alcohol content and an extra- fresh profile. The first two releases are Flora Genesis, an Amarillo dry-hopped sour, and Glass Houses, a boysenberry and French-oak style. The best way to top off a visit to Parish after a Saturday tour and pint? Give a pat to Godley's golden retriever pup, Murphy, a mainstay in the taproom.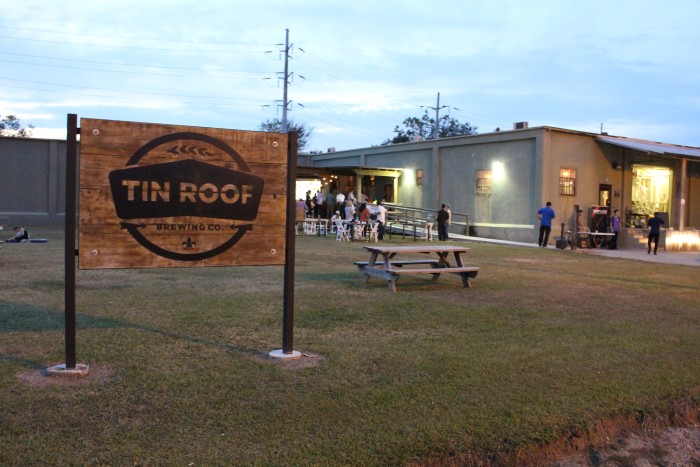 Baton Rouge, Louisiana
Tin Roof is the brainchild of two college friends who desired more from the Southern brewery scene after traveling to brew-heavy regions of the world. Located just off Nicholson Drive in the shadow of Tiger Stadium, there's hardly a better way to watch a football game than at this taproom. The most popular beer during football season is Bayou Bengal, in purple-and-gold tiger-emblazoned cans that are perfect for tailgating. The deal at the brewery is a steal: $1 per beer. That's the benefit of going straight to the source.
What's up and coming for the brewery? Current seasonals and specialties include the Rougarou imperial black ale and Parade Ground porter. Up next: Chicken Wire, a German bock; Shack-Shaker, an American stout; and the introduction of a barrel-aging program. Tours run on Fridays and Saturdays, and the taps rotate to feature new projects. Special events in their taproom and outdoor patio are a frequent occurrence, including events by the TedX conference series.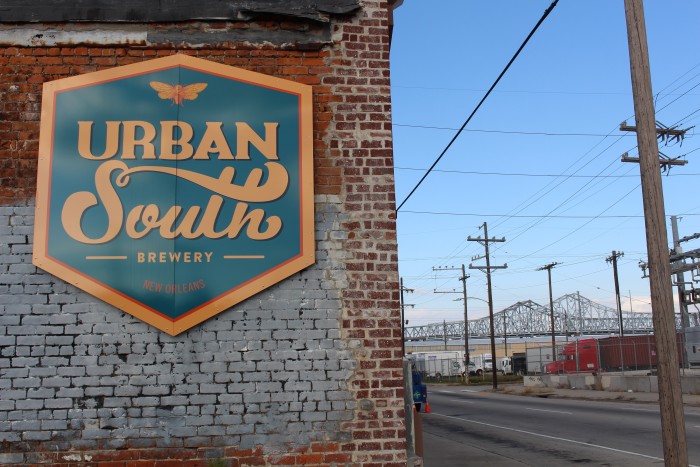 New Orleans, Louisiana
Opened in spring of 2016, Urban South was founded by Jacob Landry with collaboration from Louisiana craft brew veterans Wes Osier and Kyle Huling. The brewery is still growing, adding capacity when possible, but in the meantime, the team focuses on entwining European and American styles. Its two flagship beers, Holy Roller and Charming Wit, are available on tap alongside a selection of seasonal and experimental options. Try Rectify Coffee Porter, a balanced brew that incorporates freshly roasted beans from local roaster Congregation Coffee.
The taproom is family-friendly and sponsors local events, including live music and yoga classes. Looking for something new and unique? The brewery squeezes its own lemonade, which makes for a killer Charming Wit shandy. The newest thing on the horizon for brewer Wes Osier is a farmhouse saison he's hoping to spin into a sour saison using lactobacillus. Stop by on your next tour down Tchoupitoulas Street.
New Orleans, Louisiana
A Louisiana mainstay and the first brewery to operate in New Orleans since Hurricane Katrina, NOLA Brewing opened its doors in 2008 on Tchoupitoulas Street. For quite a while it stood as the one and only, but that didn't mean NOLA (actually an acronym for New Orleans Lager and Ale) remained complacent. The brewery is continuously innovating and releasing new and curious takes on beer in its large two-story taproom with more than 20 draft lines.
After the 2014 taproom expansion, McClure's BBQ took up permanent residence in the brewery, offering yet another reason to stop by for a pint and grab a seat on the large, inviting deck overlooking the Mississippi River wharfs. NOLA is also experimenting with sours and wild fermentation beers, including their aptly named Wharf series. In fact, a love and celebration of all things quintessentially New Orleans is what's been behind the brand all along.
Although initially slow to kick off, Louisiana craft beer is growing rapidly and is increasingly diverse. Breweries are slated to open nearly every week for the foreseeable future and produce interesting, innovative styles, with talented folks collaborating to make unique regional brews. Experimentation in the taproom is key to providing new experiences for returning customers, but increasing distribution is also a focus in order to put a delicious brew within arm's reach of any Louisianian.