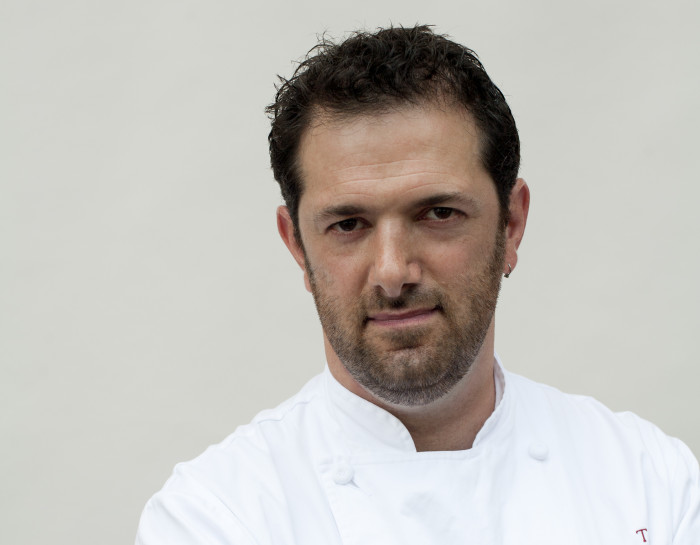 In honor of Food Republic's annual Healthy Living Month, we reached out to chefs about their diet and fitness routines and will be featuring these interviews throughout January. Next up is Tony Maws, who has found the perfect balance in his routine.

James Beard Award–winning Tony Maws is the mind behind Craigie on Main and the Kirkland Tap & Trotter in Boston. He's an expert in New England fishing and farming and cooked in France before opening his French-influenced gems Stateside. Maws has also starred in an episode of Strong Opinions and has contributed to Food Republic in the past. With all the awards and accolades under his belt, Maws says his career highlight was cooking for his favorite band, Wilco.

What's the first thing you eat or drink in the morning?
I generally have a protein- and vegetable-heavy breakfast. A typical morning for me is hummus, avocado, beans, eggs, greens and Chinese green tea.

How do you manage to keep in shape/not snack while always being in kitchens?
I need to taste everything we're serving, so that is hard to avoid, and I need to discipline myself not to snack much on top of that (though the Vadouvan-spiced popcorn at the Kirkland Tap & Trotter is my biggest vice!).  I try to eat grilled fish and veggies (bok choy or broccoli) after service now where I once would have had a steak.

What's your fitness routine, if any?
I work out with a personal trainer once a week, work out with myself once a week in a gym, run the Harvard Stadium with the November Project and try to squeeze a short run in there as well.

Do you practice any wellness routines, such as meditation, acupuncture, massage, etc.?
I meditate sometimes, but not enough!

Any New Year's eating resolutions?
Not really.  I've already made a lot of adjustments and I like the balance I've achieved.

Have you ever done a fad diet? Juice cleanse?
Nope. I still have a job to do and that's cooking food, which means I need to taste everything.

Any food or drinks you actively avoid?
I keep my pasta and bread eating to a minimum.  It's so easy to snack on in a restaurant, but I'd rather save it for a great pasta course elsewhere.

Have you ever struggled with your weight?
I didn't think I did, but when I see pictures of myself a few years ago I get pretty pissed at myself. I thought I was working out enough, but I wasn't, and my eating habits stunk. Life changes after 40!

Do you have any go-to, quick-fire healthy recipes that you can provide us off the top of your head?
Raw Kohlrabi Matchstick and Apple Salad
Ingredients
2 kohlrabi
2 crispy, nutty apples, like honeycrisp or russet
Leaves from one celery heart
2 radishes
Chives, cut thin
Lime juice
Extra-virgin olive oil
Salt and pepper
Method
Peel kohlrabi and slice into 1/16-inch slices. Keep the kohlrabi slices stacked together and slice into matchsticks. Do the same with the apples, but leave the skin on.
Pick and separate the celery leaves. Slice the radishes and chives into paper-thin circles. Put all of the above into a mixing bowl and dress with a bit of lime juice, extra-virgin olive oil, salt and pepper. Serve on its own or on the side of a cheese plate or raw or poached fish.