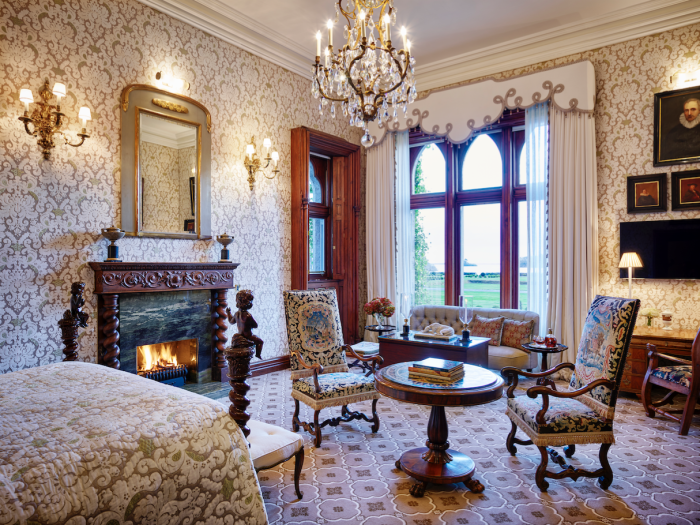 In Hungry Concierge, we travel the world to spot hotels that operate with their guests' food and drink needs squarely in mind — hotels, both big and small, that are located in neighborhoods rich with bar and restaurant options. Because there's nothing worse than having your trip derailed by crummy room service. Ready to dine like a royal at Ireland's Ashford Castle? 
How often do you get to dine in a real castle, complete with ancient stone walls, tapestries, towers, hounds (yes, hounds) and rolling green grounds decorated with quaint gardens? Unless you're a royal or work in one of the few remaining functional castles, chances are you haven't had the esteemed pleasure. That's what makes staying in Ireland's Ashford Castle such a treat, provided you can navigate the narrow and winding streets that lead there. On the plus side, you'll have all the privacy you need.
This stunning property near Cong in County Mayo was completely refurbished into a luxury hotel, including two dining rooms and the Connaught Room, where you can enjoy a proper afternoon tea. It's served daily in honor of Lord and Lady Ardilaun, the castle's residents during the mid-1880s, who really enjoyed tea time. Plates of finger sandwiches and fresh scones take up two tiers of the three-level silver tower. The third features signature pastries like Connemara whiskey-infused custard, white chocolate bavarois and jewel-hued fruit tarts. Enjoy these sweets and savories as you look out over the picturesque Lough Corrib.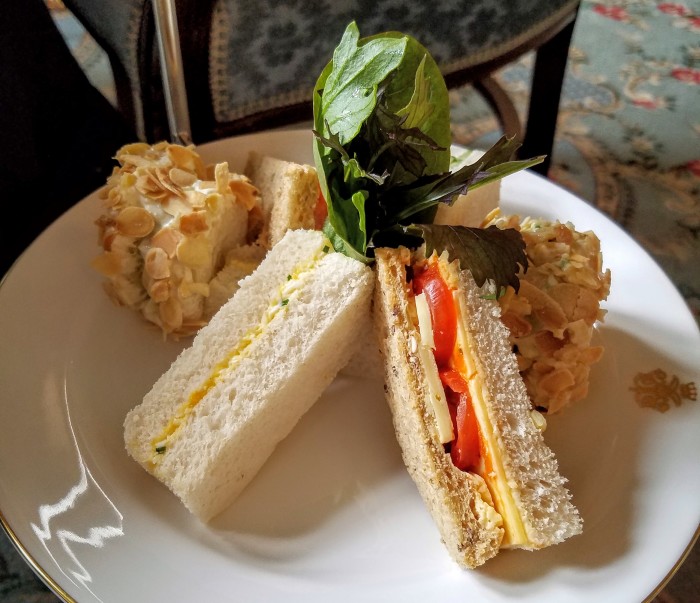 After filling up on tea and treats, lounge in one of the jaw-dropping rooms and sip a snifter of sherry before heading to the School of Falconry. It's Ireland's first falconry academy, and one of the best ways to tap into this ancient pastime. You'll handle amazing predator birds as you walk through fairy-tale landscapes, down old stone steps and into the dense, green woods.
Now, while feeding your falcon or hawk raw chicken may not prove particularly appetizing, the adventure will inspire a voracious appetite. Head back to the castle and "dress for dinner" for an evening meal in the George V Dining Room, named for the famous royal who dined on the property in 1905 as Prince of Wales. As you sit in your royal blue chair in front of a white-linen-draped table, you can imagine that you too are a royal awaiting the first course. Waterford crystal chandeliers add another layer of class to the already dazzling room, not that you would notice once chef Philippe Farineau's feast begins rolling out.
Enjoy appetizers like the local goat cheese finished with smoke before your eyes, or the tender wood pigeon with duck foie gras. A buttermilk and lime sorbet cleanses the palate before you dive into an entrée. Marvel at the trollies filled with cheeses and fish, as well as the carving cart for tableside presentation of slow-roasted beef rib. You can also choose from dishes like wild brill with Atlantic seaweed gnocchi; Kilkenny veal with vegetables and pickled girolles; or the Hereford beef fillet and tongue with blue foot mushrooms and pommes Dauphine.
For a more laid-back soiree, head to the inner depths of the castle and grab a table at the Dungeon, a blood-red dining room filled with armor, flags, thick carpets and a sinister history. Okay, it's not that menacing given that the space wasn't actually a dungeon, but it's fun to pretend as you massacre a loaded plate of traditional Irish cuisine. Dishes include a selection of local seafood; traditional Irish stew with lamb; slow-braised Wagyu corned beef with pureed caraway and mustard seeds; risotto with parsley root and smoked Gubbeen cheese and chervil sponge. Finish it off with a plate of classic Irish farmhouse cheese for dessert.
No matter which area you choose to dine in, many of the recipes come from owner Beatrice Tollman — a charming personal touch. Follow up any meal with a drink in the 16th-century tunnels, the private wine cellar, and have an experience most can only dream of.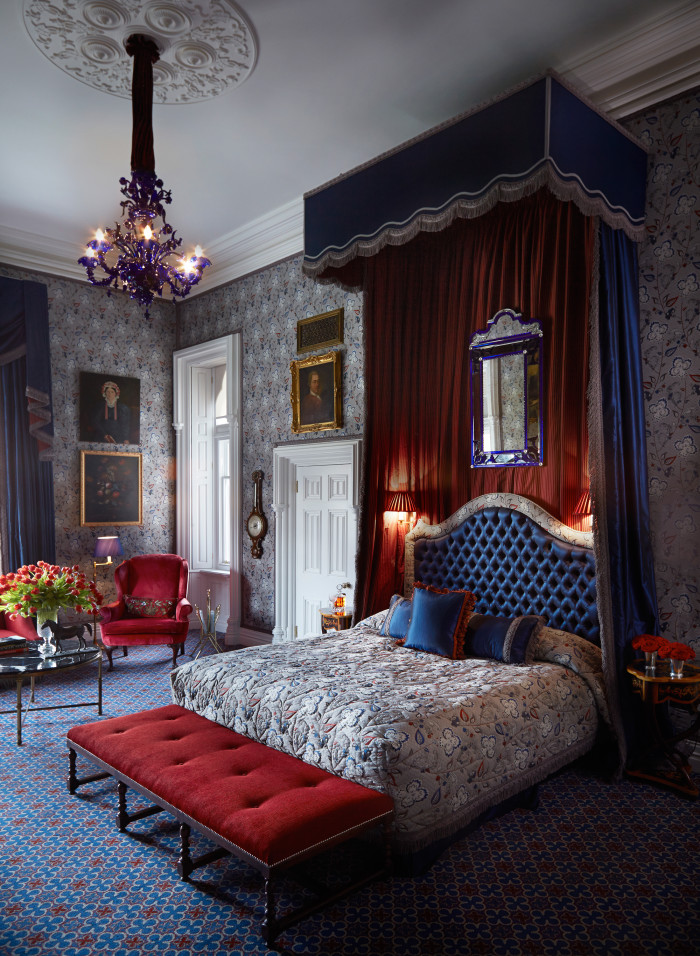 The Rooms
When staying in Ashford Castle, you'll have to walk through winding, tapestry-lined hallways and go up and down stone staircases to find your abode, all aspects that make you feel like you are truly sleeping in a castle. The property boasts 82 bookings in categories ranging from the grand state rooms and multiroom suites to the more modest Corrib rooms. No matter where you stay, however, keep in mind that your charming space is distinct from the others.
One of the state rooms, for example, sports royal blue drapes and velvet couches accented with blood-red cushions and trimmings, oil paintings of distinguished noblemen, a grand desk and a poetry-inspiring view overlooking the gardens. This same room has a bed with a headboard so tall, one could imagine friendly ghosts floating overhead à la Daryl Hannah in High Spirits. Then there's the bathroom: marble with heated floors and a deep clawfoot tub big enough for two. Another room features pale pink wallpaper textured with gold patterns, a princess balcony with a fainting couch and a grand king-sized canopy bed. It's all fantastic, and if you don't spend at least 15 minutes with your jaw dropped in wonder, your life is probably jaded beyond repair.
Now, while all the rooms might all feature different decor, each comes with a fireplace, toiletries from the local cosmetic company Voya, and views of either the grounds or the lake. Also included: a crystal decanter of sherry you can pour at will. All of it appears old and grand, but each aspect proves luxurious and comfortable in an entirely modern way.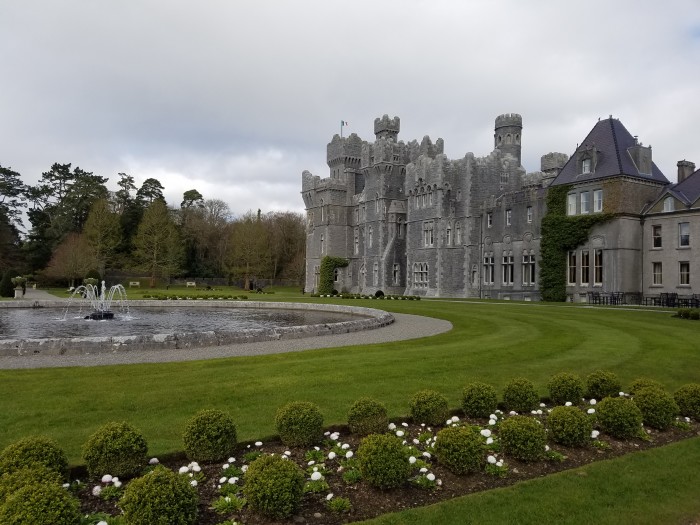 The Look
From the moment you drive up to the property, Ashford Castle looks simply like a medieval structure. Built in 1228 by the Anglo-Norman House of Burke, the building has passed hands several times: first to Sir Richard Bingham in 1589, then to Dominick Browne in the 1670s and then to Sir Benjamin Lee Guinness, who purchased the estate in 1852. Guinness — yes, of the beer fame — added on Victorian-style extensions and created the intricate road system that passes through the property. In 1939, the castle was gifted to the Irish government by Ernest Guinness. Ashford Castle didn't become a tourist accommodation until hotelier Noel Huggard took over, but it was current owners, Red Carnation Hotels, who in 2013 transformed the castle into the fantastic lavish property it is today.
Today, Ashford Castle is a member of the Leading Hotels of the World, and with good reason. For starters, it's like no place you have ever stayed in (unless you are really, really lucky and/or royal), and the owners have put in an enormous amount of work to give it luxurious modern amenities that meld seamlessly with its dual medieval-Victorian styles. In short, you're staying in a castle that looks like something out the show Reign (which has shot on location), but still have the joy of super-soft bedding, new plumbing, a full-service spa and the high-class amenities normally found in a five-star hotel in the city. These fresh additions come thanks to a nearly $50 million renovation that was completed in April 2015.
The Neighborhood
Ashford Castle is the neighborhood. Located on the shores of Lough Corrib between the water and 350 acres of park ripe for exploring, you won't want to leave the property. If you do venture out, take the 20-minute walk or a quick car ride to Cong, roughly a mile away. This quaint town doesn't have much, but you can take in the charming cobblestone streets, old stone buildings and lovely locals who frequent the area. The village also hosts the the Quiet Man Cottage Museum and the Quiet Man Coffee Shop, two places that pay homage to The Quiet Man, a movie starring John Wayne, Maureen O'Hara and Barry Fitzgerald that was filmed in the area in 1952. There's also a rare-book store, a classic pub (Pat Cohan Bar) and a small art gallery. For a movie or a craft cocktail, however, Ashford Castle itself is the best place to go.
Rates start at $296, or €285
Leaf Island, Cong, Co. Mayo, Ireland
ashfordcastle.com