One of the best parts of the year for a recipe editor is rounding up the most clicked-on recipes and assessing what our readers like best. The verdict: Our most popular recipes of 2016 involve delicious food that's not too hard to make and is Instagram-ready. Oh, and everyone loves cheese. Who would have thought that'd be the case? So we'll continue feeding you the good stuff, the deep-fried snacks and runny egg yolks, comforting baked pasta dishes, crispy potatoes, waffles, steaks and everything else that doesn't require a professional-grade kitchen: 2017 is going to be a great year to cook!

This is an easy and delicious introduction to my mother's favorite flavors: basil and thyme, Vietnamese parilla (tía tô), lemongrass, and fish sauce. At our home we eat this with rice, spooning the pan juice over the top, with a side of sliced tomatoes and butter lettuce with Helene's Lemon-Sugar Dressing.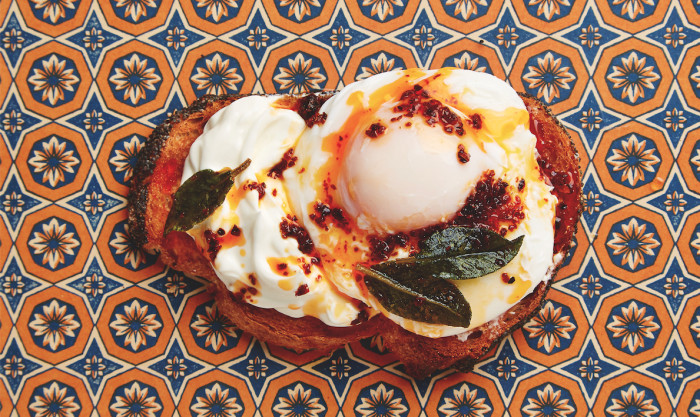 Turkish dried chili flakes are mild in heat but wonderfully fragrant. They keep for ages, so it's worth grabbing a bag for the larder any time you pass a Turkish deli.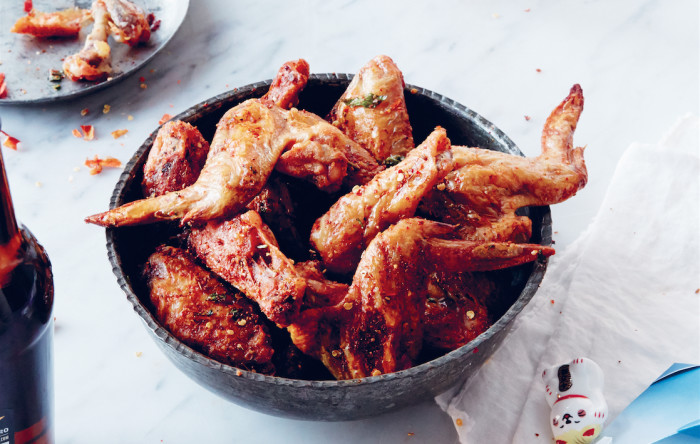 This take on an American finger-food favorite gets its spice from Sichuanese pepper and is stir-fried with aggressive amounts of chilies, which — despite their fiery red appearance — add more flavor than heat.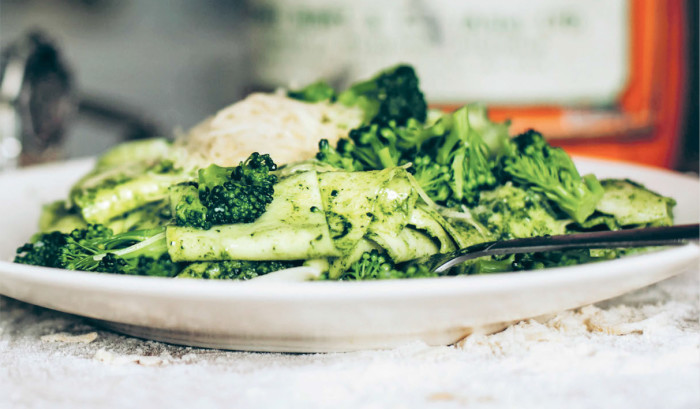 Seriously, though, this is yet another no-brainer meal — nothing fancy, a weeknight meal the kids will eat. It has cheese in it. Pecorino, too — they love the Pecorino. You can make this with any pasta you want. I like the pappardelle because it's easy to make and it's massive and fun to eat. As simple as that.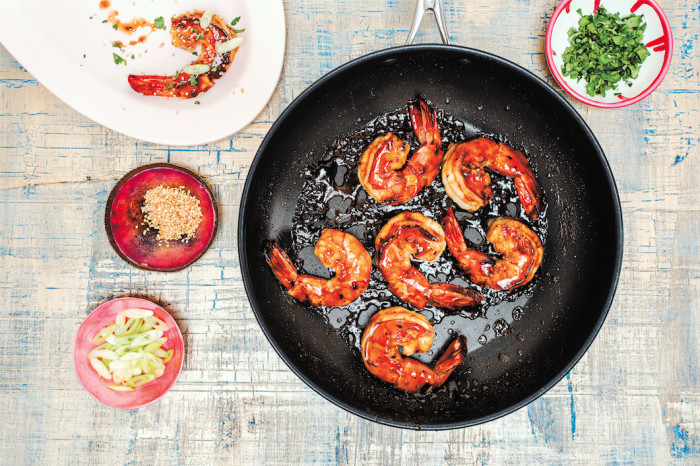 In this recipe, I simply mix tamarind paste with honey to make a marinade that has lots of flavor without much effort. These shrimp are also great to skewer and are easy to cook on the barbecue.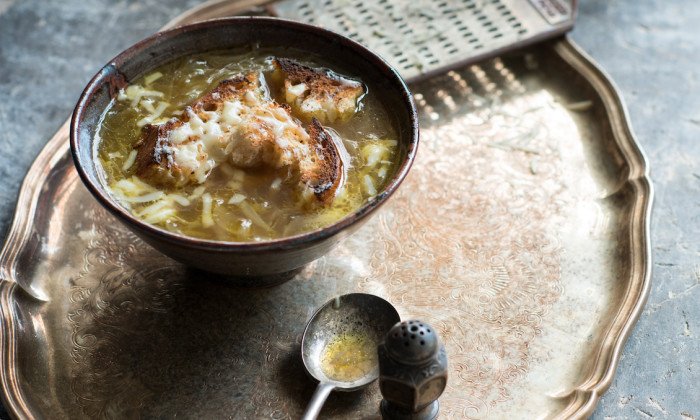 Here I have taken two of the best-loved classic soups of France and Vietnam and combined them. This is not fusion cooking — history and culture made it happen.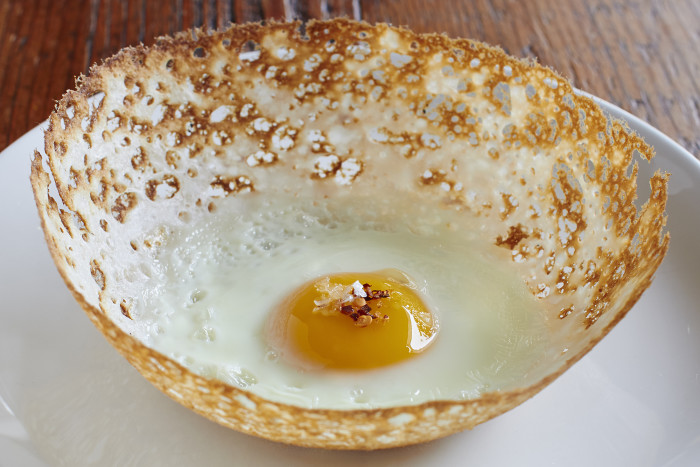 The batter is rather simple but, unfortunately, useless without a proper hopper pan. We get ours directly from Sri Lanka, but they are also available online.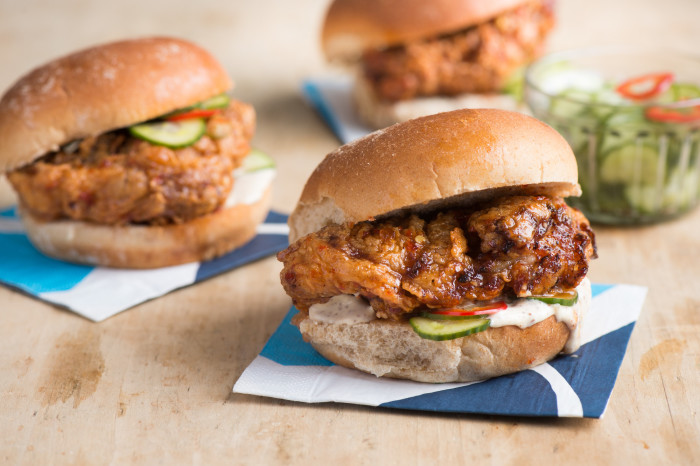 I start with dark meat — in this case boneless, skin-on chicken thighs — and quick-brine them in a concentrated brew of sugar, salt and pepper to help make the chicken super-juicy and tender. Cloaking the chicken in buttermilk helps the dredge's cornstarch-and-flour blend cling cooperatively, yielding the crispiest results. Once out of the fryer, I toss the chicken in a two-ingredient glaze for a sticky, spicy kick.
This quick spaghetti dish reminds me of spaghetti carbonara — noodles coated in a creamy sauce studded with salty pancetta pieces. But carbonara isn't exactly a healthy dish — and the challenge with all pasta dishes is keeping them light and the portion sizes reasonable. So for this recipe, I cut down the amount of pasta and bulked up the dish with roasted Brussels sprouts. The simple pancetta cream sauce is made with full-fat, full-flavor ingredients, so I kept the amount low — just enough for a really delicious meal.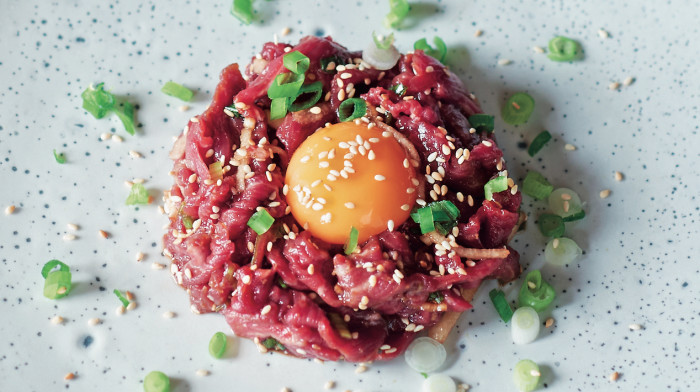 Though we might be a little biased, this is definitely our favorite way of eating raw beef. Basically a Korean steak tartare, yukhoe is made from raw tenderloin or fillet steak that has been lightly marinated to become soft and tender. Flavored with soy and sesame, this dish is very delicate, with the egg yolk acting as a sauce that binds everything together and the lovely balance of sweet and salty really bringing out the beef's natural flavors.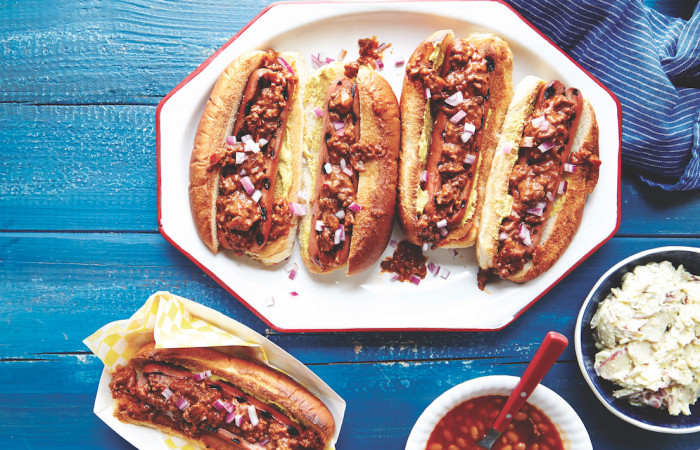 Jeff Green is a fellow Marylander and such a great guy. He is one of my favorites of my dad's clients and also one of the first that was in college when I was. Jeff is a big food fan like I am, and when I asked him what his favorite sports food is, he quickly replied D.C.-style spicy half smokes served with potato salad and honey barbecue baked beans. (I think someone used to frequent the classic D.C. spot Ben's Chili Bowl.) Here you have Jeff's half smokes recipe. Per his advice, serve these with potato salad and my BBQ Baked Beans.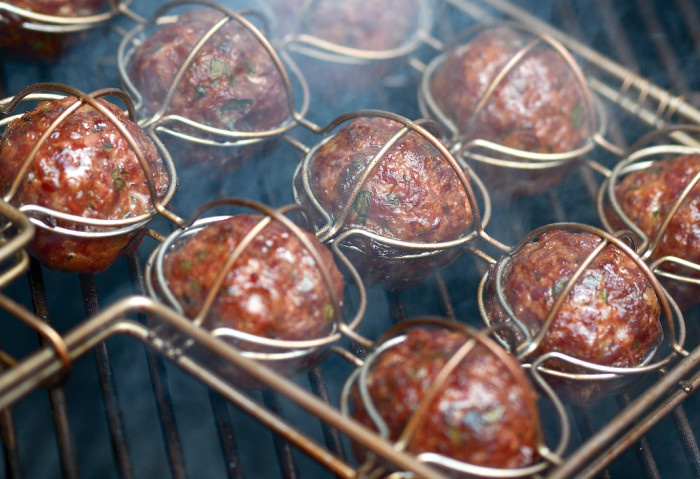 Perhaps you've never thought of smoking meatballs. You haven't met Jonathan Nguyen, co-owner of Montreal's lively Le Boucan Smokehouse restaurant. (The name comes from the Franco-Caribbean word for smoke, which, incidentally, gave us the pirate term "buccaneer.") Nguyen takes his inspiration from Kansas City and Memphis but adds plenty of Quebec touches. "Our grandmothers cooked with apples and sweet spices like cinnamon and nutmeg, which we incorporate into our sauces and rubs," Nguyen says.
Eggs may be latecomers to America's barbecue repertoire. But elsewhere on the world's barbecue trail, grilled and smoked eggs are common currency.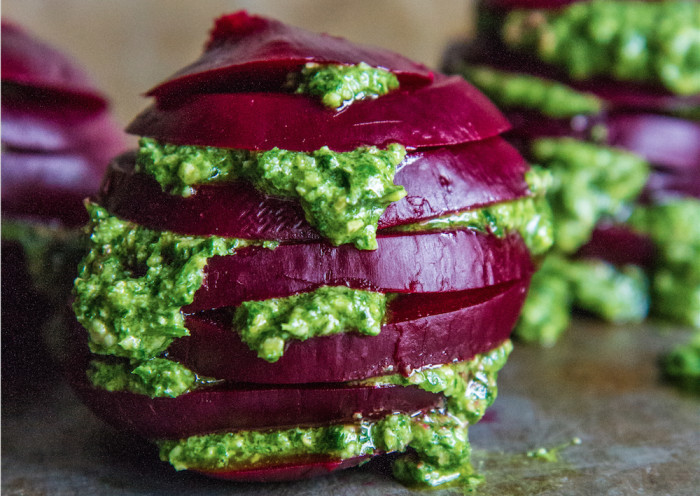 I find the sweet, earthy flavor of beets is well complemented by this fresh herbal pesto, highlighted with fresh mint and thickened with pumpkin seeds. It's a full-flavored salad with ravishing colors that's right at home on a fall table.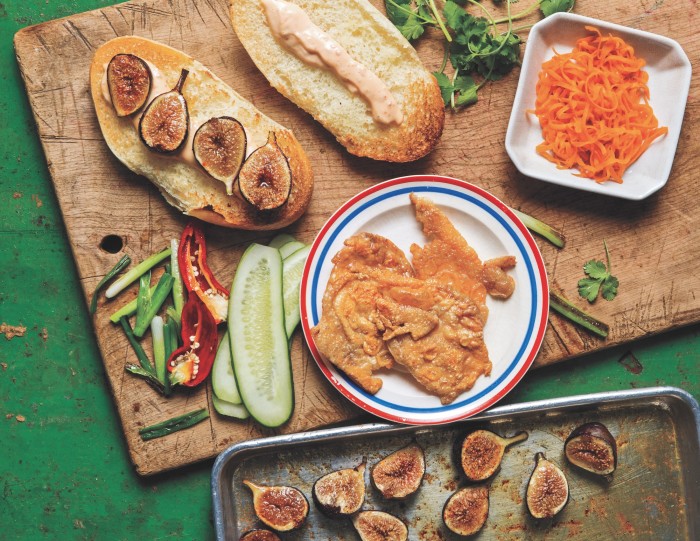 One of our personal favorites as well as one of the most popular num pangs is the glazed peach and bacon. It's that combination of sweet heat, fatty crunch, smoke, and juiciness that is like total sandwich nirvana. We tap into the same pleasure zone in this combination: spicy soy–glazed juicy, ripe figs and salty, crackly fried chicken skin. Now there is no way we could ever make this sandwich to feed the thousands upon thousands of hungry New Yorkers who stream into our shops every day. But at home, it's totally doable. Of course you can swap the chicken skin for bacon, but you'll be missing out — the chicken skin is like crispy, porky lace compared to a more solid plank of bacon.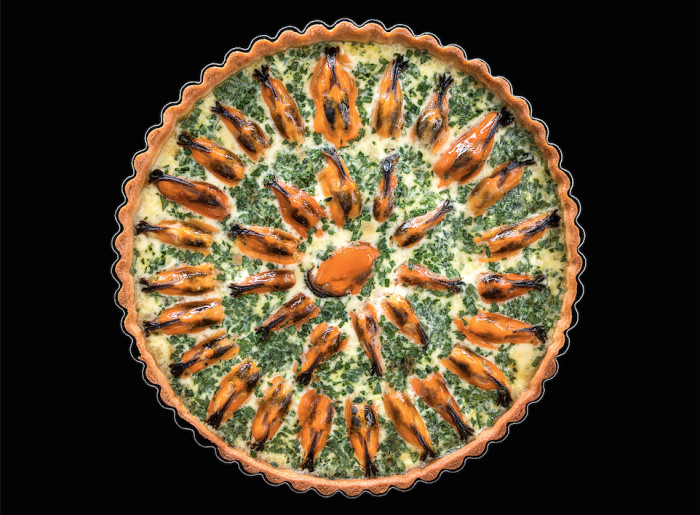 Nobody makes a sweet or savory tart like the French, which is why we're powering through this new book of recipes from Michelin-starred Paris chefs Frederic Anton and Christelle Brua. From seasonal fruit and rich chocolate to leafy greens, hearty fish and tender meat, there's a pastry shell for every filling you crave.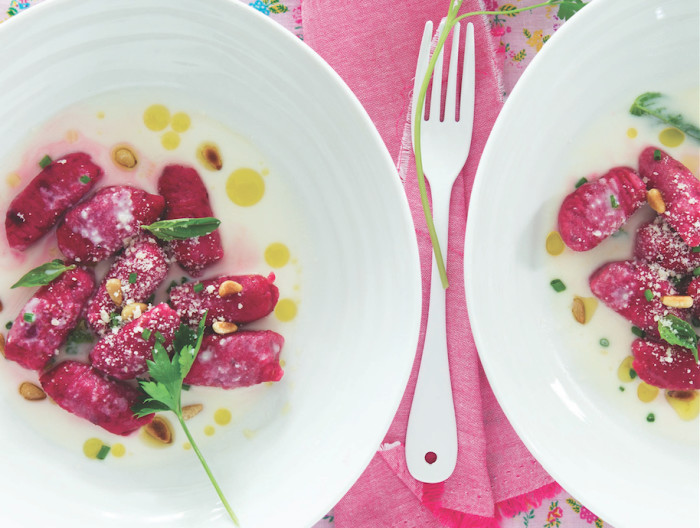 Like many of her six-year-old girlfriends, Lulu loves the color pink. And since she adores gnocchi, I created this recipe for her. The bright fuchsia dumplings against the delicate white in the sauce are simply stunning and oh so appetizing!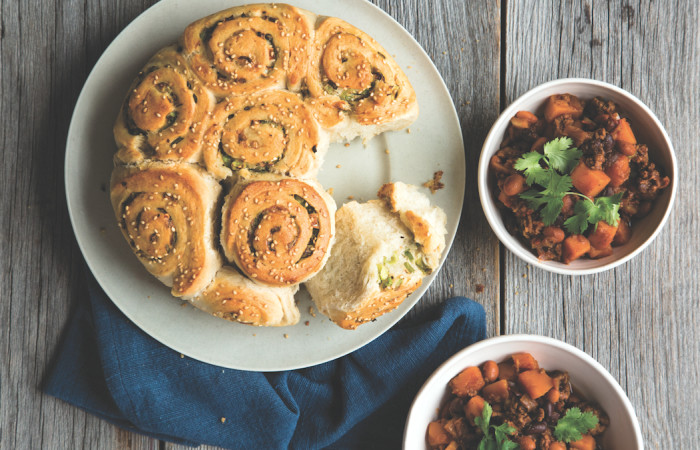 Food writer Kristin Donnelly's new cookbook brings back the old-school potluck dinner with contemporary new recipes. Just because it has to be portable, universally pleasing and easy enough to make in large batches doesn't mean you're stuck with beige casseroles and boring side dishes. Pick up a copy of Modern Potluck and feed that crowd right!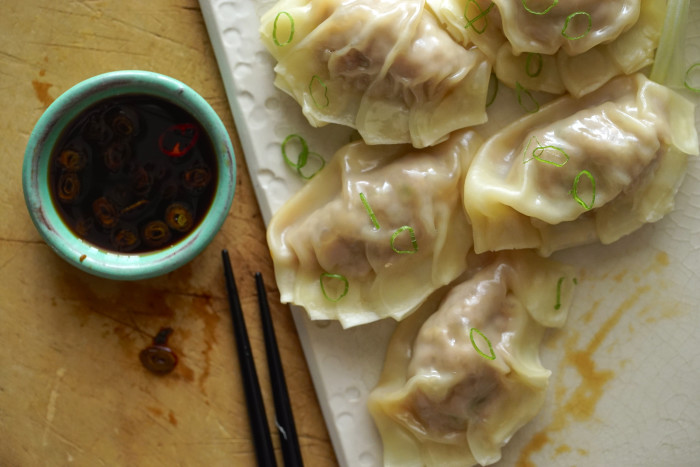 You can have fresh, steaming hot pork and scallion dumplings on the table in 45 minutes — even less if someone's helping you fold them! Dumpling making is a great hands-on activity for a dinner party's first course that incorporates your guests' cooking skills at any level.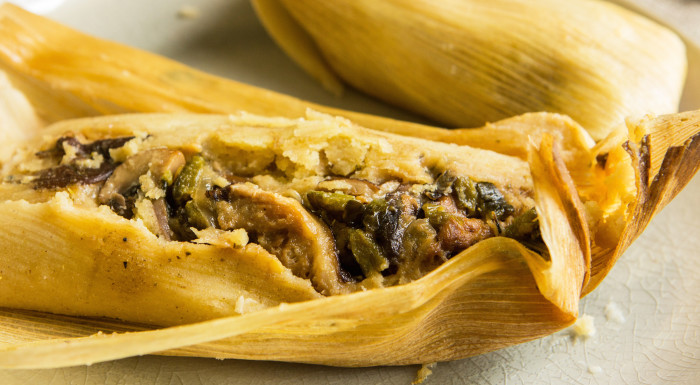 "For me, tamales are synonymous with the holiday season," says chef Ray Garcia. "Growing up, tamale making was a family affair. There would be three generations working together around the kitchen table to prepare this integral part of the Christmas feast. Our tamales were generally pork- or beef-based, but this mushroom version is equally satisfying. A variety of roasted mushrooms provide a warm and meaty base while the heat from the chilies delivers a generous amount of spice. Adding Tabasco cuts through some of the richness of the cheese and masa, offering a brightness not often found in tamales."