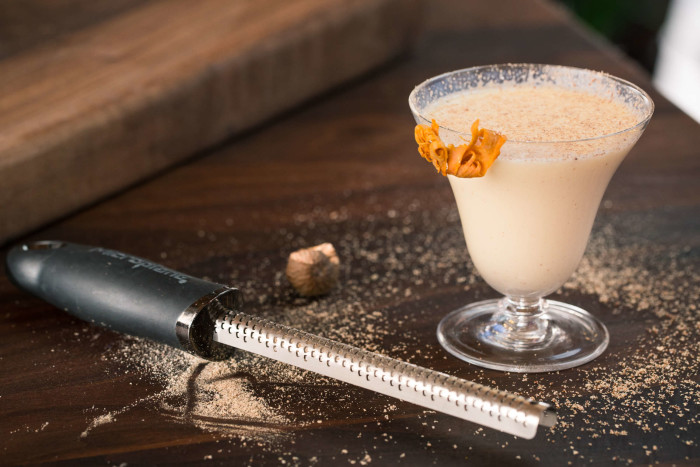 Homemade eggnog heralds the arrival of the holiday season, and the version created by our friends at ChefSteps takes advantage of sous vide to boost flavor and texture. Enjoy it plain or hooch it up with a nice shot of rum or bourbon (we know you'll do the latter).
[Editor's note: ChefSteps cooks sous vide with the Joule, a tool created by its in-house team of chefs, designers, and engineers. Joule is a Wi-Fi-connected device that you control with your smartphone. For more, check out Food Republic's independent review of the device.]
Homemade Eggnog
Ingredients
2½ cups whole milk
7 ounces heavy whipping cream
2/3 cup sugar
About 8 medium egg yolks
1 teaspoon rum extract
¼ teaspoon nutmeg, ground
1/8 teaspoon clove, ground
Drop (~1/16 teaspoon) almond extract
Ice water, for ice bath, as needed
Directions:
Put device in a pot large enough to submerge two pint-sized Mason jars, and heat to 162°.
Combine all the ingredients in a large bowl and whisk together.
Transfer the eggnog to mason jars. You can cook the eggnog in a single quart-sized Mason jar if you'd like, but you'll need to increase the cooking time to 90 minutes.
Place the lid on the jar. Twist the lid until "fingertip tight," meaning just barely closed and still possible to open with your fingertips. To do so, place the lid on top of the jar, then twist the band to tighten using just your fingertips. When you begin to feel resistance, twist once in the opposite direction, then once more in the original direction to tighten. Closing the jars in this way means that air will be able to escape from them when you submerge in water. If you close them too tightly, the jars could crack or break.
Cook sous vide at 162°F for 60 minutes.
Make an ice bath (you can also just cool your nog in the fridge). Rest the jars at room temperature for 15 minutes before transferring to the ice bath. If you don't allow the eggnog to rest, the rapid change in temperature will put stress on the jars, potentially cracking them.
Before serving, shake the jars so that any spices that settled to the bottom get mixed back in. The eggnog will last in the fridge for 1-2 weeks.
ChefSteps comprises a team of award-winning chefs, filmmakers, scientists, designers and engineers focused on revolutionizing the way people cook by inspiring creativity and encouraging expertise in the kitchen. You can also get access to all of ChefSteps' Premium content — including paid classes and dozens of recipes available only to Premium members for a onetime fee — for the special price of $24 (regularly $39). Classes include Sous Vide: Beyond the Basics, Fluid Gels, French Macarons and more!