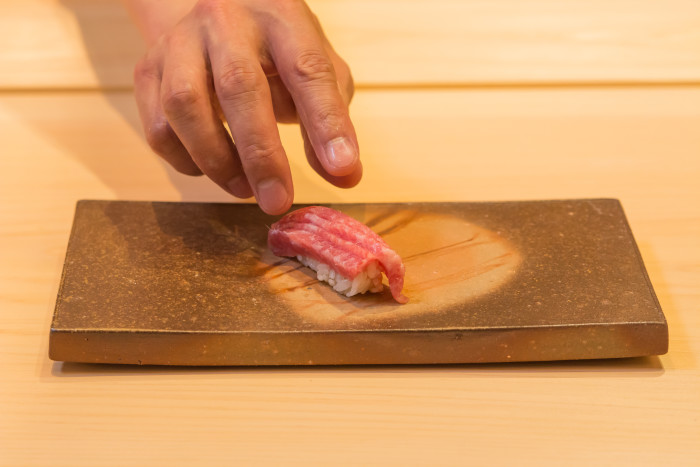 This was a big year for Japanese food in New York City. Sure, New Yorkers had heard of the term omakase before 2016, but it wasn't until this year that it truly became mainstream — part of everyday dining lingo and thrown around as often as other culinary specifics such as "tapas" and "dim sum." Locals now scramble to reserve a wooden, backless seat at the newest omakase-only sushi bar just as they do at the latest small-plates hotspot in the city. And that's why it was a bit of a surprise for us to notice the exclusion of any and all Japanese restaurants from New York Times' food critic Pete Wells's "Top New York Restaurants of 2016," released yesterday.
What's especially puzzling about Wells's complete omission of Japanese restaurants from the list is his opening acknowledgment of the cuisine's growth: "Among Japanese restaurants alone, there were a half-dozen high-end omakase places serving cooked food, sushi or some combination. Some I wrote about, some I may circle back to later on, and others left me wishing I had saved room for a second, more interesting meal." While a fair statement when taken at face value, a closer look at Wells's list and archive of reviews is more revealing.
Some of the blame can be attributed to the simple fact that a single publication cannot dole out reviews to all of the city's many deserving restaurants. Over the course of this entire calendar year, however, the Times' food critic reviewed just one Japanese establishment: TsuruTonTan, a Japanese noodle chain that recently opened its first international location in Union Square. That would appear to contradict Wells's assertion that he wrote about "some" of his experiences at new, high-end Japanese restaurants (it's also worth noting that the noodle chain is decidedly not high-end). There is hope in his promise to "circle back" to others in the future, but it would be somewhat awkward timing should he do so, considering that most of these worthy omakase– or tasting-menu-only venues (Sushi Zo, Kosaka, Sushi Ginza Onodera and Teisui come to mind) opened up during the earlier parts of 2016.
Wells's introduction to his top city restaurants of the year column is perhaps best seen as an indication of the current status of Japanese food in the city: It's still in a transition phase. The cuisine is branching out in a number of directions and is being recognized by authorities and diners alike, but it still has a ways to go. Here's hoping that 2017 leads not only to "circling back" but also to critical and consumer appreciation coming full circle.