Americans best know Provence, France, for two things: 1) rosé, and 2) rosé made by Brangelina (R.I.P.). And while roughly 88 percent of the 165 million bottles of wine the southern region of France produces each year is indeed rosé, Provence is so much more than just the home of world-class pink juice and a dissolved celebrity marriage. In fact, many of the region's vignerons are actually most passionate about producing other styles of wine that are perfect for the colder weather now approaching.
Though its climate is largely Mediterranean (that is, hot and dry), Provence boasts a wide variety of terroir, which allows for an incredible range of flavors from many different grapes. Brahm Callahan, Master Sommelier and beverage director of Boston's Himmel Hospitality Group, points to soils that range from sandy red clay to limestone gravel or alluvial river stones. "There are also pockets sheltered by forests and affected by elevation, where unique microclimates present an opportunity to make wines different from what you might think were possible in Provence," he explains. And the Mistral — a strong wind system that clears cloud coverage and dries out vines — "helps cool down the area and maintain freshness" while minimizing fungal and rot issues, allowing for plenty of organic and biodynamic farming.
Under these conditions, Provençal winemakers have been quietly mastering the art of blending Syrah, Mourvedre, Grenache, Ugni Blanc, Sémillon and Cinsault for decades. They also make varietal wines from two particularly robust local grapes: Tibouren and Rolle (a.k.a. Vermentino). The result is the accelerating production of some unbelievably fantastic red, white, sparkling and sweet wines — many of which are still highly underappreciated.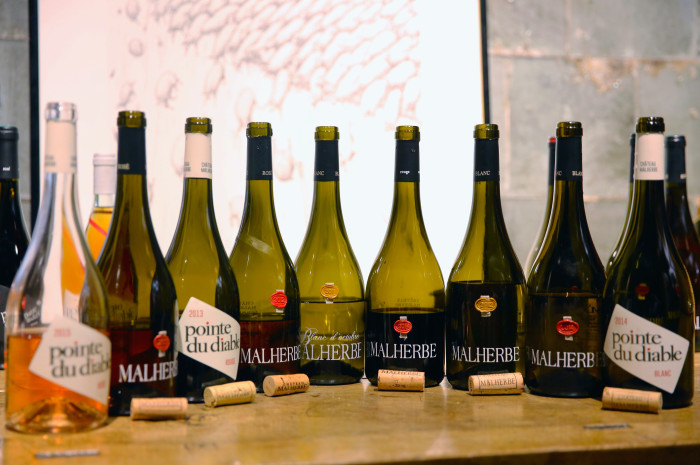 Below are some of the best year-round wines Provence has to offer, all of which are now available at fine wine shops in the United States:
Côtes de Provence
Château Malherbe is one of very few wineries in Provence to bottle equal amounts of rouge, blanc and rosé wine, and is best known for its whites (the "blancs"). The vineyard's close proximity to the sea results in high salinity levels in the soil — but what's "bad for grass" (as the producer's name implies) can be great for grapes, which thrive throughout Malherbe's property. The winery only exports about 15 percent of 90,000 bottles each year, but its namesake white blend is well worth tracking down. Made of 65 percent Sémillon and 35 percent Rolle grown in red-brown clay and silvery schist (a flat, sheet-like rock), it carries an herbal aroma, with notes of dill and dried fruit. It's complex and expressive, like no other Provence wine you'll ever taste. 
Clos Cibonne Tibouren Speciale Rouge 2015
Côtes de Provence
Tibouren only tends to ripen in specific areas along the Mediterranean coast, and the 15 hectares of vineyards at Clos Cibonne happen to be among the most prime of those areas. So much so that in the 1930s, when the AOC demanded that owner André Roux diversify at least 10 percent of his property with other grapes, Roux waited until after inspection to rip up the Mourvèdre and replace it all with Tibouren. Today, Roux's grandson and great-grandson produce 100,000 bottles of rustic rosé and red each year, adding 10 percent Syrah to round out the Speciale Tibouren cuvée before aging it in an old wooden vat called a foudre for six months. This wine — highly atypical for southern France — smells of white pepper and gamey charcuterie; incredibly structured, the earthy, spicy nectar can be aged for years on end. 
Domaine Croix Rousse Suvé du Vent Rouge 2012
Côtes de Provence
Christophe Durdilly and his wife, Christelle, moved from Croix Rousse, Lyon, to open a winery in Côtes de Provence that produces a whopping proportion of red wine (about 50 percent). Domaine Croix Rousse's Suvé Du Vent is one such red, a blend of Carignon, Mourvedre, Cinsault, Grenache and Syrah, all handpicked from vines as ancient as 100 years old. The resulting wine has a complex, rich nose full of cherries, tobacco and fresh herbs, while it's much more reserved in the mouth: elegant, lean and well-rounded. Most notably, the wine has been spontaneously fermented with wild yeast, giving it an extra touch of the true, local terroir and a thumbprint that can't be duplicated anywhere else in the world. 
Château Marguï Les Pierres Sauvages Blanc 2015
Coteaux Varois en Provence
For a storybook vision of Provence, look no further than Château Marguï: The stunning property includes an 18th-century bastide set on 284 acres of preserved wilderness. The 42 acres of vineyards on this land will produce roughly 80,000 bottles of certified organic wine this year – less than a fifth of which will be white. Still, Les Pierres Sauvages, made up of 90 percent Rolle and 10 percent Ugni Blanc, is the star of their lineup and quite simply one of the most elegant white wines made in Provence. Clean, focused, and extra dry, the wine opens with delicate floral aromas and makes way for plenty of fruit, including hints of pear, grapefruit and apple.
Mas de Cadenet Vin Cuit de Provence
Cotes de Provence – Sainte Victoire
The Negrel family makes an exceptional range of wines, including a luscious white made from 100 percent Rolle called Mas Negrel Cadenet Blanc. But most intriguing is their "vin cuit," or "cooked wine," produced by baking grape must and aging the concentrated, fermented juice in oak for years. The result is a viscous, amber wine high in sugar and alcohol — though Mas de Cadenet's 12 percent ABV version is a bit lighter and balanced by a strong level of acidity. A nearly forgotten Provençal Christmas tradition, vin cuit was used to wash down the "13 desserts" (representing Christ and the 12 apostles) that include candies, dried fruits and various biscuits. As such, the rich wine evokes holiday spice, nougat, nuts, prunes and figs, but can be enjoyed anytime as an aperitif or digestif.
Domaine d'Eole Brut Nature Rosé
Coteaux d'Aix-en-Provence
All right, Domaine d'Eole's Brut Nature is indeed rosé — but it's a rarity in Provence for its bubbles. Of the 135,000 bottles of clean, austere wine that German oenologist Matthias Wimmer produces each year from Eole's 26 hectares, only about 6,000 are sparkling. An even smaller number of these make it to the U.S., but the pink, finely carbonated Brut Nature is a treasure to be sought out. Made from early harvested Rolle, white Grenache and a smaller percentage of Syrah, the wine is produced via the Traditional Method (like Champagne, with a second fermentation in the bottle). Finished with zero dosage (no additional sugar added), the product is bone dry — but not without touches of fresh red fruit, like raspberry and strawberry, along with additional notes of citrus and praline. It's like fine rosé Champagne at half the price!