Chris Shepherd Is Opening A New Restaurant Every Year For The Next Half Decade. Well, Sort Of.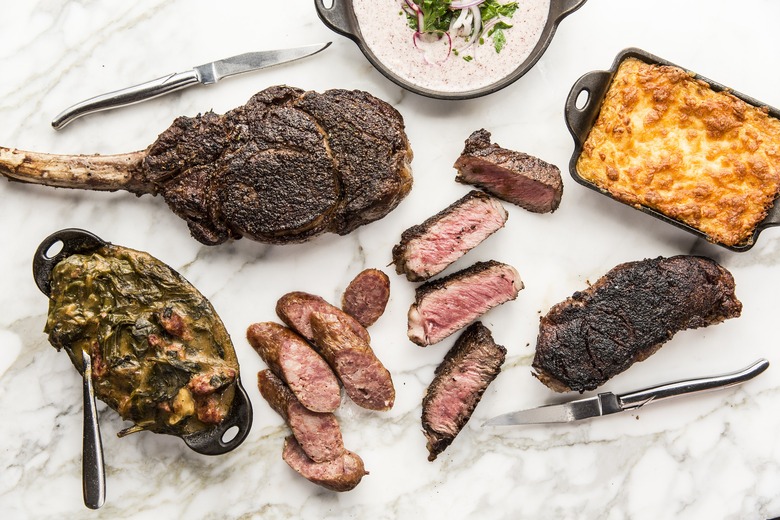 One Fifth Steak will be the first of five concepts in Chris Shepherd's new Houston restaurant. (Photos: Julie Soefer Photogra
You'd think that Houston chef-restaurateur Chris Shepherd would know better. He describes the process of opening his first restaurant, Underbelly, five years ago as "the hardest way ever." Committed to telling the story of Houston through food, Shepherd concentrated on whole-animal butchery, local products and working with area farmers to develop the menu at his popular eatery. As noble and successful as this locavore venture has been, Shepherd says, "Dammit, sometimes I just want to cook with an olive!"
So when a real estate developer called about a possible location for a second restaurant, Shepherd was interested in the opportunity. "I get those calls all the time, and I don't bother with most of them. But when I heard where it was, I was intrigued." That location was a building that was built in 1927 as a Lutheran church and had operated as Mark's American Cuisine, a Houston icon for almost 20 years.As interesting as the opportunity was to Shepherd and his investment partners, there was a catch. "Since it was essentially a turnkey restaurant property, they only wanted to offer a two-year lease. They figured it was ready to go, so someone could just move right in and open it right away, but people expect some changes after 19 years. We weren't going to go through the trouble for just two years, so I felt like we had wasted three hours looking at the building."But Shepherd wasn't ready to give up quite yet. "I talked with Kevin Floyd, one of my partners, and he mentioned that I was always talking about new ideas for a restaurant. What if we opened a new concept in the same space every year for five years? August is slow anyway, so we could close after July to turn over the menu and the decor and then reopen in September."Shepherd fully expected everyone to tell him that it was a horrible idea, but the developers already had long-term plans for the surrounding properties, so five years was about as long as they were willing to consider for a lease. To his surprise, his partners loved the idea.
Don't call it a pop-up. "I hate that term," says Shepherd. "It doesn't imply any investment in people or property like we're doing." The new venture has been named One Fifth, as in each concept representing 20 percent of the life span of the restaurant. As opposed to guerrilla pop-ups, Shepherd plans to keep his staff for the entire five years and to give them a couple of weeks off in the summer while he redecorates. "I'm excited to get the chance to develop some concepts I've been working on and push myself and my staff creatively. At the end of the five years, I'll be able to figure out which one I want to open as my next permanent venture."
Together with fellow restaurateur Floyd and their two other partners, financial systems guru Steve Flippo and Whitney Mercilus of the Houston Texans, Shepherd is hard at work with the conversion to the first concept, One Fifth Steak. "We're doing some maintenance and cosmetic work on the kitchen," explains Shepherd, "but we don't have the time or money to completely overhaul a place we're only going to be in for five years."
In a town where there's plenty of beef and old-school steakhouses, Shepherd has big plans for One Fifth Steak. "We're gonna push you and make you feel comfortable at the same time. You won't see any creamed spinach on the menu, but you might see some embered carrots with citrus and sunflower seeds, grit spoonbread and creamed mustard greens with Benton's bacon to accompany steaks cooked in cast iron in a wood-burning oven. I'm looking forward to playing with some weird stuff, cooking the food I make for my friends at home."
Other planned details include rolling carts for table-side Caesar presentations, tartares and martinis. The cocktail and wine programs will also be critical to the changing themes, with the bar taking an honored focus position in the dining room. Shepherd aims to offer a lengthy list of interesting, affordable wines to accompany the changing cuisines at One Fifth.One Fifth Steak will open a little later than the future concepts, probably in January. "We'll have a month to get up and running before we get hit with the Super Bowl coming to town," notes Shepherd. Restaurants often get their biggest crowds when they first open and just before they close as long as patrons have ample notice. Shepherd sees this as a real potential advantage for his new restaurant. "The limited life span will encourage folks to check us out early and then come back again and again if they like it. But we are absolutely committed to changing it up next fall no matter how successful it is."
Shepherd has already decided on and announced the next two incarnations of the project. On deck in September 2017 will be One Fifth Romance Languages, featuring the food of Spain, Italy and France. "I was trained in classic French cuisine, and I use that technique every day. I can't wait to serve classic French dishes alongside Spanish-inspired dishes like cast-iron paella, and coastal Italian seafood cooked in the existing wood-burning oven. Will I bring back favorite dishes from the past? It's very likely." Italian cooking will be new to Shepherd. "I don't fully understand Italy yet. I can't wait to start learning things I've never known. It will be a challenge for the whole staff." He plans to hire new employees to run One Fifth, a luxury since he has a talented and established crew at Underbelly. The two restaurants are less than a mile apart, and Shepherd plans to buy a bicycle to travel between the properties.
Opening in September 2018 will be concept number three, One Fifth Fish. Already a champion of Gulf Coast seafood at Underbelly, Shepherd is excited to allow himself to reach beyond the local waters to work with Atlantic and Pacific fish, too. The chef is still cogitating about what will come after his aquatic foray. "I don't have a clue what One Fifth Fourth will be yet. But three years ago I wouldn't have said I was going to open a steakhouse either. I'm just excited that now I get to think about new things and use new products that I haven't thought about in five years."Whatever may come next, Shepherd plans to make sure it will be entertaining. "I do promise that it will be fun and playful like I am, and I'm looking for staff that wants to learn and take the journey as well. We're looking forward to five years of having a really good time." Plus, he'll finally be able to serve an olive.