Code Black: Charcoal-Activated Cocktails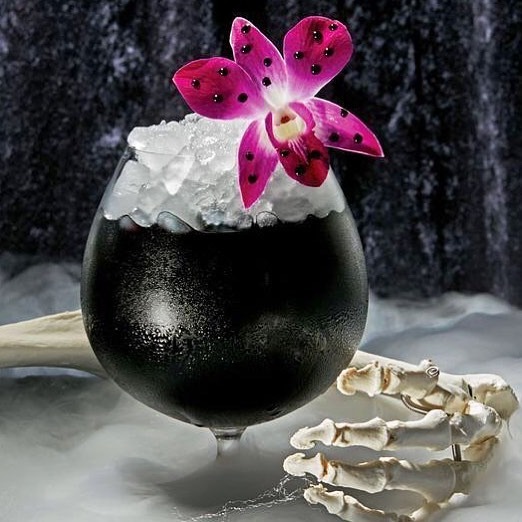 I'm not really the kind of person to order a communal tiki drink served out of a life-size glass human skull. And I'm definitely not the kind of person who would order a drink that's pitch black. But it was nearing Halloween, and it seemed appropriate for the spooky time of year. To my surprise, the monstrosity that arrived at my table was more than a gimmick.
"There's no other purpose for using activated charcoal in a cocktail than to turn it black," admits Jim Kearns of Slowly Shirley in New York, the creator of the aforementioned black skull cocktail, officially called a Perla Negra (other ingredients: aged rum, kalamansi, orange juice, honey, ginger, arrack and sorrel). "It's literally charcoal ground up into a powder."
Activated charcoal is a cocktail microtrend (according to Kearns, you don't really need more than one on your menu), but before that it was used for millennia in Chinese and Ayurvedic medicine as a detoxifying agent and to boost digestive health. Available in pill or loose powder form, it's said to help in the adsorption of toxins — that's not a typo: Adsorption is the adhesion of molecules to a surface, whereas absorption involves permeating or dissolving molecules.
Activated charcoal has been known to alleviate gas, reduce cholesterol levels and whiten teeth. That last one may seem counterintuitive given the fact that it can stain pretty much anything it comes in contact with. It's also known to treat alcohol poisoning and is often used as an emergency treatment for actual poisoning. So you might be thinking to yourself: "Hey, ordering that charcoal-activated cocktail might actually make me less drunk!" (Not really: It's only half a teaspoon, but let's just say it's not entirely impossible.)
And my black-as-the-ocean-floor Perla Negra? It was unlike any tiki drink I've tasted. Rich and brooding, it had a pleasingly chalky flavor that reminded me of extremely mineral wines and a texture like crushed velvet.
"I liked this idea of a pirate-themed cocktail where it's essentially a tropical drink, but black," says Kearns. "And the flavor is the last thing you would expect when you look at it. It's a mind game."
You can also find activated charcoal in the Fade to Black cocktail at David Burke Kitchen, a black rum cocktail that also incorporates Chartreuse, rosemary and ginger. For the Heart of Darkness cocktail at Pouring Ribbons, raspberry preserves are infused with charcoal; the drink also makes use of tequila, mezcal, lime juice, agave syrup and mole bitters.
Nonalcoholic-drink purveyors — namely juice bars — have also hopped on the charcoal bandwagon. Juice Press, with locations around the northeast, serves a Green Charcoal juice made with fresh cucumber, celery, lemon and kale. It's not recommended for pregnant women. L.A.'s Juice Served Here sells a Charcoal Lemonade, made with alkaline water, sugar cane juice, lemon, montmorillonite clay and activated charcoal.
The idea of cleansing with activated charcoal makes sense if you consider that charcoal is also used to filter for everything from water to whiskey. So go ahead and add some to your whiskey. It imparts a subtle flavor, a velvety texture, and turns whatever you're drinking an opaque midnight black — a trick and a treat.