10 Great Places To Eat And Drink In Alberta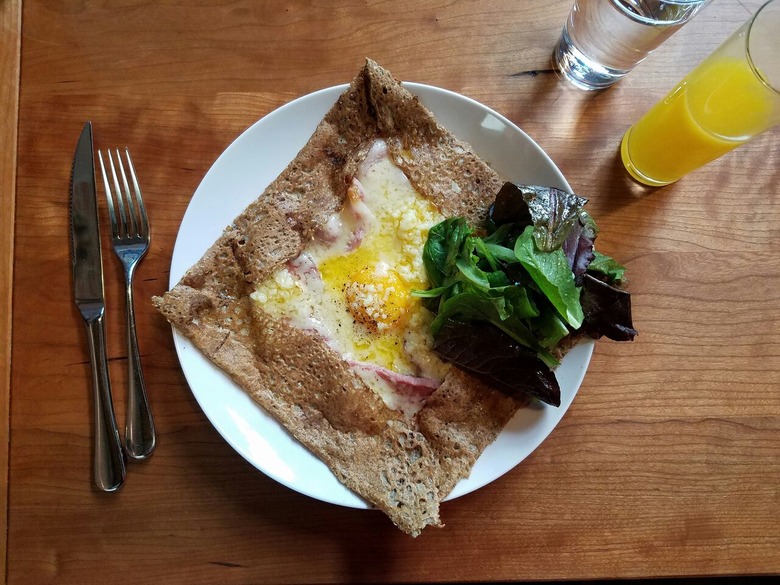 (Photos: Linnea Covington
It wasn't too long ago that someone might scoff at the idea of heading to Canada just to eat, but as high-quality restaurants from Toronto, Montreal and Vancouver continue to turn heads, it was only a matter of time before Alberta's top cities would start stepping up. Now, if you head to the capital, Edmonton, and the province's largest city, Calgary, you can find so many good things to eat, you may wish for a second stomach. Not only that, but the chefs who are making magic in the kitchen are enthusiastic about working with local ingredients. For the first time, the idea of Canadian food won't just conjure up an image of gravy-laden poutine. For your next visit to Canada, consider heading to Alberta for a little nature, mountains and piles of glorious food.
Cafe Linnea
It's hard not to fall in love with a place that bears one's own name, but in the case of chef-owner Kelsey Johnson's new breakfast and lunch joint, the admiration comes with a good reason. For starters, the decor speaks to the Norwegian-themed menu, meaning the space has lots of natural light, tall ceilings, clean lines, natural accents and sturdy yet elegant furniture. The food, too, has a pleasing refinement, though there is nothing light about it. Take the complete galette, a hearty buckwheat crêpe as big as a record that folds artfully around smoky slices of ham, copious amounts of melted Swiss Gruyère and a creamy "miroir" (over-easy) egg. They do a vegetarian version that features raclette cheese, cabbage, squash puree and almonds. You can keep it a little lighter by ordering the house-made salmon gravlax with rye bread, beet salad, crème fraîche and horseradish, or try the crunchy savory salad, a mixture of ricotta salata, pumpkin seeds, shallots, mustard and maple vinaigrette. 10932 119 St. NW, Edmonton, AB; 780-758-1160; cafelinnea.ca 
RGE RD
Chef Blair Lebsack's farm-to-fork restaurant is one of the best places to really get a taste of the land. Not only does Lebsack source produce from local farms, but his meat comes from nearby ranches, and the chef butchers the animals in house. Heck, since he built a shiny new meat locker near the kitchen, diners can even see the butchering firsthand if they are lucky. Make sure to try the bison sausage with Saskatoon berry relish; pierogies stuffed with locally made Grizzly Gouda and potato; duck breast from Four Whistle Farms with black garlic puree; and the Pilatus Farms' bison with hazelnut spätzle. The menu changes frequently, and if you time it right you can attend one of RGE RD's farm dinners, which in the warmer weather actually take place outside on one of Lebsack's providers' property. 10643 123rd St., Edmonton, AB; 780-447-4577; rgerd.ca
Duchess Bake Shop
For more than a decade, owner Giselle Courteau has been perfecting the art of pastry, and when she opened this bakery in 2009, fanfare soon followed. In fact, the small shop proves so busy that guests have to elbow their way into the space to order beloved items such as the financier, pain au chocolat and numerous flavors of macarons. While Courteau whips up classic French-style cakes and pastries, she also dabbles on the creative side with options such as the passion fruit–stuffed l'amore croissant, everything Danish and the seasonal autumn tart, a masterpiece featuring milk chocolate, orange, caramel and hazelnuts. Definitely put an early-morning visit to this shop on your list: Every single day they sell out of the goods, which is as good an advertisement as any. 10718 124th St. NW, Edmonton, AB; 780-488-4999; duchessbakeshop.com
North 53
Cocktail culture has hit Edmonton, and one of the best places to dig into the scene is at North 53, Kevin Cam's gastropub with an excellent bar program. Many of the bottles lining the shelf come from local Canadian producers, such as Victoria Gin and Eau Claire Distillery's cactus-flower-flavored Equinox. Order a classic cocktail or try one of the unique tipples. Favorites include Disappear in Shrubourbia, made with house-crafted vanilla-pear-balsamic shrub, lemon juice, and bourbon, and the Smoke & Oak Fashioned, a theatrical rift on the old-fashioned that incorporates oak-aged gin and smoked maple syrup. Sop up the booze with an order of bulgogi game hen with kimchi pancakes and the Vancouver Island clams with roasted apple and beer broth, and call it a night. 10240 124th St., Edmonton, AB; 587-524-5353; north53.com
Uccellino
Like most countries, Canada has an affinity for Italian food, which is apparent at chef Daniel Costa's sleek modern trattoria. In here you will find delectable starters like Pecorino and fennel salami fritters and crostini with mint, ricotta and chili oil; classic pasta dishes such as bucatini cacio e pepe and tagliatelle with butter, sage and Parmigiano Reggiano; and entrees including tomato-braised pork meatballs with pangrattato and black cod over chickpeas. Also ponder the immense Italian-focused wine list — it's the most thorough of any in the city. 10349 Jasper Ave., Edmonton, AB; 780-426-0346; uccellino.ca
The Simmons Building
Built in a repurposed mattress factory, the Simmons Building boasts some of the hottest places to eat and drink in all of Calgary. Best part: You could spend the whole day there just nibbling and hanging out. On the beverage side there's Phil and Sebastian, an artisanal coffee roaster started by Phil Robertson and Sebastian Sztabzyb. They roast the beans right there, and thus far it's the freshest pour in the city. To go with your coffee you can grab a buttery pastry from Sidewalk Citizen Bakery, owned by Aviv Fried and Michal Lavi.
These two Israeli transplants make the finest croissant around, though the everything-spiced cheese sticks had my heart on first bite. For a sit-down meal, head to the casual Argentinian restaurant Charbar. Here, chef Jessica Pelland dishes out piles of hardwood coal-fired meat, chimichurri sauce on everything and a melt-in-your-mouth cheesy clam fugazza (an Argentine focaccia) that will make you rethink pizza entirely. Simmons Building: 618 Confluence Way SE, Calgary, AB; Charbar: 403-452-3115, charbar.ca; Phil and Sebastian: 587-353-2268, philsebastian.com; Sidewalk Citizen Bakery: 403-457-2245, sidewalkcitizenbakery.com
Whitehall
British chef Neil McCue helped open this modern European restaurant last year after moving to Calgary from the UK. McCue had just earned Michelin stars for two restaurants there and wanted to bring a taste of the Brits to Canada. The restaurant is located in the historic De Waal Block in Bridgeland, and once you step inside the house-turned-restaurant (or at least that's what it looks like), you can see it fits right in with the historical aspect. The rooms are painted white, which become brighter next to the dark, heavy furniture and spectacular industrial-style bar. Order plates of bison tartare with Divine caviar and rye bread; Alberta Wagyu strip loin with bone marrow and spicy cabbage slaw; and the Stilton cheesecake ice cream with rhubarb and a sweet walnut cake. They also offer a vast wine list and craft cocktail menu. 24 4th St. NE, Calgary, AB; 587-349-9008; whitehallrestaurant.com
Pigeonhole
When this bustling spot opened last year, it came with a lot of fanfare thanks to the owners of the equally loved eatery Model Milk. Today it's still a popular spot, and with the vintage-store-meets-your-Jewish-grandma's-living-room vibe, it's easy to see why people enjoy dining here. The decor proves just as eclectic as the menu, a list that includes bits and pieces from Eastern European cuisine as well as Asian food and French fare. Though you might not think to order it, one dish that's worth it is the charred cabbage, a very Polish-looking plate topped with jalapeño salad cream and piles of melted mimolette, a bright orange cheese from France. It's amazing, but so are other offerings, such as the spaghetti squash with chorizo emulsion and macadamia nut; rabbit and grits with cashews and chili beans; and ember-roasted sweet potato with huckleberry and feta. 306 17th Ave. SW, Calgary, AB; 403-452-4694; pigeonholeyyc.ca
Anju
All good cities should have a modern Asian food scene, and with chef-owner Roy Oh's Anju, Calgary has a solid Korean restaurant. The name means "food you eat with alcohol," and guests will find plenty of both in this busy hot spot. On the food side, chef Oh serves classic Korean dishes with modern twists, such as the oxtail tortellini with soy sauce and truffle oil; kimchi ramen with pork belly and crème fraîche; KFC mac and cheese with a buffalo gochujang glaze, three cheeses and chili panko; and kimchi fried rice with provolone cheese and a free-range egg. Ask your server which beverages to pair with these dishes, or simply pick from the immense menu of beers, wine, cocktails, sake and soju. Make sure to reserve your spot for brunch and dinner — this place fills up fast. 344 17th Ave. SW, Calgary, AB; 403-460-3341; anju.ca
Ten Foot Henry
This charming café led by chefs Stephen Smee, Andrew Moore and Bern Glatz is open for brunch, lunch and dinner and does things with vegetables you wish others would do. On the menu you will find such items as fried potatoes with lime, herbs, jalapeño and green goddess dressing; whole roasted beets with pistachio crema; a kale Caesar salad with cashew dressing and a fried egg; and the ubiquitous avocado toast, an earthy version done with shaved radish, pepitas, hemp seeds and Pecorino. In the laid-back, airy café, you can also order meat, though even those dishes pay homage to the veg. For example, the spicy chargrilled chicken comes with baba ganoush and pickled turnip, and the spring salmon features mushrooms, avocado and fresh basil as well. Sit at one of the many tables, take a seat at the small and personable bar, or grab your food to go from their takeout shop next door. 1209 1st St. SW; 403-475-5537; tenfoothenry.com