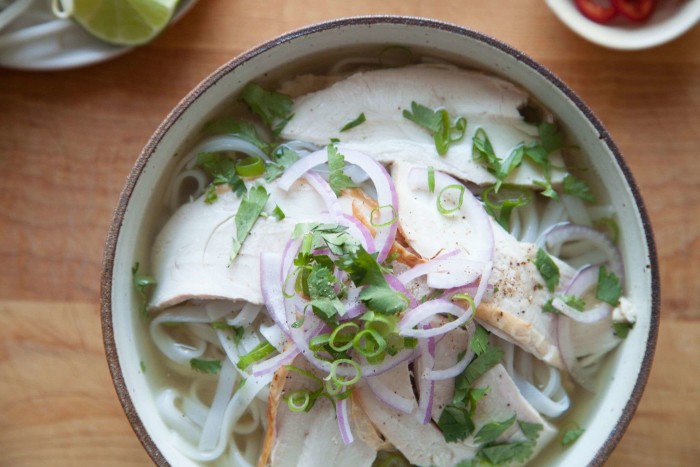 Leftover turkey?
Picture this: You've just spent the last 24 hours cooking, eating and sleeping. You're exhausted and your stomach hurts. Your fridge is filled to the brim with pie and other delights, and dinner rolls and biscuits are everywhere. It's the day after Thanksgiving, and your tryptophan hangover is in full force. It was a holiday, after all — you were allowed to indulge!
You could go for the ceremonial leftovers sammie, crusty bread piled high with everything and slathered in gravy. But let's be honest: After a full day of overeating, don't you just want something light and refreshing? Better yet, something that showcases the outstanding turkey you spent hours cooking?
Our friends at ChefSteps and culinary instructor Andrea Nguyen's got you covered with this recipe for (leftover-) turkey pho. Traditionally served for breakfast at Vietnamese market stalls, pho is the perfect post-holiday meal. It's light and refreshing even when made with hearty meats, and with sweet-and-savory broth, long, slurptastic noodles, and fresh herbs, this is one bowl of comfort food that won't put you down for the count. Check out the full recipe and brief instructional video below.
Servings: 6
Ingredients
Around 3 pounds turkey, carcass, wings, drumsticks or any other unwanted bits
1½ cups Napa cabbage, leaves
1¼ cups yellow onion, peeled
¾ cup Fuji apple, peeled and cored
½ cup carrots, scrubbed
2/5 cup celery stalk
2/5 cup ginger, peeled
¼ cup fresh cilantro, divided
4 whole star anise
3 whole cloves
1 teaspoon coriander seed
2/3 teaspoon cinnamon stick
16 cups water
2 teaspoons sea salt, plus more to taste
3 tablespoons fish sauce
2 cups rice noodles, dried
Around 1 pound turkey, cooked meat
2/5 cup red onion, peeled
3 teaspoons green onions, greens only
Black pepper, optional, as needed
2 limes, optional
2 Thai bird chili, or jalapeño, Fresno or Serrano chili, optional
1 cup bean sprouts, optional
Mint, optional, as needed
Thai basil, optional, as needed
Directions:
Break up your turkey bones into pieces that will fit in your soup pot, and give them a quick rinse. Cut cabbage into large pieces and onion into thick slices. Chop apple, carrots, celery and cilantro. Slice ginger into thick slices and bruise them with the side of your knife.
Put the spices in an 8-quart (8 L) stockpot. Toast over medium heat for several minutes, shaking or stirring, until fragrant.
Add the onion and ginger and stir for 45 to 60 seconds.
Pour in around half the water, which will stop the cooking process momentarily. Then add the turkey bones, chopped apple, vegetables and cilantro from above, and salt and remaining water.
Partially cover your broth and bring it to a simmer over high heat. Uncover and skim off any fat or scummy bits. Lower the heat and gently simmer for 1 hour and 15 minutes. Then let the soup rest for 10 to 15 minutes.
Pull out the turkey pieces to make straining the broth easier.
Pour the broth through a muslin-lined mesh strainer over a medium pot and discard the solids. There should be about 12 cups of broth.
If using the broth right away, season with fish sauce and add extra salt if needed. If you're saving your broth for later, partially cover the unseasoned broth and let it cool. Then refrigerate it for up to three days, or freeze for up to three months. When you're ready to make your pho, just reheat the broth and season with fish sauce before using.
If serving the pho right away, start prepping your bowls 30 minutes before it's time to eat.
Soak the dried noodles in hot water until they are pliable and opaque; drain the hot water, then rinse the noodles and let drain some more. Divide the cooked turkey into thin slices or bite-sized pieces and set aside. Thinly slice the red onion and green onion, and chop the cilantro. Place in separate bowls to create a pho assembly line.
Bring the broth back to a simmer over medium heat. At the same time, fill a pot with water and bring it to a rolling boil for the noodles.
For each serving, place a portion of the noodles in a strainer or mesh sieve and dunk in the boiling water. The noodles will cook quickly — they soften in about 15 to 60 seconds. Pull the strainer from the water when done, shaking it to let water drain. Place the noodles in a bowl.
Top with turkey meat, then add the red onion, green onion and cilantro. Finish with as much pepper as you like.
Taste the broth again and adjust flavor if desired, then raise the heat and bring broth to boil. Ladle about 2 cups of broth into each bowl — enough to cover the noodles and make the other ingredients float.
Cut limes into wedges and thinly slice chilies.
Serve delicious bowls of soup, and let your guests add lime wedges, chilies, bean sprouts and herbs to their hearts' content.
ChefSteps comprises a team of award-winning chefs, filmmakers, scientists, designers and engineers focused on revolutionizing the way people cook by inspiring creativity and encouraging expertise in the kitchen. You can also get access to all of ChefSteps' Premium content — including paid classes and dozens of recipes available only to Premium members for a onetime fee — for the special price of $24 (regularly $39). Classes include Sous Vide: Beyond the Basics, Fluid Gels, French Macarons and more!