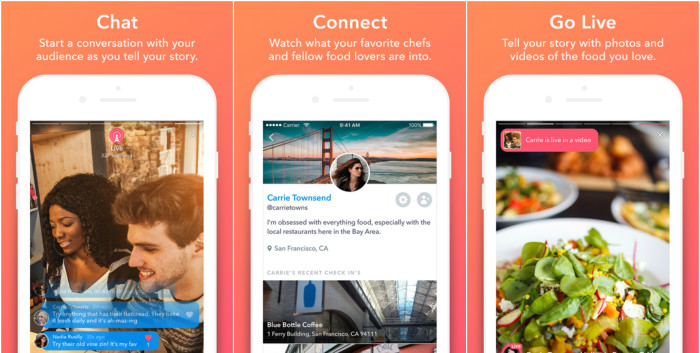 Log on to Instagram and chances are that your feed will be full of colorful, drool-worthy dishes. It's the world we've lived in for some time now, and there have been few indications that this trend is going anywhere anytime soon. Order avocado toast for brunch? You'll likely take multi-angled photos of the dish for a few minutes, filter and recolor them for a few more, post them to various social-media platforms…and then devour it all in two minutes. Such is life in 2016.
YouTube cofounder Steve Chen and former engineering lead Vijay Karunamurthy are back in the digital-media business with a free app (available for iOS and Android) called Nom that's — you guessed it — all about food. The originality of the app lies in its ability to allow users to mix media very freely, according to TechCrunch. People can combine live video, stills, comments, recipes and tasting notes in a single story.
Nom's target demographic is diverse, with incentives to join for diners, home cooks and restaurant chefs. Users can, for example, first post photos of a recipe card, followed by a video of shopping for ingredients and a shot of kitchen prep. The final chapter of the story could include a live video stream of putting the dish in and then taking it out of the oven. Followers can comment and/or ask questions the entire time — think of it as an Instagram story fused with a Facebook Live video.