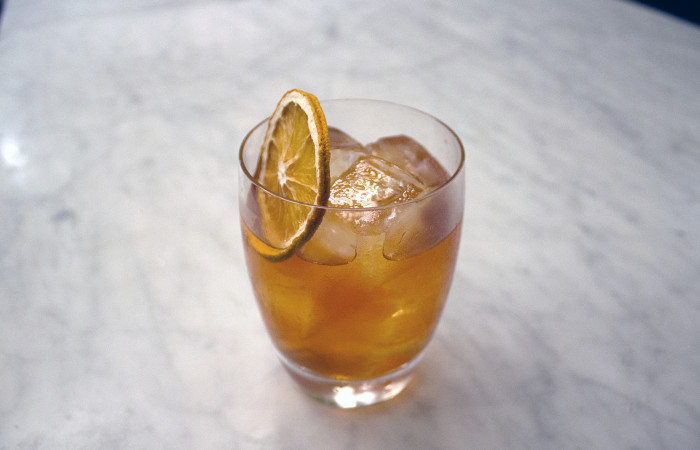 It's easy to forget that spirits were once treated as medicine and that the complex alchemy of botanicals, roots and spices that many liqueurs feature were seen as curative in one way or another. Today, we simply reap the benefits of these intriguing flavors, and in my cabinet, Benedictine DOM — the French liqueur blending 27 plants and spices, including saffron, angelica and cinnamon — is one I can't do without.
Benedictine becomes especially useful for me in the fall months, as cooler weather calls for sturdier, more contemplative drinks. Some of my favorites are the Preakness (a Manhattan variation), and the Vieux Carré, which is a dressed-up old-fashioned with cognac and rye. Both drinks feature just a quarter-ounce or bar-spoon dose of Benedictine. The honeyed sweetness of the Benedictine, mixed with its rich aroma of saffron and baking spices, is the perfect accompaniment for whisky and vermouth in these drinks, and a small amount goes a long way.
Perhaps some of the hardest drinks to balance are stirred scotch cocktails, should one try to preserve the delicate grain flavor of these spirits in their glass. Dusting off the old Woolworth cocktail, which features a subtle blend of scotch, sherry, Benedictine and orange bitters, I opt for the newly available Loch Lomond Single-Grain Scotch, which features enough malty edge to stand up nicely against the yeast and earthiness of the dry sherry. Once again, the Benedictine sweetens the cocktail without overpowering, tying together the fruit notes of the whisky with the orange bitters while also adding a necessary spiciness. It's a perfect drink for fall, or for impressing one's father-in-law over Thanksgiving. Enjoy.
Woolworth Cocktail
Servings: 1 cocktail
Ingredients
1 ounce Loch Lomond Single-Grain Whisky
1 ounce La Cigarrera Manzanilla Sherry
½ ounce Benedictine
Rinse Islay Whisky
2 dashes Regan's Orange Bitters
Directions:
In a chilled rocks glass, add two dashes of orange bitters, and rinse the glass with Islay Scotch.
Add other ingredients and stir with ice for several seconds.
Garnish with an orange twist.
Prep time: 2 minutes
Difficulty: Easy